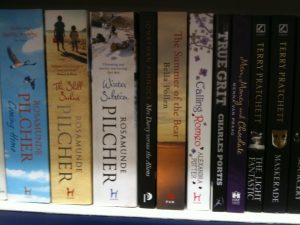 Well, maybe not.
Either way, this would appear to be the obligatory "That's my book in WHSmiths! Squeeeeee!" post then, slightly earlier than planned. OK, it isn't in the promotion section, because (a) it's a high street store, not a travel one and (b) it's not September yet.
But that is definitely my book in a bookshop.
Squeeeeee!
In other news, the FantasyCon Proxima launch now has a time and a place, hot on the heels of the BFS anthology launch in the tantalisingly-named Bar Rogue. Cool or what?
Also, the Willesden Herald book giveaway is still running – so leave a comment here if you want your name to be put into the draw.