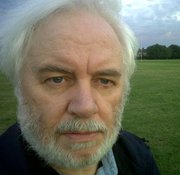 I've got something a bit different for you today. Not only an interview but  – drum roll – a giveaway. The interview is with Steve Moran, the powerhouse behind the excellent Willesden Herald New Short Stories Competition. The giveaway? Well, you'll need to read to the end of the interview to find out. But trust me, it will be worth it. Anyway, without further ado, here's Steve.
Can you tell me a bit about how the Willesden Herald New Short Stories Competition came into being?
It was towards the end of 2005. I had been involved in two or three online writers' workshop sites, part of the now defunct MSN "communities" and the setting of writing challenges was a regular occurrence. I thought it would be fun to run a little short story competition on the Willesden Herald blog, which had been going since 2003. So I announced a competition, closing just before Christmas to allow judging in the holiday break, prize a Willesden Herald mug. It was a stroke of luck to get a well known local writer as the judge and the competition took off from there.
Zadie Smith, right? Looking at the impressive list of people who have appeared in the shortlist over the years, it would be fair to say that for a "little short story competition", you've consistently punched above your weight. Why do you think this is?
I tried to make the competition as writer-friendly as I could in several important ways. Entry was free and there was no word limit or minimum, no set theme, no nationality restriction, and there would be no second or third place, only short-listed and winner. Some of the terms have changed since then. Another one back then was you didn't have to have your short-listed story published, it could retain its unpublished status. There was no guarantee that a winner would be chosen and judging was anonymous. I tried and still try to make it fun and appeal specifically to short story enthusiasts, being myself a fanatic, which probably is evident and adds to the favourable ethos of the competition. That said, it was likely as much or more to do with having such an acclaimed author as the judge. To be selected as a winner by someone like Zadie Smith is worth a lot to an ambitious writer.
As a failed entrant on more than one occasion, that makes perfect sense to me. The other thing you didn't mention is that you seem to take an interest in the post-WH careers of your alumni in a way that few other competitions (with the notable exception of the Bristol Short Story Prize) do. Can you say a little bit about the process of selecting your shortlist? Or is that shrouded in secrecy?
I read entries as they come in, which is usually only about ten or less per day until the last week when there are more and I can't keep up. Ten per day is ideal for me, though I can get to twenty if I'm not tired from work but after that my brain refuses the next fence.
With many of the stories it's clear before the end that they cannot be put in front of the final judge but I don't stop reading just because of typos or minor flaws, I only stop before the end if the accumulation of problems rules the entry out. The game for entrants is to keep me reading, of course, I'm sure it's the same with all other writing contests. When entries are poor it doesn't take long to file them under "No". I used to create folders for different sorts of flaws but now I only have No, Hell No, Maybe and Yes.
It's quite hard to get straight into the Yes folder, which becomes the short list, but even so by the end of the submissions window there have typically been about fifteen needing reduction to ten. Last time with Maggie Gee we extended the short list to twelve. Some of the judges have wanted a long list of about fifteen in order to choose the short list themselves. For the others I chose the short list, a couple of times with help from other readers. I have to re-read the Maybe's and Yeses to finalise the list. That tends to happen over the Christmas break.
So would I be right in inferring that it's more a case of entries being eliminated on the basis of an accumulation of flaws than being accepted because of a high overall score on a grid?
Yes, it's mainly a process of elimination. There's no grid it's just a case of do I want to read it to the end and is it a yes or a maybe? I am a slow reader so it's a big time investment. I remember it took me two hours to read Wena Poon's winning story the first time. I had already finished for the night and I thought I wouldn't start another one but then I started reading The Architects and it wouldn't let me go. I don't abandon a story lightly, always try to give each one every possible chance. Thinking about it, I read nearly all the Noes all the way to the end or near the end, it's mostly only the Hell Noes that are quickly decided. If a story is generally well written I will read all the way to the end.
I should at this point recommend very strongly Steve's list of common faults in short stories, which gives a pretty good indication of what is likely to get your story eliminated. One final question, then. This year's judge is none other than Roddy Doyle – how on earth did you manage to get him on board?
I just sent a very polite message, asking if there might be a chance. I was thinking of closing the competition at the time. I thought better go out on a high after the superb results event with Liars' League et al, thought it would be hard to follow that. Thanks to Roddy Doyle for being a sport, thanks to everyone who works at the stories instead of looting Footlocker and thank you for having me as a guest.
Amen to that, and many thanks for dropping in.
Now for the giveaway. Steve has very kindly donated a copy of New Short Stories 5, the excellent anthology from the 2011 competition, featuring stories by Mary O'Shea, Y.J.Zhu, Alex Barr and other top writers. All you have to do to get your sticky hands on it is to leave a comment below and I will put your name into the draw, with the winner to be announced at the beginning of September. Which, incidentally, is when the competition opens for entries.