National Press
I'm not sure if this really counts as a review, but it's a damn good mention either way. Mrs Darcy was one of "seven bizarre re-imaginings of Pride and Prejudice" listed in The Week (alternatively available via Mental Floss). Mrs Darcy also earned herself a mention in a subsequent article in Mental Floss, where the book was described as being "exactly what it sounds like". Siri, show me an example of a back-handed compliment.
Magazines and other Periodicals
June Gundlack in Issue 12 of The Pages definitely liked it, as did Rhian Bowley for the British Fantasy Society.
However, Hilde Heyvaert in the 21st and final edition of The Gatehouse Gazette may have been expecting a different book altogether. Never mind.
More recently, Erin Bartnett in Electric Lit listed it as one of their favourite "Pride and Prejudice" variations, so that's all right.
YouTube
Amy McLean gave the book an enthusiastic thumbs up in a video review on a channel that's she's since taken down. She followed this up with another video suggesting Tim Burton as a suitable director for the movie. I think she was spot on. She also included the book in her all-time top 12 list of books, at number two:
Stevie Finegan was also very enthusiastic:
and here's Katie Lumsden at Books and Things, comparing it to Jasper Fforde's Thursday Next novels:
and also here:
Bloggers
Tania Hershman wasn't sure if she was going to like it but ended up giggling and chortling.
Cassandra Parkin, in a stupendously thorough review, definitely liked it.
Maryom at Our Book Reviews gave it five stars and said it's a 'must read'.
Camille Gooderham Campbell made it her recommendation for the 2011 Advent Book Blog and said she loved it and couldn't put it down.
Hard Luxe Living gave the book top billing in a joint review with another Pride and Prejudice sequel by someone called P D James (no, me neither), describing it as a sequel of some spunk and originality with a lot of chortling guaranteed [link broken].
Diary of a Domestic Goddess declared it a fun read.
C.J.Flood was disappointed at first but against her will was eventually won over [link broken].
Nyki Blatchley, who admitted to not being the biggest fan of comedy novels, nevertheless found himself laughing out loud on numerous occasions, before describing the book as 'very highly recommended'.
Laura Benedict, who had never been on the classic-novels-morphing-into-contemporary-schtick literary bandwagon, loved it and was left still laughing when she finished it.
Somewhat unexpectedly, Brighton and Hove libraries made the book a recommended horror read.
Not sure what's going on here, but atrocidades doesn't sound good. To think we fought the Peninsular War for these people, eh?
Lisa Glass liked it so much she gave it a Special Mention in her Books of the year (so far) for Vulpes Libris.
Christina James celebrated the 200th anniversary of "Pride and Prejudice" by giving it an exceptionally thorough and positive review.
"Attila" gives it a mention in a Hungarian review of sequels to "Pride and Prejudice". I'm not entirely sure what that reference to Elizabeth George Wickhammel is all about, mind, but I've always wanted to be referenced by someone called Attila.
Goodreads
Miscellaneous
This was probably my favourite review of all, from the lady who used to babysit our kids. She's in her eighties, in case you were wondering if there was any age limit on enjoyment of the book.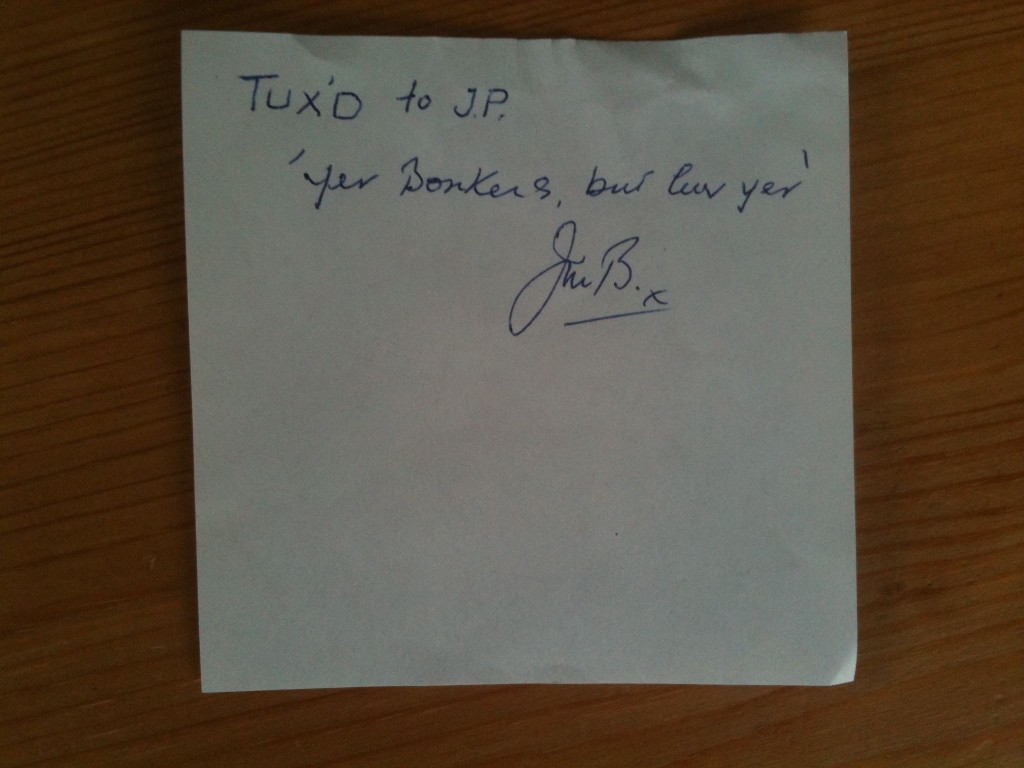 Finally, here are some splendid tweets from John Harding, who wrote the wonderful "Florence and Giles":
Mrs Darcy and the Aliens by Jonathan Pinnock should be available on the NHS to cheer up austerity Britons… (cont) http://t.co/nUpvuSyo

— John Harding (@JohnRHarding) October 19, 2011
Have just finished P D James' Death Comes to Pemberley, her Jane Austen crime novel and Jon Pinnock's Mrs Darcy Versus the Aliens is better

— John Harding (@JohnRHarding) November 1, 2011
@jonpinnock Oh, thank you. And right back at u. Mrs Darcy versus the Aliens should be required reading for anyone studying Jane Austen

— John Harding (@JohnRHarding) November 9, 2011
Had lunch with P D James and gave her a copy of @jonpinnock 's Mrs Darcy Versus the Aliens. She was thrilled to bits

— John Harding (@JohnRHarding) December 6, 2011
Reviews of the Serialisation
Before the book appeared in print, it was serialised on a blog. This attracted some reviews as well.
Amazingly, the first mention of the serialisation appeared the day after the first episode went out, on vvb32's blog. Gosh, that was easy, I thought, and sat back waiting for the rest of the world to find out.
However, no one else seemed to notice it until January 2010, when El Salón de Té de Jane picked it up. I have no idea what they're saying here, but I'm not entirely sure that it's complimentary (I think I did manage to win them round eventually, though). Meanwhile, I nudged a few other sites that might be interested, and I got some fairly non-committal mentions from AustenBlog and Jane Austen Today respectively.
However, things picked up in February, with a brief but complimentary review from ERGOFiction [link broken]. This was followed very quickly by AustenBlog again, who had been won over by the first YouTuberance. Very soon after this, there was also a nice mention in Lit Drift, and around this time the UK Steampunk Network also chipped in with their endorsement [link broken].
In March, Mrs Darcy was featured in Nicola Morgan's excellent Help I Need a Publisher! blog.
April saw the release of the second YouTuberance, which garnered further comment in both AustenBlog and Jane Austen Today, as well as a lovely mini-review from Jane Obsessed with Jane.
Then things went a bit quiet until out of the blue in September, the venerable University of Chicago saw fit to promote Mrs Darcy to its adult education students at the Graham School of General Studies [link broken]. If that's not a seal of approval, I really don't know what is. And in October, Kelly Yanke Deltener, the Jane Austen sequel correspondent of Examiner.com, gave Mrs Darcy her first full review, giving her a generous 4 out of 5 stars (only dropping that star because it was unfinished at the time).