When I wrote "Mrs Darcy versus the Aliens" I never anticipated that it might ever become the object of academic research. Well, it hasn't. Not really. However, it has been referenced in a number of academic works on Jane Austen, which is about as good as I'm likely to get. Here are some examples.
In "GLOBAL JANE AUSTEN: Pleasure, Passion, and Possessiveness in the Jane Austen Community" – Lawrence Raw, Robert G. Dryden (eds), Springer, 2013, Chapter Thirteen, "Pleasure and Profit: Re-presentations of Jane Austen's Ever-Expanding Universe", Anette Svensson writes:
Finally, Austen's text-universe reaches beyond the global perspective as it becomes intergalactic in makeovers such as Mrs. Darcy versus the Aliens (2011) by Jonathan Pinnock.
Anette Svensson, by the way, is Senior Lecturer in English at the University of Jönköping in Sweden.
In "Pride and Prejudice 2.0: Interpretations, Adaptations and Transformations of Jane Austen's Classic" – Hanna Birk, Marion Gymnich (eds), V&R unipress GmbH, 2015, Chapter One, "200 Years of Reading Jane Austen's Pride and Prejudice; or Where the Literary Canon Meets Popular Culture", Marion Gymnich writes:
In Jonathan Pinnock's Mrs Darcy versus the Aliens (2011), the Regency-style setting is even combined with twentieth-century alien abduction lore.
Incidentally, that's Prof. Dr. Marion Gymnich of the University of Bonn to you.
In Susannah Fullerton's somewhat more populist overview, "Happily Ever After: Celebrating Jane Austen's Pride and Prejudice" (Frances Lincoln, 2013), she writes:
Mrs Darcy versus the Aliens ('The truth is out there, though it is not yet universally acknowledged') by Jonathan Pinnock mixes Regency bonnets with ghouls, ghosts and a lunatic named Mr Firth, and was published in 2011.
This is actually my favourite citation, because it's quite clear from the references she makes that Ms Fullerton (President of the Jane Austen Society of Australia since 1996, no less) has actually taken the time to read the book. Amazing, really.
Someone who also seems to have read the book is Gabrielle Malcolm (visiting research fellow at the Department of English and Language Studies at Canterbury Christ Church University), whose "Fan Phenomena: Jane Austen" (Intellect Books, 2014) references the book no less than five times, including an image of the cover as well as this entire paragraph, which was unfortunately cut short on Google Books (I'm going to have to buy a copy, aren't I?):
Aliens invade Pride and Prejudice

Jon Pinnock's Mrs Darcy versus the Aliens (2011), which was originally serialised in a blog, is perhaps the most unconventional sequel to an Austen novel. In the novel, Elizabeth Darcy and George Wickham must work together to battle the tentacled aliens of Regency England. On his website, Pinnock suggests that his novel is 'a slightly demented sequel to Pride and Prejudice, although it has been described more accurately as "not so much Pride and Prejudice's sequel as its bastard offspring following a drunken one-night stand with the X-Files"'. In Mrs Darcy versus the Aliens, Pinnock pokes fun at the wet-shirt scene when Colin Firth emerges from the lake in Andrew Davies's 1995 BBC adaptation of Pride and Prejudice, which is now recognised as one of the most famous scenes in television history and synonymous with Austen in popular culture. In Mrs Darcy versus the Aliens, Elizabeth and Fitzwilliam Darcy discuss plans to conceive a future heir for Pemberley:
In "The Cambridge Companion to 'Pride and Prejudice'" (CUP, 2013), Emily Auerbach notes in Chapter 15 ("Pride and Proliferation") that:
More werewolves can be found in Mr. Darcy's Bite (2011), and Mrs Darcy vs. the Aliens (2011), Elizabeth and Wickham team up to fight hordes of aliens.
Ms Auerbach is a Professor in the English Department at the University of Wisconsin-Madison.
The Cambridge Companion is edited by Janet Todd, who goes on to use rather similar phraseology in her own "The Cambridge Introduction to Jane Austen" (CUP, 2015):
Werewolves arrive in Mr. Darcy's Bite (2011) and in Mrs Darcy vs. the Aliens (2011) Elizabeth and Wickham fight hordes of aliens.
As it happens, Ms Todd is a Professor Emerita at the University of Aberdeen and Honorary Fellow of Newnham College, as well as being a former President of Lucy Cavendish College, Cambridge, which probably makes her the most high-powered academic to have referenced the book.
Sadly, in "The Bloomsbury Introduction to Popular Fiction" – Christine Berberich (ed) (Bloomsbury – obvs – 2014), Chapter Seventeen, "Rewriting Popular Classics as Popular Fiction: Jane Austen, Zombies, Sex and Vampires", Ben Dew banishes Mrs Darcy to a footnote:
Elizabeth has become the slayer of aliens, zombies and vampires, while Darcy has been re-imagined as, among other things, King Arthur, a rock star and a small woollen puppet.[1]
[1] See (respectively): Pinnock 2011; Grahame-Smith 2009; Jeffers 2009; Dixon 2011; Rigaud 2011; Wang and Wang 2012.
Ben Dew is a Senior Lecturer at the University of Portsmouth. I am, frankly, disappointed in him. Mind you, I'm grateful to him for bring Jack and Holman Wang's "Cozy Classics: Pride and Prejudice" to my attention. Awesome.
Good to see the Church of England getting in on the act, too. Here's the Revd. Ian Tattum of St Barnabas, Southfields, in a 2016 sermon on St Paul:
I don't imagine that Jane Austen ever thought that one day there would be a sequel to Pride and Prejudice called ' Mrs Darcy versus the aliens.' But there is- as one reviewer put it' ' it is much funnier than the original and has a lot more aliens.'
Going a little further afield, we find Ana Bartolović of the Josip Juraj Strossmayer University of Osijek in Croatia, whose 2012 paper on "Jane Austen's Work as Popular Culture Phenomenon" mentions Mrs Darcy as number 95 in a list of 99 sequels.
Jorge Fernández Gonzalo, Associate Professor at Universidad Complutense de Madrid, must have noticed the pre-publication online serialisation of the book when he was writing "Filosofia Zombi" (Editorial Anagrama S.A., 2011):
Hay además una continuación vampirizada de la obra de Grahame-Smith escrita esta vez por una autora, Amanda Grange (Mr. Darcy, Vampyre), o las recreaciones, también austinianas, de Northanger Abbey and Angels and Dragons, Sense and Sensibility and Sea Monsters, Mansfield Park and Mummies, Mrs Darcy vs The Aliens y Emma and the Werewolves, con coautorías variadas.
More recently, Ксения Романенко of the Института образования, Национальный исследовательский университет (that's Ksenia Romanenko of the Institute of Education, National Research University – come on, keep up) mentions Mrs Darcy as an example of a crossover novel in her 2017 paper "Ностальгия и самоирония: литературный культ Джейн Остен через фигуру ее фаната" ("Nostalgia and Self-Irony: the Literary Cult of Jane Austen Through the Figure of her Fan"). I'm particularly pleased about this, because if she genuinely has read the book, she'll be one of the few who will have been able to understand the Leon Trotsky quote on page 192: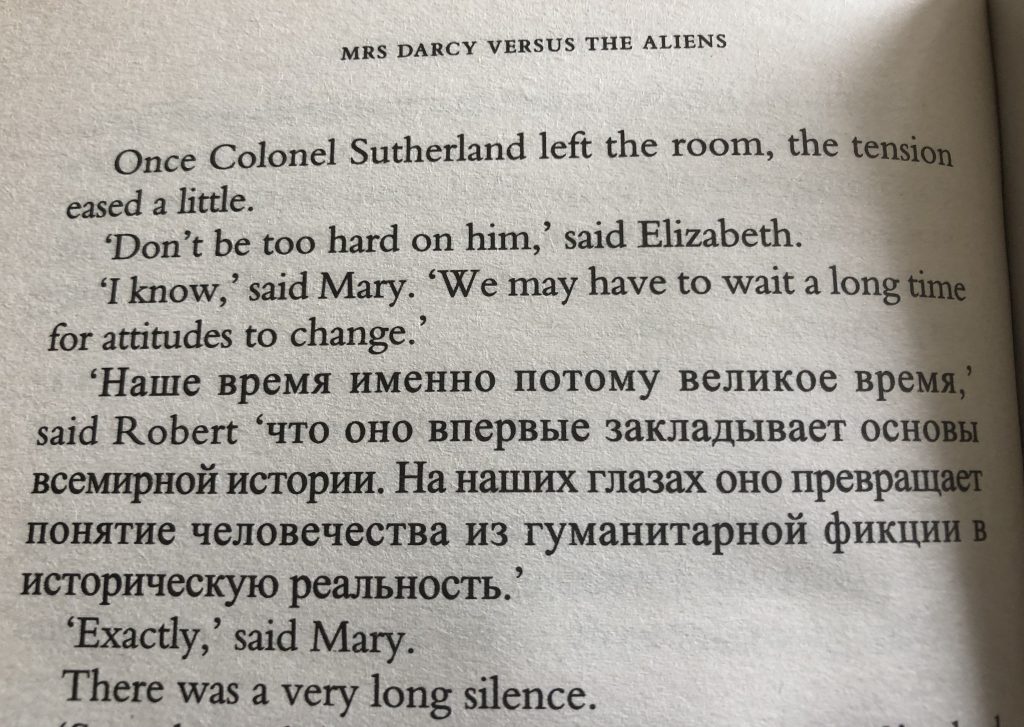 Finally (for now), Áine Madden, in her 2018 doctoral thesis submitted to the School of English at the University of Dublin, "'She stimulates us to supply what is not there": Expanding Jane Austen's World Through Fandom" identifies Mrs Darcy as one of "numerous other monster-riddled retellings of P&P released in the late noughties". Sadly, she misspells my publisher as Prixima in the reference section, but never mind.