Yes, hello again. Remember me? I used to blog here. So what has been going on in the last month and a half?
Well, BAD DAY IN MINSK was duly published, and it went on a rather exciting blog tour, where everyone was very nice about it – even the ones who hadn't read any of the previous books in the series. I've posted links to all the stops on the tour on the BAD DAY IN MINSK page, if you're interested.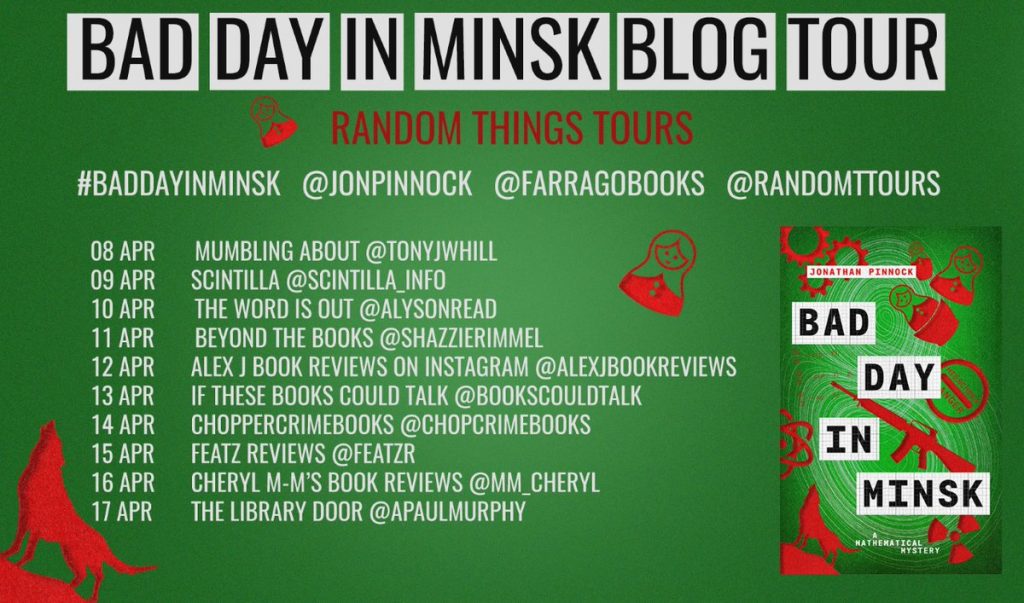 The thing about having a series of books published is that your publisher can play all sorts of fun games with promotions and price reductions, so that you get mad things like this happening in the Amazon Kindle charts: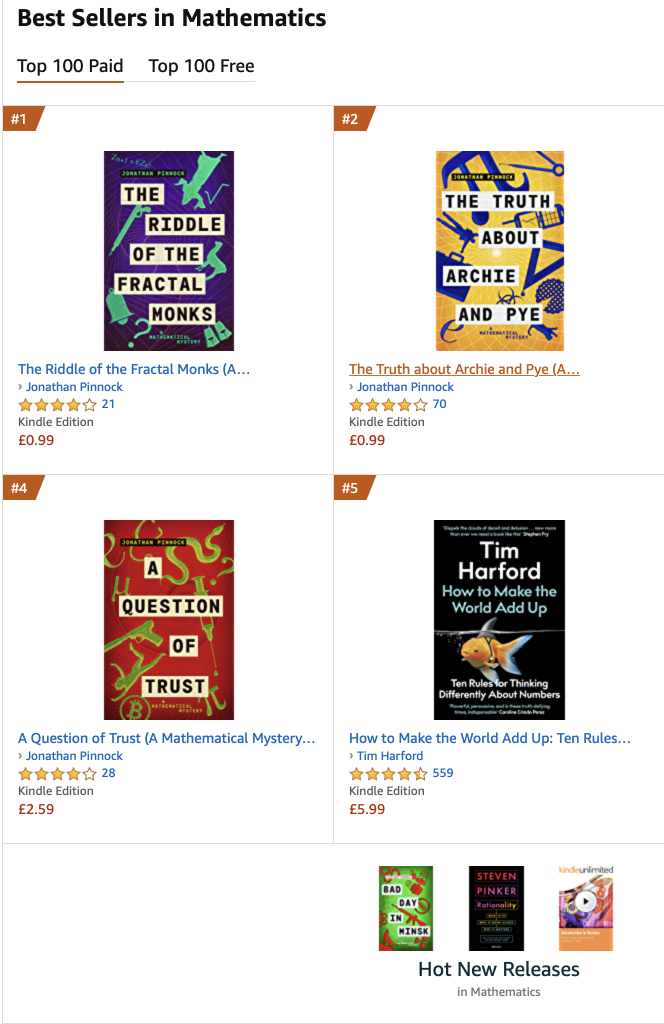 And, no, I don't think it's going to make me rich (especially when two of the books in question are heavily discounted) but it's fun to watch.
I was interviewed by Our Book Reviews Online and I also pretended to be interviewed on Laura Pritchard's blog. I turned up for the third time on Steve Yabsley's show on BBC Radio Bristol; at the time of writing, you've got nine days left to listen to this one. You can never quite tell what Yabbo's going to throw at you, but I think I managed to keep up. I also had an entire episode of Polly Hall's Procrastination Station devoted to me, and I'm really pleased how this one went. I also like the blog post she wrote about it – especially the description of this website as "cavernous".
Polly will herself be a guest on my IT'S LIT BUT IS IT FUNNY? podcast in July, and I'm really looking forward to talking to her about getting reviewed in the New York Times amongst other things.
Speaking of ILBIIF, I've just recorded episode 8, so I think we can say that it's not just a flash in the pan. I've also got some excellent guests lined up to take us through to at least September. I'm still learning and there are some things that I've got hopelessly wrong as well as some things which have gone really well. The important thing is that I'm learning not to obsess too much about the former. Once I've done a few more, I'll sit down and write a proper post about the experience. In case you haven't listened to it yet for some reason (what are you, some kind of lunatic?) here are the last few episodes:
Finally, I thought it was about time I put together a snappy promo video for BAD DAY IN MINSK. I briefly entertained the idea of putting it on TikTok before succumbing to a bout of overthinking. The trick with all these things is to plough on regardless before the overthinking kicks in, and on this occasion I was just a bit too slow. Here it is anyway. I'm quite pleased with the music, although I'm still agonising about whether I should have sung the words over it.