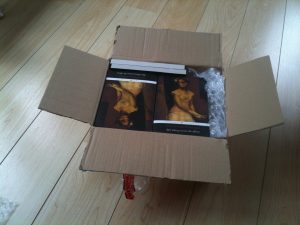 Apologies in advance, but this is the obligatory "My copies of my book have arrived! Squeeeeee!" post, postponed from Friday when I didn't have time to write it.
So then.
My copies of my book have arrived!
Squeeeeee!
Right, that's over. However, do brace yourselves for some time on Thursday when – with any luck – there will be the obligatory "That's my book in WHSmiths! Squeeeeee!" post. I will endeavour to do the squeeeeee-ing in as manly way as I can manage.
Forgive me for saying this, but God, it's a thing of beauty. As my son said when I gave him his copy yesterday, "It looks really pro." There's not being published, there's being published and there's being published well and I feel really proud to have somehow ended up in the last category. There are two people who have made this possible: first of all my brilliant editor Steve Haynes, who somehow managed to be simultaneously 100% sympathetic to my original concept and quite staggeringly brutal when it came to the one or two bits that didn't work, and of course Chris Hamilton-Emery of Salt, who gave the book its amazingly high production values including that extraordinary cover.
And now we wait for people to read it and to see what they think. The WHSmith Travel promotion is a fantastic thing to have, but it will be word of mouth in the end that decides whether it sinks or swims.
Oh, and I nearly forgot to say. It's in stock online now. This page will tell you where you can buy it.