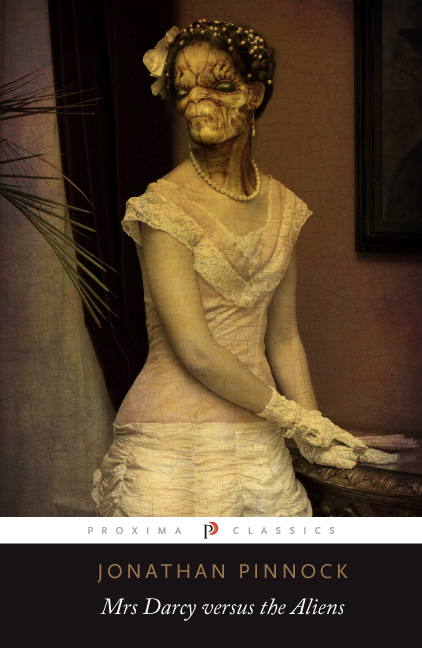 Mrs Darcy versus the Aliens is a slightly demented sequel to Pride and Prejudice, although it has been described more accurately as "not so much Pride and Prejudice's sequel as its bastard offspring following a drunken one-night stand with the X-Files."
It was originally serialised on a blog, starting — quite by chance — on Jane Austen's birthday in 2009 and running for a year thereafter. Much to the author's surprise and delight, it was picked up by Proxima Books, an imprint of Salt Publishing, just over a month before its run ended.
Here's the official blurb: A year or two into her marriage, Elizabeth Darcy has much on her mind: she has still not produced an heir for Mr Darcy, there are preparations to be made for the Pemberley summer ball, and her youngest sister Lydia has been abducted by aliens. As Regency England sleepwalks towards tentacled oblivion, will she be able to reunite with her old foe Wickham and put a stop to their evil plans? Meanwhile, in the East End of London, the repulsive Mr Collins is running a Mission for fallen women whilst his poor wife Charlotte has fallen under the malign spell of Lord Byron and is now a laudanum addict. But is everything at the Mission all that it seems? What is Mr Darcy doing there? And why are there strange lights in the sky over Lady Catherine de Bourgh's seat at Rosings? This is probably the most unconventional sequel to a Jane Austen novel ever written. It is certainly the funniest.
Mrs Darcy versus the Aliens was published by Proxima in September 2011.
Jane Austen meets H G Wells. No she doesn't. Jane Austen smokes weed and meets John Wyndham on speed. Perhaps… But whoever she meets, Jonathan Pinnock conducts – and has created one of the funniest, cleverest books I have ever read. I'm serious. This book isn't. But it IS seriously good.

Vanessa Gebbie, author of "Words from a Glass Bubble", "Storm Warning" and "The Coward's Tale"
This book is much funnier than the original, and it has more monsters. I laughed like a mentalist.

Scott Pack, publishing industry guru
Should be available on the NHS to cheer up austerity Britons. I haven't laughed so much in years.

John Harding, author of the acclaimed "Florence and Giles"
You know that friend of yours who loves Carry On, Baldrick, Space Balls and Tim Vine? Buy this for them. They will be forever grateful. But be warned — they'll stop every few pages and read you the jokes.

British Fantasy Society
Completely mad and absurdly compelling.

Nicola Morgan, Carnegie Medal-nominated author of "Wasted" and many other acclaimed novels
Mrs Darcy versus the Aliens . . . is probably the strangest and most refreshing Austen sequel I've read in a while.

Kelly Yanke Deltener, Jane Austen Sequel correspondent for Examiner.com
The book Jane Austen really wanted to write – probably.

Toby Frost, author of the best-selling Space Captain Smith series
Most unexpected.

Jane Austen Centre, Bath
There are more reviews here, some academic citations (yes, really) here and a sample chapter here. There are a whole load of extra features here, and there is of course the utterly unique Wickhampedia if you have a few hours to kill.