National Press
The Independent on Sunday was the only broadsheet to express an opinion but fortunately it was a good one: "an entertaining collection of grotesque, fantastic, pungent little tales."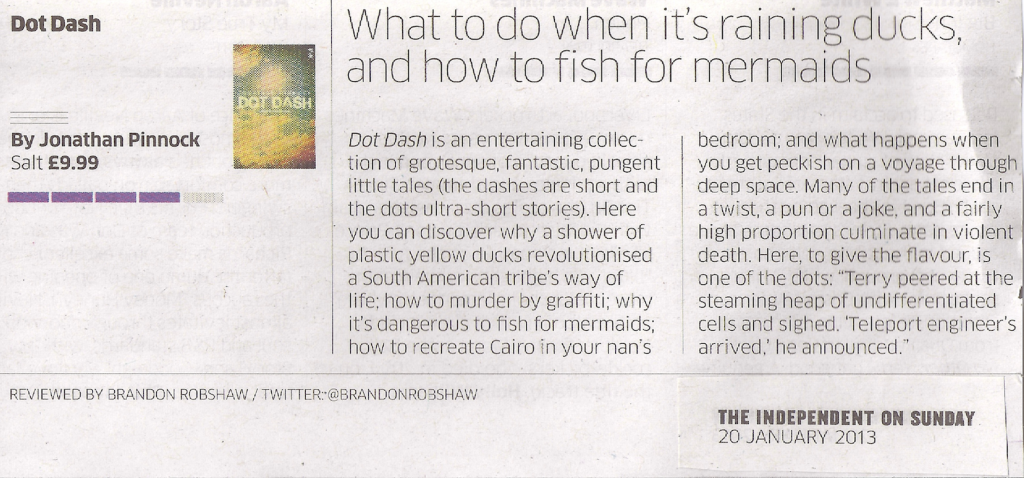 Somewhat unexpectedly, Dot Dash was also chosen as one of only two books to be reviewed in the January 2013 edition of Faces of Oman, a supplement given away monthly with the Times of Oman. The review itself doesn't actually add anything new, being essentially cobbled together from the book's blurb and the Independent on Sunday piece, but I'll take 'em wherever I can find 'em. It's on page 65, next to Virginia Ironside.
Magazines and Other Periodicals
The first issue of Synaesthesia contained an extended version of Bec Zugor's splendid review (see below).
The Short Review's Sara Baume began by wondering "what strange forces had possessed me to request Dot Dash", but fortunately "it only [took] a few more pages for the fissures to develop in [her] scowl" and the review took a generally positive turn from there on.
YouTube
Katie Lumsden included a review of the book in her December 2018 Reading Wrap Up, and is very enthusiastic:
Bloggers
The very first review of all came from Bec Zugor's Tales From The Ironing Board, where she pronounced it as "a flippin' brilliant collection". Out of the 58 stories, there was apparently only one she wasn't keen on. (Of course, I'm now desperately wondering which one.)
Next, in the prelude to an interview with me, Vanessa Gebbie said that I was "Roald Dahl's natural successor." Gulp.
Scott Pack (no relation to Scott Prize) reviewed the first couple of stories for his "Me and my short stories" blog and said that he was trying to eke [the collection] out for as long as he can," as "it has all the makings of a bit of a modern classic." Gulp again. Not long after this, he reviewed another couple of stories and he still seemed to be enjoying it.
Jim Murdoch, in The Truth About Lies gave it a remarkably thorough treatment, summarising it as "a fine collection of short stories and well-balanced".
The enigmatic womagwriter gave it a somewhat briefer write-up, but said that the stories were "beautifully written and I thoroughly enjoyed reading them".
Curiosity Killed the Bookworm gave the book five stars and said "it's one of the best short story collections I've read and one I think I will go back to repeatedly".
David Hebblethwaite in Follow the Thread summed it up as "Lovely stuff".
Dan Purdue, in Lies, Ink, gave the book a typically perceptive review, remarking that "it's easy to imagine Dot Dash becoming a set text for any writer looking to address the tricky question of exactly how you go about getting a judge or editor to notice your story among everybody else's."
Laura Besley, in Living Loving and Writing, summarised the book as "a delightful collection of micro and flash fiction."
And finally, it's not exactly a review, but Wordnik rather bizarrely cites Hidden Shallows, one of the stories in Dot Dash, as an example of the use of the word treacle. Yes, really.
Miscellaneous
Not exactly a review, but I did manage via Twitter to persuade Johnny Vegas to order a copy, and this is what he tweeted when it arrived:
Arrived to to find a tidy stash of @ggaffa awaiting me, plus I'm taking a punt on Jonathan Pinnock's DOT DASH pic.twitter.com/g77pS2xYFm

— Johnny Vegas (@JohnnyVegasReal) February 4, 2014
Still haven't found out what he thought of it, though…
Goodreads