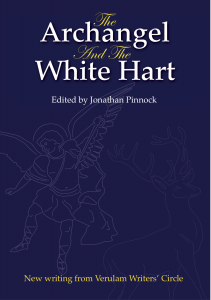 We  thought it was about time we officially launched our very wonderful VWC anthology, The Archangel and the White Hart (remember, that's the one that I edited and has been featured twice on Scott Pack's spiffy Me and My Short Stories blog).
So this Thursday, July 7th, at 7PM, if you're in the vicinity of Waterstone's in St Albans, drop in and say hello. If you speak nicely, you may even get a glass of wine thrust into your hand. You may be asked to buy a copy of the book in return of course, but it is very good, so it's a pretty good deal if you ask me. There may also be readings and stuff.
Not only that, but I have a feeling that I haven't actually mentioned anything here about the forthcoming launch of Mrs Darcy versus the Aliens yet, so I'd better rectify that. The book itself comes out at the beginning of September, but the launch takes place at this year's FantasyCon in Brighton. In fact, it's not just Mrs Darcy that's being launched, but Proxima itself, so it should be quite a party.
Speaking of which, have you been following the development of the Proxima covers? Every single one of them is absolutely stunning. And SF covers have been known to be a bit naff, haven't they?
In other news, I've reactivated the blog over at Mrs Darcy's dedicated site (although I've moved it so you'll need to change your RSS feed) to make it easier to keep people informed about what's going on there. Wickhampedia continues along its merry way. I really have no idea where it's going, to be honest, but I'm sure it knows what to do.