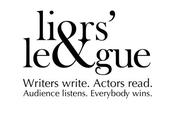 Last night I went along to Liars' League to hear my story "The Last Words of Emanuel Prettyjohn" read. I was particularly excited about this because I'd re-written the piece especially for the League so that two actors, one female and one male, could alternate roles and I was desperate to see how this would work out.
Well, I have to say I was seriously impressed with the way that both Lin Sagovsky and Tony Bell threw themselves into it and caught the spirit of the story perfectly. Here they are:
The Last Words of Emanuel Prettyjohn
The other stories were wonderful, by the way, with some absolutely superb performances. I've been submitting to the League on and off for the last four years and it seems to go from strength to strength. Not only that, but the audiences are getting bigger. I'm sure last night's must have run into three figures, which is amazing for this kind of thing.
Meanwhile, the "Dot Dash" blog tour continues, and yesterday Dan Purdue invited me to return to Lies, Ink to talk about my experience of entering competitions. I notice that the URL for the post is "guest-post-jonathan-pinnock-talks". Feel free to mentally add "sense" or "bollocks" as you deem fit.