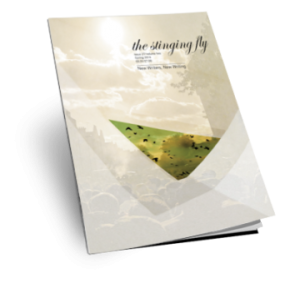 The Spring edition of the Irish literary magazine The Stinging Fly has just been published, and what a lovely thing it is. It's always nice to appear in print, and I'm especially chuffed that my odd little magical realist flash "The Meaning of the Rabbit" has been included in Nuala Ní Chonchúir's flash fiction showcase, along with loads of other cool people's work.
I do hope that last Monday's BristolCon fringe audience appreciate that magical realism reference, by the way.
The excellent Short Review have also put up an interview I did with them about DOT DASH and other stuff. I quote George Saunders in it, which just goes to show how hip I am.
If you're near Bath this Friday, do come along to Story Fridays at 7:30PM in Burdall's Yard, where I will be reading "Nature's Banquet" as part of their "Feral" evening. More – ahem – magical realism.
Finally, I had an urge the other day to start submitting some TwitFic again, and I've just had a couple of acceptances, from Confettifall and Twiction Addiction. They'll both be appearing in April, and I'll give you a nudge when they do.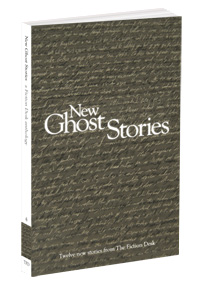 The Fiction Desk's sixth anthology, "New Ghost Stories" has just been released, and what a splendid collection it is. Take a look at the stellar list of contributors, for one thing. I'm really looking forward to reading it myself, and not just because there's one of my stories, "A Whole Bloody Century", in it. Go on, treat yourself or one of your loved ones to a copy now.
Had a nice piece of news at the weekend, in that I emerged (after six gruelling rounds) as the winner of the fiction section of this year's NOT The Whittaker Prize. This competition is the semi-official successor to The Write Idea forum's Whittaker Prize. The contest involved writing a new story every two weeks to a set of prompts. Following this, we all scored each others' entries anonymously and totted up the results. The best thing about it is that I now have half a dozen new stories that I can eventually submit elsewhere. Some of them will need a severe edit, and one or two may end up in the wastepaper basket, but they're all about subjects I would never have dreamed of writing about before.
Finally, I had a really nice rejection this week, from The Letters Page. It was nice for two reasons. Firstly, it was handwritten by the editor himself, none other than Jon McGregor. Secondly, because the writers whose work was accepted included the awesome George Saunders and Kevin Barry. One of those rejections that counts for a thousand lesser acceptances, and a nice end to a year that's been slightly lukewarm at times from the writing point of view.
It's possible that you'll think I'm only doing this because the author provided a nice quote for the cover of Mrs Darcy versus the Aliens (STILL available from all tax-paying and non-tax-paying outlets - and wouldn't a signed copy make a lovely Christmas present?). Or perhaps you think it's because he said some nice things about Dot Dash (amazingly, this is ALSO still available from all tax-paying and non-tax-paying outlets). Or even it's because I was given a free copy because I contributed a couple of ideas to the book?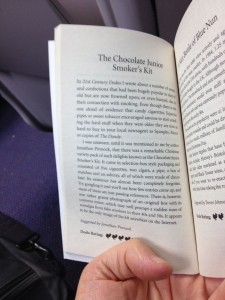 Well, obviously, it's all of these. But it's also because Christmas Dodos – Festive Things on the Verge of Extinction is the perfect stocking filler (assuming, obviously, that the recipient of your generosity already has both Mrs Darcy and Dot Dash). So I'd suggest you order one now – it's available from the usual places. And tell Steve/Scott I recommended it – one of these days I may need another quote or review from him…
I almost forgot to mention that my short story "Cure for Burroughs" is in the new edition of Synaesthesia Magazine. This edition is nominally about science and numbers, although my piece has a pretty tangential relationship to real science, if the truth were told. I quite like it, though.

It's nice to be back at Every Day Fiction. This piece first saw the light of day at Story Fridays in Bath, where I read it in a room full of odd bits of old machinery, a location that seemed curiously appropriate. It's not a particularly deep piece, but I'm quite fond of it.
In other news, Take It Cool continues on its merry way, with its highest audience yet for last Thursday's post. Let's hope that some of the folk who came along for that one stick around for the rest. Today we're exploring some of the hitherto uncharted waters of Dennis Pinnock's discography, with a rather unexpected collaboration. We're about three-quarters of the way through now, so it's still worth joining in, although you might want to start at the most recent Previously… post.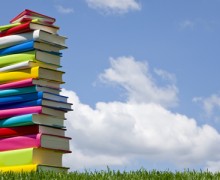 One of the things I'm coming to realise is that the most exciting thing that can happen as a writer is when someone with a different skill set collaborates with you. I am by nature a solitary creature when it comes to the actual business of putting the words together, but I love seeing what happens when you let go of the words and let someone else play with them.
So far I've been lucky enough to have a few of my stories illustrated by some very talented artists (although I'm still awaiting a full-blown graphic novelisation – my life would probably be complete if that ever happened). I've also had some excellent live readings by some wonderful actors and a couple of excellent studio productions (one by the BBC and another by Short Story Radio).
And we can now make that three excellent studio productions, because a new site has just gone up called The Story Player, and my story "The Birdman of Farringdon Road" is one of the first to appear there. It's expertly read by David Wayman and superbly produced by the man behind Short Story Radio, The Story Player and National Short Story Week, Ian Skillicorn. Do have a listen – it's only 12 minutes long. Whilst you're there, take a listen to some of the other stories from great writers like Susie Maguire and – coming soon – Tania Hershman and Jon McGregor.
I also heard today that my story "The Alternative Electrician", which I read at Story Friday in Bath nearly a year ago, has been accepted for publication by Every Day Fiction. It'll be nice to see that one getting a second audience.
And don't forget that "Take It Cool" is still running, having just hit its thirtieth episode. If you haven't been following it, don't worry, there'll be another "Previously…" post along soon. Or just start wherever you like and pick it up from there. I'm not fussy. Just as long as you read it, right?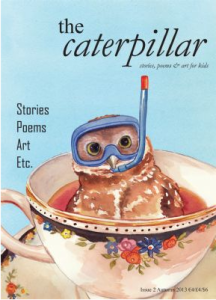 This is pretty exciting. I've got a couple of poems in the second edition of The Caterpillar, an Irish print magazine for kids. As its name might suggest, The Caterpillar is the junior arm of the highly respected literary magazine The Moth, so I was decidedly chuffed at being part of it already. However, my chuffedness knew no bounds when I looked at the list of the other contributors and saw people like Frank Cottrell Boyce, John Siddique, Smarties Prize winner Hilda Offen and Bina Shah. If you've got kids or grandkids (or indeed if you are a person between the ages of 7 and 11 yourself), I'd thoroughly recommend investing in a copy.
In other news, TAKE IT COOL continues, the latest episode describing how I came to forge an alliance with the Mormons in order to penetrate the more distant branches of my family tree. I've also updated the discography page, so you can now hear for yourself the record that may or may not have influenced Massive Attack.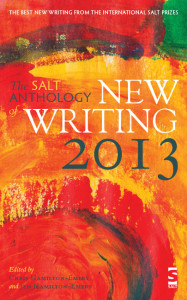 The first ever Salt Anthology of New Writing is now out, featuring – amongst other things – my story "Duo for Oboe and Violin, Op 27″. Loads of other good stuff in there, so I'd definitely rate it as a "buy".
Also out today is a cheeky little flash of mine, "Wood", at the splendid Cease, Cows magazine. They've picked a great illustration for it, too.
A dark little tale of mine is up at the splendid Greek literary magazine Στάχτες today. I thought it might be fun to write a piece that hinted at something strange and unpleasant going on offstage without explicitly saying exactly what. Which I think comes back to what Calum Kerr was saying a few posts back about conjuring the world by implication rather than description. I'm getting more and more fascinated by seeing how much you can not say and still say something.
Meanwhile, TAKE IT COOL seems to be generating some interest – including this tweet from none other than Ian Rankin:
You had me at Pinnock's Paranormal Payback… Lovely stuff…
Episode two will be up tomorrow, but in the meantime, here's episode one in case you fancy catching up. (In case you're wondering, yes, I have changed the title – seemed more appropriate.)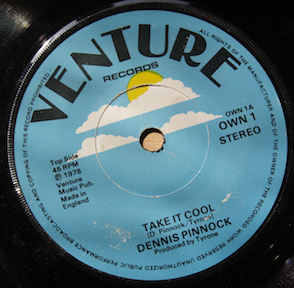 So I wrote another book. Just to be perverse, it wasn't like any of the previous ones. It wasn't a software development guide. It wasn't a regency spoof. And it wasn't a book of short stories either. It was a highly personal piece of non-fiction, almost a memoir but not quite, almost a historical work but not quite, almost a musical biography but not quite. In fact, if you were looking for a category to fit it into, you'd probably come up with something like "not quite".
The trouble is, the publishing industry doesn't really like things that aren't quite. There are good reasons for this, the most significant of which is that the reading public tend not to like things that aren't quite either. So this isn't a rant about the failings of the publishing industry.
And yet.
I like this book. I like it a lot. It tackles an important subject in an entertaining and (I think) original way. I think if you were to start reading it, you'd want to read more. As one of my online friends tweeted yesterday, it's "something I would love to read, yet never realised I wanted to before now". Which sums it up perfectly.
So, having failed to find a publisher for it, I've decided to blog it. Here are my reasons for doing so. And here's the first post. See what you think. If you like it, please do spread the word.
Time for a quick round-up on stuff I've had published recently.
First of all, there's my poem "Pants Outside Trousers, Big Letter H On T Shirt, Here To Save The World", which got its first online outing at Josephine Corcoran's splendid And Other Poems… blog.
Next, my flash "contemplating rothko" was published in "Scraps", this year's National Flash Fiction Day anthology. I also did a post for the NFFD blog on "Telling Untold Stories" and took part in a reading to celebrate the day in Bristol.
And then my story "Oddly Enough, It Wasn't About Larry Walters At All" appeared in the prestigious Israeli literary magazine, The Ilanot Review, alongside some really cool other writers including Sara Crowley, Sarah Hilary, Nuala Ní Chonchúir and Valerie O'Riordan.
Finally, my dark little flash "Room 31″ was accepted for publication by the established Greek literary magazine Στάχτες – or, to be more precise, its new English Wednesdays feature. That should appear towards the end of the month, and I think it's quite an interesting piece because it bears out a lot of what Calum was saying in his guest post about telling the story by implication instead of spelling out every detail. I'll let you know when it's published anyway.