Well, I did warn you that I'd had three poems accepted by TPG. The second one is called "Dali's Moustache", and it's one of those blink-and-you'll-miss-it things. Fairly insubstantial, but moderately amusing. It is based on a true incident, by the way – one that is well worth watching if you have ten minutes spare.
The third one, "Dissonant Love Song #2″, is a bit odder. I quite like it, though. Not sure if I could take a lot of that kind of thing, though, and it's probably quite fortunate that there never was a "Dissonant Love Song #3″. Curiously, there isn't a "Dissonant Love Song #1″, either.
An odd little poem of mine went up at The Pygmy Giant today, the first of a batch of three that was recently accepted there. "This Is Just To Be Meta" is, I guess, a parody of the idea of parodying a particular famous poem, "This Is Just To Say" by William Carlos Williams. There are, I suppose, three possible responses to this:
Huh?
Hey, a meta-parody! Neat!
Someone is trying to be too clever for their own good, aren't they?
Take your pick. I'm probably going with 3, to be honest.
The other two poems, "Dali's Moustache" and "Dissonant Love Song #2″, will appear some time in 2013, and I'll let you know when.
In other poetry news, I think I can now reveal that my poem "Bloody Italians" was Highly Commended in the inaugural Fire River Poets competition. I was particularly pleased about this because they're based not a million miles away, in Taunton, and I've already been to a couple of their open mic nights. I've been asked, along with all the other shortlistees and prizewinners, to read my poem at a special event on May 2nd, so that should be fun.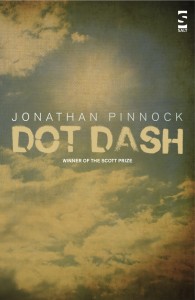 It's madness, it is. Dot Dash arrived on the Kindle today and for a limited time only (at least I assume so) it will cost you no more than 77p! That's SEVENTY-SEVEN PENCE, people. It also seems to be available in the US Kindle store, although there's no price currently attached.
If, like me, you still prefer the feel of real paper books, it's also finally made it to the ordinary Amazon store.
Other bookstores are, of course, available. For the time being, at any rate. Some of them pay a bit more tax than Amazon, too.
The ideal option, from my point of view, would be for you to spend 77p to see if you like the look of it, and then order a signed physical copy from me (see sidebar <–). Or pop into your nearest local independent bookshop.
Five other Scott prizewinners from Salt are also included in this offer, and the ones I've read (from Cassandra Parkin and A J Ashworth) and the one I'm currently reading (from Carys Bray) are bloody brilliant. Get in there, I say.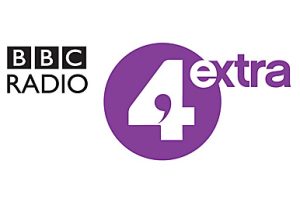 I dunno. You pay your licence fee and all you get is bloody repeats. Still, this is worth 15 minutes of your time: BBC Radio 4 Extra (that's the digital channel that used to be called BBC Radio 7) are repeating my Opening Lines story "The Amazing Arnolfini and His Wife" tomorrow, Thursday November 29th, at 11AM and again at 9PM. Alternatively, if you happen to be an insomniac or living somewhere more exotic than the rain-sodden UK, it's on again at 4AM on Friday morning. (Does that make three repeat fees? I do hope so.) If you still manage to miss it, it will also be available for a week afterwards on iPlayer.
I should also point out that if you happen to have a copy of Dot Dash handy, you can even read along as you listen! (And if you haven't got one yet, you can order a signed copy via the PayPal button on the left hand sidebar <– and get it delivered before it disappears from iPlayer. How about that?)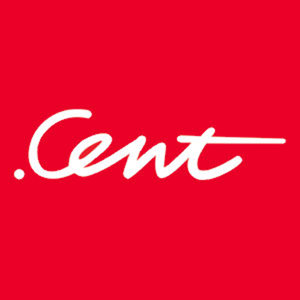 Also, the new issue of the utterly gorgeous .Cent magazine has just come out, featuring – on page 8 – my flash "The Sculptor's Wife". I think this may well be the classiest publication yet to feature a piece of mine.

My short poem, "Choking Hazard – Small Parts", a kind of modest proposal for armaments manufacturers, is up at Every Day Poets today. This is the one that was shortlisted for the Bridport Prize a couple of years back, and I quite like it.

This is pretty cool. 3hundredand65 is a story built up from tweets, one per day, over an entire year (which makes something in the region of 9000 words, give or take a few). This kind of thing has been done before, except there are three crucial differences this time:
Each day is written by a different person – including loads of celebs.
Each segment is illustrated in proper graphic novel style
It's all for charity
As soon as I heard about it, I decided I wanted to be part of it, so I signed up and I was allocated October 1st – yesterday, in other words.
Here's my bit. I decided to take a disciplined approach and not introduce any new mad characters, instead setting it up for something interesting to happen next. Looking back on it, maybe I should have been a bit more bonkers…
Anyway, if you want to contribute to this excellent charity (and why not?), here's the link.
In other news, some words of wisdom of mine are featured on page 15 of the latest issue (number 6) of "What The Dickens" magazine. I think they're going to be interviewing me some time soon, too.
And finally, the website for "Dot Dash" went live yesterday. And yes, it is very similar to the one I did for Mrs Darcy. I'm not quite ready to embark on the next level of learning CSS…
If you're on Facebook, there's a new Dot Dash page as well, and it would be really cool if you could "Like" it.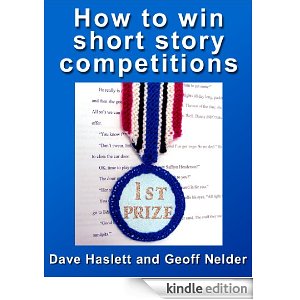 Now that post title should bring in some traffic, shouldn't it? It also happens to be the name of a new eBook that Dave Haslett and Geoff Nelder have brought out. I know Geoff well, and have endured his trenchant criticism often in the past – most particularly when he was Whittaker Prize judge in 2009 – so I'm happy to confirm that he knows of what he writes. The other reason for mentioning it is that it includes the text of a prize-winning story of  mine, "Return to Cairo" – in fact, it's there on the cover, behind that medal. Whereby hangs a tale. Do go and buy the book anyway – you won't regret it.
In other news, I have finished Project Y and I have sent it off into the world. No idea if anyone will deem it worthy of publication, but time will no doubt tell. So the question is: do I go back to Project X or do I go off at a tangent and start Project Z? I need something to aim at, but I'm not sure what at the moment.
The flash fiction slam I mentioned in my last post was terrific fun and I met several old friends as well as some I'd only previously encountered online. Massive congrats to Kevlin Henney, the winner, whose account of the evening may be read here.
I was also very impressed to see this review of the National Flash Fiction Day Jawbreakers anthology, if only for the description of the authors as being "David Gaffney, Jonathan Pinnock et al". The "et al" includes Ali Smith and Ian Rankin, to name but two. It's all downhill from here.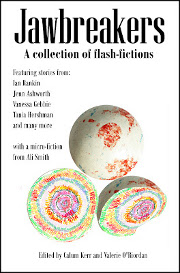 Jawbreakers, the brilliant new collection produced especially for National Flash Fiction Day is now available for pre-order! This wonderful book features short fictions from LOADS of amazing people as well as a couple of REALLY FAMOUS ones (Ian Rankin and Ali Smith!). Oh, and I'm in there too, with a story called "Camembert".
Well, what are you waiting for?
(And whilst you're at it, make sure you like Jawbreakers on Facebook!)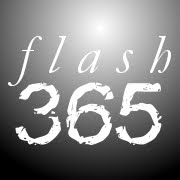 Hmmm. Where did the last two weeks go?
*brushes away cobwebs*
*cracks knuckles*
Time to get blogging again. First thing to bring to your attention is a tiny blink-and-you'll-miss-it flash I did for the indefatigable Calum Kerr's flash365 project. The idea behind this is that Calum, who amongst many other things is the man behind the forthcoming National Flash Fiction Day, writes a flash every day for an entire year. Whew.
However, in the course of this, he realised that he'd actually chosen a leap year to do this in, which meant the name of the project was not entirely accurate. So he decided to enlist the help of some of his chums for a special extravaganza on February 29th. You can see the results on his flash365 site, starting with Vanessa Gebbie's excellent opening story. If you take a look, you'll spot a few other familiar names there, including Sara Crowley, Dan Holloway, Valerie O'Riordan and Alison Wells, to name just a few.
My own contribution is here. I have no idea where it came from or even if it works or not, but I quite like it. See what you think.
Is it really a week since my last post? Yes, it looks like it is. Ho hum. Well, the good news is that the mysterious Project Y is getting very close to the magic 10000 words and I'm actually beginning to feel quite excited about it. No clues yet as to what it's all about though. Sorry. Meanwhile, I had a piece  published in The View From Here this week about that utterly wonderful film The Artist and what we writers can learn from it.
The next thing that happened this week was that I was interviewed by that excellent chap Charles Christian for his new online magazine The Urban Fantasist. As interviews go, I think it's one of my better ones, so do take a look. And bookmark that site – looks well worth following.
But the most exciting thing of course was Get Writing 2012, which took place yesterday. It was particularly exciting for me because I had the opportunity to do my first-ever workshop. Strictly speaking, I did one three years ago, on entering competitions, but as only a couple of delegates went to it (until a few of my VWC chums very loyally came along to bolster the numbers) I don't think it really counts. Yesterday's was entitled "Weird and Wonderful" and was all about unlocking creativity, basically by setting the brain problems to solve. From where I was sitting (or standing, mostly) it seemed to go well, and the group was extremely responsive. I'd like to do more of this kind of thing: it's a lot of fun.