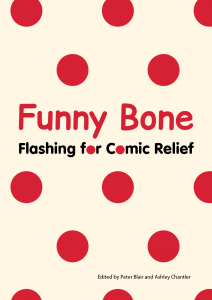 Ooh, this is exciting. Some time ago I was asked to contribute a humorous flash to an anthology for Comic Relief. So I offered them my story 'Embarrassing Dad'. Fortunately, they seemed to like this, so there I am in the table of contents, along with the likes of Bernard MacLaverty, Roddy Doyle and Lydia Davis. I'll repeat that. I am in the same table of contents as a Man Booker Shortlistee, a Man Booker Prizewinner and a Man Booker International Prizewinner. It's all down from here.
Anyway, enough about my involvement. The MOST IMPORTANT THING is that you all go and buy it because it's for Charidee and, honestly, with that bunch of writers (did I mention David Gaffney, Vanessa Gebbie and Tania Hershman as well?) it's bound to be the most awesome book published this year. Or possibly this millennium. Century, probably. Decade, certainly.
Here's where you need to go. Do it now. Please.