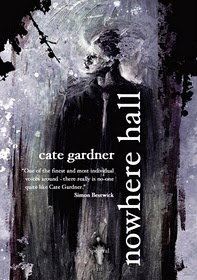 The beginning of Week 2 of the Never Ending Blog Tour finds us at Cate Gardner's place. I think I first came across Cate at Café Doom, where she turned up one day and started winning the weekly flash challenge on a regular basis, and I've followed her career with interest ever since. The image to your left is the cover from her latest chapbook from Spectral Press, "Nowhere Hall", but unfortunately you won't be able to get hold of a copy because it's SOLD OUT.
Which is a damn shame, because it's rather good. However, her excellent book of short stories, "Strange Men in Pinstripe Suits", is still available, and I strongly advise you to get hold of a copy now. Why? Because Cate has a unique style – a compelling mixture of gothic, melancholy and downright weirdness – and one day she is going to be very well known indeed.
I was more than a little stumped as to what to do for my guest post, so I decided to conduct an interview with myself. However, I seem to have mislaid the questions – feel free to provide them yourself.
In other news, Mrs Darcy seems to have made it to the Featured Category Books section of The Book Depository. Which is all rather exciting.
And I still haven't told you about what I did on Monday. Or indeed about the three (count 'em) unexpected invitations I've had so far this week. Another time, perhaps. Always leave 'em hungry for more, eh?