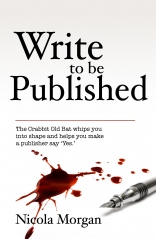 If it's Wednesday, it must be Help, I Need a Publisher!, otherwise known as the online home of Nicola Morgan, who has published more books than most of us have had hot dinners, including the excellent "Write to be Published", which – as I may have mentioned here before – has the best page 246 of any book in existence, and her very latest publication "Tweet Right" which is an absolute must for Twitter newbies (you are all on Twitter, aren't you? hmmm?).
Anyway – pausing to catch breath after that absurdly long opening sentence – I was very honoured to be invited in to talk about Mrs Darcy. I hope I didn't blot my copybook, because I would hate to incur the wrath of The Crabbit One. Especially as she provided a lovely cover quote for the book. Do take a look – it's all about How I Got Published and why it's a path to tread with caution, even if it did work for me.
Also, over on Goodreads (which – to my shame – I've never really been on before), the fragrant Jane Lovering has already read and reviewed my book and seems to like it. So I'd better get my skates on and read her new one before our blogpaths (is that a word? it is now) cross on September 24th.
And I still haven't told you what I got up to on Monday. Which is a shame because it involved someone off the telly. More another time…