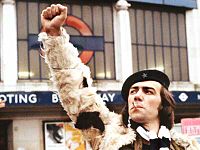 Well, then. It seems that I've temporarily become a bit of an activist, following the BBC's shameful treatment of speculative fiction on World Book Night. After reading Stephen Hunt's clarion call to action, I was very happy to add my name to his letter, and here is the full list of signatories (incidentally, that's the second time in recent weeks that I've found myself on the same page as the likes of Michael Moorcock – oh, calm down, Pinnock).
There's a weird disconnection going on here. The most anticipated event right now in UK television (actually, probably the most anticipated event in the UK, full stop – sorry Kate'n'Wills) is the start of the new series of Doctor Who. And yet science fiction is still the genre that dare not speak its name.
It's not just the BBC that are guilty here. I was searching for an article on the 1983 Best of Young British Novelists campaign just now, and I came across this stupendously idiotic subhead. Whatever happened to Christopher Priest? Well, he carried on writing a load of fascinating and innovative novels that were largely ignored by the mainstream press, that's what he did. Why were they ignored? I give you three guesses. (Incidentally, it's worth reading Priest's take on that campaign – scroll down to 1983.)
Here's another one. I wonder how many literary types out there have ever heard of Stanislaw Lem's "A Perfect Vacuum." It's possibly the most über-literary book ever written, out-Borgesing Borges himself and it should be the kind of cult classic that causes everyone to give a knowing nod whenever its name is mentioned. But I don't think I've ever heard anyone talk about it. The only reason I've ever read it is that it came in a portmanteau edition along with "Solaris" (ah, you've heard of that one, haven't you?) And as for why Lem isn't up there with all the other greats of 20th century fiction, I will give you the same three guesses as before.
As a reader, I really don't give a toss what genre a book belongs to. I like to read a mixture of stuff, for the same reason that I like to listen to a mixture of stuff and eat a mixture of stuff. Doesn't everyone? Apparently not, it seems.
As a writer, I apply the same logic. I've written stories that would definitely be described as literary. But I've also written horror, science fiction and mainstream humour. I wrote "Mrs Darcy versus the Aliens" simply because it struck me as a cool idea that might be fun to explore – which is as good a reason as any for writing something, isn't it?
There is hope, though. In the small presses, the distinctions are beginning to blur (I refer you once again to this post by Camille Gooderham-Campbell of Every Day Fiction, for example). And writers like Adam Marek are being taken seriously even when they manage to smuggle a zombie story into their first collection of short stories. Maybe one day the establishment will catch up, eh?