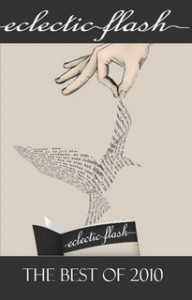 And here's another anthology that's fresh off the press. This one came out at the start of 2011 and collects together the best bits from the first year of the splendid Eclectic Flash. In case you haven't already seen it, their "editors" page is well worth a look – scary bunch, eh? (Nice to see the correct usage of the word "riffle", by the way.)
My contribution is a peculiar little piece entitled "The Language of Angels", roughly half of which is in French. Buy a copy if you fancy hunting for schoolboy errors. Even better than that, it also features work by four of my fellow denizens of The Write Idea: Donna Gagnon, Michelle Louis, Gordon Darroch and Helen Whittaker.
You can order a copy here. Go on, you know you want to.