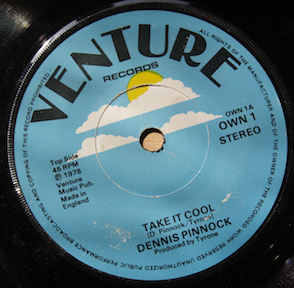 Excuse me for being a little excited.
However.
I am quite unbelievably pleased to announce that my odd little musical/biographical/historical/genealogical not-quite-a-memoir thing, TAKE IT COOL, has found a publisher, in the form of the excellent Two Ravens Press.
As you may be aware, this has not been an easy process. Large numbers of agents and publishers – sixty-odd in all – have had this manuscript sitting in their slushpile. Most of them, I suspect, took one look at the synopsis and ran a mile. I can't really blame them, because it's one of those things that doesn't fit any standard template. However, there were a select few who said they liked the writing and that someone would eventually love it enough to take it on. Even if it wouldn't be them.
But still no-one said yes, and I was beginning to get a bit despondent. So I decided to take the initiative and run the book as a blog, just to see if there was an audience. I wanted to know if I was kidding myself. I did this with my first book, MRS DARCY VERSUS THE ALIENS (although there was a further motive in that case, which was to motivate myself to actually finish the bloody thing), and it did in fact get a publisher just a few weeks before it finished. I'm not even sure if the fact that it was out there for everyone to read had any direct impact on the publishing decision. What I do know is that I wouldn't have had the confidence to continue touting MRS DARCY around if I hadn't known that I did indeed have an audience who were avidly following my blog.
In some ways I was less confident about finding an audience for TAKE IT COOL. There weren't any big cliffhangers (apart from the will-I-won't-I-finally-find-Dennis-Pinnock thing) and there were several disparate threads to the story that made it less compatible with blogging. However, I was extremely gratified to find that I did indeed gather an audience. Not only that, but a handful of the celebs that I pestered to look at it on Twitter gave me encouraging responses. I wasn't deluding myself, after all.
So when brilliant short story writer and Facebook chum David Rose posted that Two Ravens Press were open to submissions, I went in with renewed enthusiasm. Samantha Hawkins, who has recently taken over TRP, responded very quickly and positively and suddenly everything seemed possible again.
This means a hell of a lot to me. TAKE IT COOL is a highly personal project, and one that I've been trying to write, on and off, since 2005. I'd like to think it's one of those things that might develop a bit of word of mouth and spread out a bit further than its original market (whatever that is). And if it helps Dennis sell a few more records, well so much the better.
Oh yes. He's recording again. Didn't you know?
What with promoting Mrs Darcy and so on, I haven't done a lot of submitting stuff lately. But I sent a few things off the other day and I was very pleased to get a quick acceptance from Ink, Sweat and Tears for my poem Lost for Words. I'll let you know when it appears.
What else? Had an unexpected sighting of Mrs Darcy the other day, courtesy of the lovely Sarah Salway (that's Sarah-Salway-who-gets-cover-quotes-from-Neil-Gaiman-and-recently-shared-a-platform-with-William-Gibson, in case you were wondering). At a poetry reading the other day this chap was apparently enthusing about the book, saying that there were "lots of belly laughs". I've no idea who he is, which makes it even better.
I've now added a 404 page to the Mrs Darcy website. Try going to a non-existent page like this one and see what happens. I should do something similar to this place, too, whilst I'm at it.
I've also restarted my Too Many CDs project – the one where I listen to every tenth CD in my collection and give my impressions. We're now up to number 100, which happens to be the splendid "Remedy" by Basement Jaxx.
And finally, if you haven't been keeping up with the increasingly bizarre and unpleasant Brit Writers Award story, this post – and the comments under it especially – will tell you everything you need to know. Wow. Just wow.

… is now live in the very latest edition of Eclectica. Make of it what you will

In other news, the fight against the BBC short story cuts continues. The indefatigable Susie Maguire has written an eloquent piece here, whilst the Society of Authors have also vowed to keep the pressure on. If you haven't signed the petition yet, please do so.
Finally, I don't usually talk about my family here, but my stupendously talented daughter's food blog has just gone live and I really think you should go and have a look at it. You'll feel better for doing so, trust me.

… have just accepted my flash "Special Relativity", an odd little piece about sibling rivalry, Einstein and the lies we tell our kids. It will be published in their next edition, which should be appearing very soon. I'll let you know when it does.
In other news, the outrage about the BBC's decision to cut down on short stories has made The Independent. Terrific work by Susie Maguire and Ian Skillicorn there. It's nice to have been able to play a small part in spreading the word. However, it's not over by any means and we need to keep up the pressure. There's an online petition now and if you haven't signed it already, I really would urge you to do so.
Apologies for the peremptory nature of the post title, but quick action is required here. It emerged today (although the press release announcing it is dated a week and a bit ago) that the BBC (who had the stupendous good taste to broadcast my story "The Amazing Arnolfini and His Wife" last year) are reducing the number of short stories broadcast on Radio 4 from 3 per week down to 1. I cannot begin to fathom why they are doing this, but whatever the reasons, it's not good for short stories.
Did I hear you say "We're not gonna take it"? I thought I did. Good. So here's what we're going to do. This is the text of an e-mail I received this evening from Susie Maguire (aka @wrathofgod on Twitter). Please read it and act on it, as soon as ever possible:
The new Controller of Radio 4, Gwyneth Williams, will be a guest on FEEDBACK on BBC Radio 4 next week. How very timely.

Would you add your name to a letter/question to ask her?

Would you pass on this email to other writers who care about the health of the short story…?

The more of us, & the better known the writers who sign it, the more likely it is to have some effect.

If so, please find below a short, polite question, proposed by Ian of http://www.nationalshortstoryweek.org.uk

Reminder: info on her decision to cut the short story's presence on Radio 4 outlined here  http://www.bbc.co.uk/pressoffice/pressreleases/stories/2011/07_july/10/radio4.shtml

If you'd like to add your signature, please email YES to

ian AT shortstoryweek DOT org DOT uk

& cc to me: info AT susiemaguire DOT co DOT uk

NB – It would be really helpful if you could reply within 24 hours so that the question can be lodged as soon as possible. This is by no means the *only* action interested parties can take, but it's a start, and I hope you might add your weight to it with this (and further suggestions are welcomed)

thanks

Susie

*******************

Proposed question:

We were surprised and disappointed to learn of the decision to reduce the short story output on Radio 4 to once a week from next spring. Radio 4 has been a great champion of the short story for many years. It is one of very few places in the UK where both new and established writers can have their short stories broadcast to a large audience, and where radio listeners can enjoy readings of the short story form. This move comes at a time when interest in the short story is growing, but paid opportunities for short story writers are still scarce. Could Gwyneth Williams please explain:

1) what has led her to make this decision?

2) whether the short stories on Radio 4 extra will be new commissions or repeats of existing recordings?

3) how this decision fits with the BBC's sponsorship of the National Short Story Award (and indeed if this will continue?)
I know I can rely on you. Thank you. You're all wonderful. Except possibly you. But I'll even like you if you act on this one.
In the immortal words of Jimmy Jones, you need good timin'.
When I sent my entry in for the Scott Prize to Salt Publishing at the beginning of last October, I had no idea whatsoever that Salt were about to launch Proxima Books and even less idea that barely a month later I would be signing a contract for Proxima to publish Mrs Darcy versus the Aliens. By the time the Scott Prize announcement came around, the release date for Mrs Darcy was already set for September 1st which made things look a bit complicated, given that all three Scott Prize winners were due to be launched during National Short Story Week – November 7th to 13th.
Something had to give. So yesterday the decision was taken for publication of Dot Dash (my short story collection) to be put back to 2012. I'm obviously slightly disappointed about this, because my first love is short stories and I'm desperate to find out what the world thinks about this collection. But I can also see that from a marketing point of view, bringing two very different books from the same author out at almost the same time would be insane.
So 2011 is now going to be solely the year of Mrs Darcy, whilst 2012 is going to be the year of Dot Dash. Unless of course everyone suddenly starts clamouring for that sequel to Mrs Darcy, in which case life gets very complicated indeed. But in a good way.
Meanwhile, Scott Pack is reviewing stories from the 2010 Bristol Short Story Prize anthology, and today he's given a four-star review to one of mine, "rZr and Napoleon". Like the other story of mine that bagged a four-star review from him (he has such good taste), it will of course appear in Dot Dash in 2012. But if you want to read it in the meantime, I strongly recommend getting hold of a copy of that anthology – it really is very good indeed.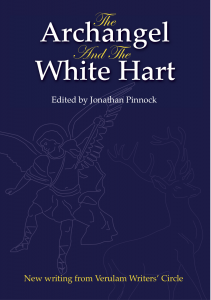 We  thought it was about time we officially launched our very wonderful VWC anthology, The Archangel and the White Hart (remember, that's the one that I edited and has been featured twice on Scott Pack's spiffy Me and My Short Stories blog).
So this Thursday, July 7th, at 7PM, if you're in the vicinity of Waterstone's in St Albans, drop in and say hello. If you speak nicely, you may even get a glass of wine thrust into your hand. You may be asked to buy a copy of the book in return of course, but it is very good, so it's a pretty good deal if you ask me. There may also be readings and stuff.
Not only that, but I have a feeling that I haven't actually mentioned anything here about the forthcoming launch of Mrs Darcy versus the Aliens yet, so I'd better rectify that. The book itself comes out at the beginning of September, but the launch takes place at this year's FantasyCon in Brighton. In fact, it's not just Mrs Darcy that's being launched, but Proxima itself, so it should be quite a party.
Speaking of which, have you been following the development of the Proxima covers? Every single one of them is absolutely stunning. And SF covers have been known to be a bit naff, haven't they?
In other news, I've reactivated the blog over at Mrs Darcy's dedicated site (although I've moved it so you'll need to change your RSS feed) to make it easier to keep people informed about what's going on there. Wickhampedia continues along its merry way. I really have no idea where it's going, to be honest, but I'm sure it knows what to do.
For no particular reason, the day job has gone a bit bonkers at the moment, which means that most of the carefully crafted posts that I had planned have been elbowed out in favour of this general ramble about stuff.
First of all, I really had planned to say something about the splendid "Get Writing" conference a couple of weekends ago, but everyone else who went seems to have overtaken me and written about it already, so it hardly seems worth it now. One thing that I will say was that possible the most interesting talk of the day came from Matt Bates, who is the fiction buyer for WHSmith Travel. I hadn't heard anyone from the buying end of things talk before, and it was quite an eye-opener.
Basically he said that the single most important criterion for deciding whether or not a book makes it into one of his stores is the cover (the second most important criterion is how informative and interesting the blurb on the back is, by the way). The moment I heard this, I made it my mission for the rest of the day to get one of my postcards printed with Mrs Darcy's cover into his hands – something that I actually achieved within ten minutes of his talk ending. The good news is that he really liked it. But then, who wouldn't?
I happened to be in Bath last weekend, so I took a few of the postcards there with me, giving a couple to the young lad on the till in the Jane Austen Centre ("Awesome!"), one to Waterstones and one to another bookshop who reacted by saying they'd heard that the "first one" was being made into a film. Hmmm. Although does it really matter if I get confused with P&P&Z? I need to practice how I react to this

Today I had a fabbo day pretending to be a real author for a while by attending a lunchtime reception for new joiners at the Society of Authors and an evening launch party for Ed Siegle's "Invisibles", which looks as if it's going to be a superb read. At the latter it was also nice to meet Alison MacLeod, who was one of the other authors involved in the National Short Story Week "Consequences" stunt. My combined intake of wine across the two events was quite high. I could get used to this.
Finally, when I got back this evening, I found that a particularly daft piece of mine (I know I've said that before, but, trust me, this one is dafter than average) is going to be published by The Pygmy Giant at the weekend. I've also been invited to contribute to another publication, but I'll keep that one a little mysterious for the time being.
And I nearly forgot. My piece "Perfect Moment" was apparently one of OneFortyFiction's most popular stories in February. Here it is again, in case you missed it.
Meanwhile, in the West East Wing of Rosings, Wickham makes an unexpected discovery or two. Only five more episodes to go now, plus the epilogue! Excited? I can barely contain myself …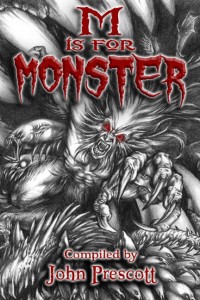 In other news, Adrian Chamberlin, one of my fellow "M is for Monster" authors, dropped in this afternoon to deliver my copies of the anthology. It's always nice to meet other writers and the anthology looks absolutely cracking. Can't wait to read it.
Finally, here's a really interesting interview on Simon Kewin's blog with Maureen Scott, the co-founder of Ether Books. Fascinating stuff. As regular readers will know, I've got a couple of stories on Ether already and I believe that Simon is going to be joining the Ether community soon himself. Definitely worth keeping an eye on.

This is rather exciting. Some time ago I heard about Ether Books Ltd., a new venture being set up to deliver short stories to mobile devices via a custom app. I was more than a little impressed by the list of authors that they had signed up, including the likes of Alexander McCall-Smith, Hilary Mantel and Sara Maitland, but I also noticed that they also seemed to be reaching out to up and coming types as well. So I approached them with my CV and after a short while they came back and gave me a contract for three stories: "Convalescence", "The Birdman of Farringdon Road" and "The Amazing Arnolfini and His Wife".
So I am more than a little chuffed to be able to tell you that "Convalescence" went live today and can be yours on your iPhone or other mobile device for the princely sum of 59p. If you have an iPhone, here's a link to the app on the iTunes store. If you have something else, throw it away and get an iPhone I assume you can find the app on your manufacturer's equivalent. For the moment, you can find "Convalescence" in the "What's Hot?" section of the app. Hope you like it.
And if you feel inspired to submit to Ether yourself, they are now soliciting submissions. I know at least one author, Trevor Belshaw, who has very quickly got a contract via this route. I have no idea if this is the future of publishing or not, but it's surely worth dipping a toe into, don't you think?
[UPDATE: Having checked their site, it looks like that the Ether app is currently only available on the iPhone. But my contract does mention other platforms

]