Jul
17
Apologies for the peremptory nature of the post title, but quick action is required here. It emerged today (although the press release announcing it is dated a week and a bit ago) that the BBC (who had the stupendous good taste to broadcast my story "The Amazing Arnolfini and His Wife" last year) are reducing the number of short stories broadcast on Radio 4 from 3 per week down to 1. I cannot begin to fathom why they are doing this, but whatever the reasons, it's not good for short stories.
Did I hear you say "We're not gonna take it"? I thought I did. Good. So here's what we're going to do. This is the text of an e-mail I received this evening from Susie Maguire (aka @wrathofgod on Twitter). Please read it and act on it, as soon as ever possible:
The new Controller of Radio 4, Gwyneth Williams, will be a guest on FEEDBACK on BBC Radio 4 next week. How very timely.

Would you add your name to a letter/question to ask her?

Would you pass on this email to other writers who care about the health of the short story…?

The more of us, & the better known the writers who sign it, the more likely it is to have some effect.

If so, please find below a short, polite question, proposed by Ian of http://www.nationalshortstoryweek.org.uk

Reminder: info on her decision to cut the short story's presence on Radio 4 outlined here  http://www.bbc.co.uk/pressoffice/pressreleases/stories/2011/07_july/10/radio4.shtml

If you'd like to add your signature, please email YES to

ian AT shortstoryweek DOT org DOT uk

& cc to me: info AT susiemaguire DOT co DOT uk

NB – It would be really helpful if you could reply within 24 hours so that the question can be lodged as soon as possible. This is by no means the *only* action interested parties can take, but it's a start, and I hope you might add your weight to it with this (and further suggestions are welcomed)

thanks

Susie

*******************

Proposed question:

We were surprised and disappointed to learn of the decision to reduce the short story output on Radio 4 to once a week from next spring. Radio 4 has been a great champion of the short story for many years. It is one of very few places in the UK where both new and established writers can have their short stories broadcast to a large audience, and where radio listeners can enjoy readings of the short story form. This move comes at a time when interest in the short story is growing, but paid opportunities for short story writers are still scarce. Could Gwyneth Williams please explain:

1) what has led her to make this decision?

2) whether the short stories on Radio 4 extra will be new commissions or repeats of existing recordings?

3) how this decision fits with the BBC's sponsorship of the National Short Story Award (and indeed if this will continue?)
I know I can rely on you. Thank you. You're all wonderful. Except possibly you. But I'll even like you if you act on this one.
Jul
13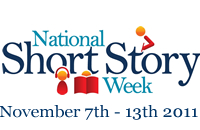 Last week I was asked if I fancied being this month's guest editor for the National Short Story Week web site and I must have hesitated for – ooh – at least a couple of seconds before saying yes. Anyway, the resulting piece is now up on the site – do go and have a look. It turns into a bit of a rant in the end, albeit a very polite one.
In other news, I'm on Google+ if you're into that kind of thing. To be honest, I'm not madly excited about it at the moment. The "circles" concept strikes me as exactly the thing that a geek would come up with as being really cool, but I'm not sure I really see people making great use of it. Sure, in theory it enables you to post different stuff for different groups of people to see, but I have two problems with this.
Firstly, if a tech-savvy US senator can accidentally post a picture of his todger to his Twitter stream instead of a DM, then sure as hell other people are going to screw up which Google+ circle they're posting their "look at me I'm so wasted LOL" pictures to. At least on FB and Twitter you know that everyone's watching.
Secondly, I actually quite like the blurring that occurs in these places. You find out that people you've had one kind of interaction with have a whole other side to them and sometimes that's very interesting. Sometimes it's weird, too, but there you go. Ho hum. I'm probably just resisting change as usual. We'll see.
Oct
4
Now listen 'ere, you lot, he says with a conspiratorial tap of the nose. On checking my site stats (which I do from time to time – oh all right, every day), I've noticed that an awful lot of new people have found this site either by a direct link from this post on Teresa Stenson's blog or by Googling variations on a theme of "Bridport Shortlist 2010″ (see the last post but one for the reason behind this).
Now this is all very nice – and a big "Hi!" to everyone, by the way (do have a look around whilst you're here) – but I find the scale of it a bit surprising and ever so slightly worrying. I know that the Bridport is – for obvious reasons – pretty much THE writing competition (at least for those of us without an established track record), so it's inevitable that an awful lot of writers start getting very twitchy at this time of year (I know, I've done it myself). But there are other ones out there that are just as deserving of your support, ones in which we all stand a much better chance of being in the money.
So whilst any short story writer or poet worth their salt should most definitely be sending their best work Dorsetwards every year, those of us who are looking to build up a track record should also be going in for as many of the second- and third-tier competitions as we can manage as well. If you're wondering how on earth you can get enough material together to do this, I strongly recommend checking out competitions like the Slingink Scribbling Slam (running at this very moment) or the Whittaker Prize (which usually starts in March). There's no better way of forcing yourself to come up with stuff, trust me. And if you need to know what competitions there are accepting entries at any time, the lovely Sally Quilford has done all the work for you: here's her calendar.
Apologies if this came over as (a) a bit of a rant or (b) teaching Grandma to suck eggs. But when a perfectly respectable, if slightly low-key competition such as this year's Slingink Prize fails to get enough entries to cover its costs, you have to wonder if we writers are sometimes being a bit too picky. I'd be interested to hear what anyone else thinks about this.