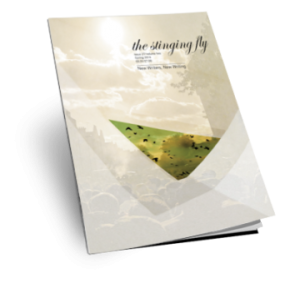 The Spring edition of the Irish literary magazine The Stinging Fly has just been published, and what a lovely thing it is. It's always nice to appear in print, and I'm especially chuffed that my odd little magical realist flash "The Meaning of the Rabbit" has been included in Nuala Ní Chonchúir's flash fiction showcase, along with loads of other cool people's work.
I do hope that last Monday's BristolCon fringe audience appreciate that magical realism reference, by the way.
The excellent Short Review have also put up an interview I did with them about DOT DASH and other stuff. I quote George Saunders in it, which just goes to show how hip I am.
If you're near Bath this Friday, do come along to Story Fridays at 7:30PM in Burdall's Yard, where I will be reading "Nature's Banquet" as part of their "Feral" evening. More – ahem – magical realism.
Finally, I had an urge the other day to start submitting some TwitFic again, and I've just had a couple of acceptances, from Confettifall and Twiction Addiction. They'll both be appearing in April, and I'll give you a nudge when they do.

Yes, it's Get Writing time again soon! Hope you've all booked your tickets for April 20th, because you haven't got much time left. I'll be doing a workshop on the important subject of "How to Stand Out from the Crowd". Here's the blurb:
It isn't enough to be a good writer. A successful writer has to learn how to stand out from the crowd. Jonathan Pinnock draws on his experience of getting both his first novel and his first short story collection picked up for publication in rapid succession to offer advice on how to get yourself noticed. He covers such topics as how to attract the attention of competition judges, how to be ubiquitous without being really annoying and how to make the best use of social media to build an audience.
I'm also going to be one of the co-judges for this year's competition, which has a closing date of this Sunday, March 31st. So you have just five more days in which to get your entry in. Inspire me! Scare me! Intrigue me! And all that. I'm really looking forward to reading them all.
In other news, there's an ace two-page interview with me in the latest edition of the excellent What The Dickens magazine, along with other folk like my old VWC chum Julie Mayhew, Rebecca Front and Olivia Colman (yes, really!) Cool company, eh?
And don't forget to come along tonight to Short Stories Aloud if you happen to be anywhere near Oxford. Me, Jon McGregor and Ernest Hemingway. And cake.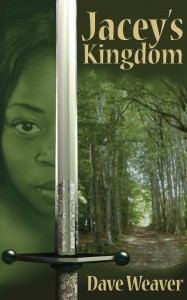 Today it's time for a return visit from the highly talented Dave Weaver. Last time he was here, he'd just self-published a couple of short story collections and was musing about the chances of getting his first novel taken on by a publisher. Given that this has now actually happened, it seems a good time to invite him in again…
Last time you were here, you said that you'd "like to think [you] might be able to get [your] first novel 'Jacey's Kingdom' taken on by a publisher." Which of course has now happened – so the first thing to say is a massive "Congratulations!" How does it feel to have crossed that threshold?
Weird, it feels weird as if everything and nothing's happened to me at the same time. I thought, like most first timers I expect, that being professionally published would be a kind of pinnacle for my writing but after the initial punching the air moment and walking around in a warm glow for a few weeks I felt like I was in the foothills again. Especially when the novel came out first on e-book and I began to feel responsible for its sales success. I was so lucky to get it picked up by Elsewhen Press and felt they'd done such a terrific job that I suddenly had an irrational fear of letting them down. [That's a feeling I know well - JP]
Can you say a bit about 'Jacey's Kingdom' for the benefit of those of us who haven't been privy to its gestation?
I began writing it three years ago. The original story was about a man trapped in another person's nightmare after a terrible car accident. We presume both both the two main characters, Jacey Jackson who is an eighteen year old half Nigerian schoolgirl who's collapsed with a brain tumor at her final History exam, and George, a grumpy thirty-nine year old salesman, are both sharing the same coma. This is obviously Jacey's dreamworld; a vision of early sixth century England full of rival Celtic Kings and dangerous Saxon warriors where our two unlikely protagonists are forced to take part in a quest for a magic cauldron that can bring the dead back to life. George decides the dream is showing them the way to cure Jacey, and thus release him back to consciousness from her dream; that stealing the cauldron is their escape route back to reality. Unfortunately it doesn't work out quite like that and when the true nature of things is revealed their is an even more dangerous task ahead that only George can fulfill to save his young friend. After the first draft I was advised that it would be better to have two alternate viewpoints, both Jacey's (as she's the dream's creator after all) and George's. This immediately improved the story and allowed me to make the twist that I feel makes the tale work and gives it a logic and drive it lacked originally.
What's it been like working with Elsewhen?
Elsewhen are excellent in every way. They apparently received my initial synopsis just as they were closing up and heading home on a Friday evening. They stayed behind to read it, liked it and asked for the first three chapters then the whole manuscript. Just a month later they offered me publication without any editorial interference or conditions of any changes. The editing process was smooth and enjoyable, at least for me, and apart from the obvious typos and a few plot snags, again nothing was changed from my original story. I have the distinct feeling this is not always the case but they obviously trusted my vision. They published a thorough press release, an excellent video and kept me in touch throughout the process. I will be joining them at Eastercon in Bradford on Sunday 31st of March to launch the paperback publication. I think Elsewhen, who are a small outfit of four dedicated individuals, have to love each of their projects first before they put their all behind them. It's this commitment that makes you want to do well for them.
As well as 'Jacey', you have also self-published a number of short story collections. Do you see yourself continuing with this dual-track approach? Can you say a bit about the advantages and/or disadvantages?
I have three self-published short story collections on Amazon Kindle; 'Flowerchain Stories' – interlinking character tales set in modern day Japan, 'Ha-Bloody-Ha' – a collection of literary parodies, and 'Short and Sour' – a round up of the best of my other short stories with a rather bitter edge to them. The obvious advantage of professional publication is the promotional clout the publisher brings to the project, the contacts, the across the board styles of publication in all technologies, the promotion of the author as well as their novel on their own site and the feeling of working in a team to achieve the result everyone wants. Self-publication means you have the freedom to try different styles and approaches both to your content and cover design with the only responsibility being to your own tastes. You may make more money that way if you're incredibly dedicated to the hard work of promotion and networking that entails, although you'll find that has to be done anyway. Having done both I'd say its more lonely on your own with out a publishers back-up, organization, and most of all, belief in you. But that's just me.
What advice would you give to a writer who had just started out on the road to publication?
I guess the obvious; look at all the options of self-publication, be pro-active in looking for the publishing company that best represents the kind of work you want to do and would be a good fit, not necessarily a big or famous one as many small specialist publishers are more attentive to their authors needs and try harder for them. But don't wait around to be discovered while you're sending your manuscript off for the nineteenth time, think about putting it out there yourself; it's free, it can be rewarding and it can lead to your gaining enough readers for the industry to 'discover' you on your own terms.
What's next for Dave Weaver?
I am going to expand my 'Flowerchain Stories' collection to novel length and try to get it accepted for publication as an actual novel of interconnected stories with the various themes of Japanese culture binding it together as one whole piece. I will also attempt to finish the fantasy ghost novel I am just over half way through, 'Evangeline', and try to get that accepted for publication. I also have a collection of science fiction stories, told to one another by their writers in a future spaceport pub called 'Tales From the Black Hole Bar', which I have nearly completed and will self-publish.
Sounds excellent! Good luck and many thanks for dropping in again.
'Jacey's Kingdom' is currently available on Kindle, and will shortly be out in paperback too. Go and order a copy now, because it's ace.
Yesterday I dropped in on Winston Roberts (aka Kenny Norris)'s blog for a chat about story titles. I met Kenny at a workshop I did a while back and the titling of stories was something I briefly covered, and as he says it's a subject that doesn't always get much attention. Odd thing, titles, sometimes they can be so important and sometimes almost a throwaway thing. I've been reading Raymond Carver lately and I've noticed that a lot of his stories tend to have titles that pick up on apparently insignificant details and amplify them. Although it's interesting that even he (or perhaps Gordon Lish?) didn't always have the confidence in the reader to go hunting – "The Bridle", for example, ends with a rather blatant bit of additional signposting.
In fact, yesterday was quite busy because I also had a live chat with Danny Smith on Radio Verulam (even if, strictly speaking, I'm not entirely local any more – but keep that between you and me, OK?). We chatted about "Dot Dash", how it came about and the vexed question of how to go about getting those ideas bouncing around in your head down onto paper.
Last but not least, the estimable Scott Pack has put up a truly magnificent review of the first two stories in "Dot Dash" on his Me and My Short Stories blog. As you may imagine, this last paragraph is going straight into my publicity materials:
It would be easy to devour this book, this collection of dots and dashes, in one or two sittings but I am trying to eke it out for as long as I can. It has all the makings of a bit of a modern classic.
Wow.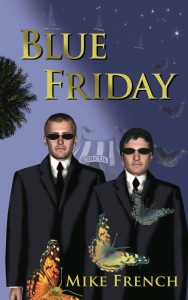 Today we take a well-earned breather from the "Dot Dash" blog tour and turn our attention to another writer, the excellent Mike French. I first encountered Mike in his role as editor of the splendid literary magazine, The View From Here, where he accepted a short story of mine and then proceeded to invite me onto his team as an occasional contributor. TVFH is always worth a read, by the way – there are some excellent pieces published there.
Last year, Mike brought out his remarkably ambitious debut novel, "The Ascent of Isaac Steward". Not surprisingly, such an unclassifiable book took some time to find a publisher prepared to take it on, but all credit to Cauliay Publishing for having the necessary vision. Since then, Mike has wasted no time at all in getting his next book, "Blue Friday", to market, this time with the exciting new imprint Elsewhen Press (who, incidentally are also bringing out my good friend Dave Weaver's debut novel, "Jacey's Kingdom", very soon).
Mike very kindly agreed to drop in here recently and answer a few questions. Actually, the process took some time because my mind was somewhat elsewhere, what with my own book coming out. Which may also go some way to explaining why I completely managed to cock up the name of his book in my first question. He was, however, very nice about it, as well as being surprisingly informative…
Can you tell me a bit about "Blue Monday"?
Blue Monday is a single released by New Order in 1983 and is the best selling 12 inch of all time – I think The Beach was on the b-side but I could be wrong.   The song begins with a distinctive semiquaver drum intro. Hope that helps.  Don't know why you asked me that – but heh it was a great record.  [*smacks head*] Anyway as for Blue Friday it's about a society that has gone to extreme measures to try and protect the family unit. No overtime is allowed for married couples, there is enforced viewing of family friendly TV, family meal times have to be had at set times and there is a coming of age where twenty-five year-olds are automatically assigned a spouse by the state computer if they have failed to marry.  It's not on vinyl. It lasts longer than seven and a half minutes and it doesn't open with a semiquaver drum beat. It does however have a family protection agency that will kick the shit out of you if you deviate from the rules. Apparently it's dystopian – with a touch of Douglas Adams about it – which was a surprise to me, I thought I was writing a how to manual on caring for potted plants.
That sounds intriguing! Would I be right in thinking that it's a slightly more straightforward proposition than your first book, "The Ascent of Isaac Steward" (which I'll be honest I found quite a challenging – although ultimately rewarding – read)?
Yes, Blue Friday has a linear storyline and simpler structuring than Isaac Steward.  Isaac was written in that way to reflect the disintegration of his mind and there was no need to employ that technique with Blue Friday.  I missed the seminar on how to write your first novel with Isaac Steward and jumped straight to a James Joyce style end of career novel that split the reviewers – half loved it, half just seemed to be scratching their heads wondering what on earth it was supposed to be.  So my plan is to work backwards and flip my career progression and regress into pulp fiction – so by around my tenth book I will hit a low and reach the Dan Brown stage of writing style and plotting structures.  I think looking back Isaac was an intensely emotional book to write whilst I had a lot more fun with Blue Friday – and there is more humour in it.  I was also really interested in writing using minimalism to shape my style so Blue Friday is cut back hard and is faster paced as a result. In the same amount of words I used in Isaac to describe a sunset, Blue Friday would have jumped out of the page, ripped your throat out and asked you to muse over the state of society.
That makes perfect sense to me, although I know there are a lot of publishing industry folk who would say that it's a mistake to dabble in both literary and genre. Has anyone ever suggested to you that you should be using different pen names? If not, what would be your reaction if they did?
No-one has suggested I use a penname and Isaac was part literary and part slipstream so I think as Blue Friday is speculative it's not a huge jump into a different genre.  However in general I would not be keen to use a penname – I can see in some cases it makes sense, like when there's another author with a similar name or you wish to remain anonymous, but generally I can't see the point.  So is Jonathan Pinnock your real name?  I heard your real name was Jonathan Peacock but Salt Publishing thought that your career as a writer and that of an paralympian athlete would confuse the public. ( By the way I saw you win gold you were amazing!)
Sadly my real name is indeed Pinnock, although I have the penname suggestion put to me in the past which is why I asked you. But I'm not keen on them either. Did you find that the fact of having successfully finished and sold a book made the process easier the second time around?
Getting the publishing deal for Isaac Steward really set me on a massive high – and I wrote Blue Friday whilst riding that wave.  It was a good feeling knowing that I was writing something that would definitely exist as a book this time.  And I also came at the whole process differently – Isaac was written in snatches of time when I was looking after the kids as a homedad – Blue Friday was written in a block that lasted 3 months – well the first draft anyway.  In the past I would have thought that that was not enough time but I was struck by how long Iain Banks takes to get a book written when I interviewed him a few years ago, so I was open to the possibility.  I think a lot of the work is done beforehand as it swills around in your mind and Blue Friday had been sitting in my head for years so when I started it just came pouring out like releasing a flood.
Which leads me very naturally to ask you what you're working on now?
I'm working on a third novel called Convergence with the tag line "The story is everything. And everything will become the story."  It's apocalyptic and in its very early stages – there's a synopsis and prologue but that is it so far. I'm struggling to get the time at the moment with Blue Friday just coming out and I've been editing a short story collection from the Luton Writers' Group called Underground Rivers which was launched last Friday at Luton Central Library – there was quite a crowd with over 80 people packing the place out.
Excellent stuff. Can't wait to hear more! In the meantime, "Blue Monday Friday" is available from all good publishers bookshops – details available on Mike's website. Do take a look.
Today I'm over at Dan Purdue's excellent Lies, Ink blog being interviewed about what it's like to have been published for a year and how I'm feeling about embarking on the next phase of my career with "Dot, Dash". Do take a look.
Also, a minor postscript to last week's Bridport news: my poem, "Choking Hazard, Small Parts", which was shortlisted in 2010, has just been accepted by Every Day Poets. In case you're interested in how subjective poetry competition judging can be, here's a list of all the competitions where it bombed completely:
Winchester Writers' Conference, 2009
New Writer, 2009
Nottingham Poetry Society, 2009
Excel for Charity, 2010
Ver Poets, 2011
Fish, 2012
So I thought it was about time to retire it from competition and EDP seemed a nice home for it. Fortunately, they agreed. I'll let you know when it appears, so you can decide what you think of it. It may well be that Bridport and EDP have got it wrong, of course

Just realised that I've totally failed to put up a link to my recent interview at Flash Fiction Chronicles (courtesy of the lovely Rumjhum Biswas) as well as an awesomely nice mention in the Books Of The Year (So Far) post by the stern ladies of Vulpes Libris.
I realise I've been a bit quiet here lately, and it's all to do with the current work in progress, which today tipped over the 50K mark (yay!). I've just got a few more bits and pieces to sort out and write up, plus the final section to tail it all off. Then there's a big edit to do and  it should be ready to go out. I'm really quite excited about this, because it's like nothing I've ever done before and I'm astounded that I'm this near finishing it. I think you may well be quite surprised by it when it finally emerges…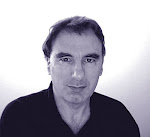 I've known Dave Weaver for several years now as a fellow-member of the bestest writers' circle in the whole wide world and I've watched as he's matured into an exceptionally versatile writer as well as an extremely perceptive critic. He's just brought out a couple of collections of his work on Kindle, so I thought it was a good time to have a chat with him about his work.
At what point in your career did you feel you could start calling yourself a writer?

There are probably two points in my 'ahem' career as a writer when I actually felt able to describe myself as one. The first was very early on, actually my first entry to a Verulam Writers' Circle short story competition where a piece I wrote called 'Charlie's World' came in third. I'd written a very bad book a few years before to kick off my writing, a complicated sci-fi plot, overwritten with every exhausted trope going. I'd followed that with a very very long 'short' sci-fi story which bored everyone who'd had to sit through it senseless to a throat-slashing extreme. The subject for the VWC competition was 'Bird-Flu' (that Summer's chosen national panic) and I decided to see the action through an autistic child survivor's perspective. This meant that the narrative had to be a simple and very basic description of the death and decay that was happening around an uncomprehending Charlie. It unlocked my writing style immediately; say what you see, write what you mean, keep it as simple and uncluttered as possible. Simplicity equals power – over-complication equals dissipation of power. Stories only went wrong after that when I got carried away with myself and over-explained or over-described; then I'd remember 'Charlie's World' and cut back until things generally fell into place again. The other much later point as a 'writer' came when I'd finished the first draft of my novel 'Jacey's Kingdom' and belatedly realized I could finish a story arc to a full novel which actually worked and made sense. That made up for the sorry mess of my first attempted book before I'd had the invaluable schooling of the VWC.
Tell me a bit about your two new collections.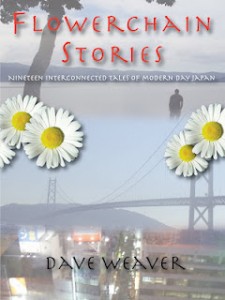 'Flowerchain Stories' is a set of nineteen interlinked tales set in modern day Japan. I say interlinked because the premise is that a minor character in the first story becomes the major character in the second and that pattern carries then on through-out the collection until we find what connection the subject of story nineteen has with the subject of story number one; the 'flowerchain' of linked stories is closed and complete. I suppose the 'trick' for the reader might be to guess which seemingly unimportant personality in each story will be chosen to head up the next one. Some are obvious, some much less so. Of course this is not new; Arthur Schnitzler wrote the play La Ronde based on the same premise in 1897. These were exclusively sexual encounters between Vienna's different classes though, and as far as I'm aware didn't feature ghost children, time travel or unwise sleep experiments. A few of the characters continue through two or even three of the stories and I must admit I got quite attached to some of them and didn't want to leave them behind as a new story began. One interesting aspect of the structure is that it gives the reader the chance to see a different side of a person they might have initially disliked as their backgrounds and motivations are fleshed out and explained more. The first story is a good example; a wealthy yob named Junichi becomes a sympathetic and rather brave young man in his own story which follows. That's the first one given away then.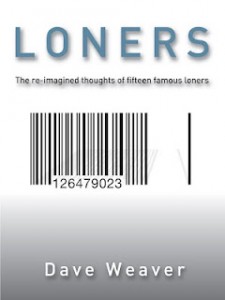 'Loners' are fifteen pieces about… Loners, funnily enough, although in this case famous ones. About half are written from their own (imagined on my part) perspective, usually at a perceived crisis point in their lives including the point of their own death. I haven't named any of them but the reader will almost certainly identify most immediately even if some are now just distant memories. The other pieces are parodies of famous loners from literature. They take in such diverse works as Enid Blyton's Famous Five (George), the Twilight saga (Bella) and Jane Austen's Pride and Prejudice (Elizabeth Bennet texting Mr Darcy on her mobile). Sorry about that, Jane [it's OK, I think she's suffered worse - JP]. They even take in a rather confused Hamlet and the original loner himself, Adam, getting some hot tips from the big guy for his First Date. So a bit of a mish-mash then, but hopefully also a compassionate and amusing read and maybe even a small insight into what makes the character of 'the loner' so fascinating for us both in real life and make believe.
At what point did you realize that "Flowerchain Stories" had a linking arc?

To my amazement I had a Hiroshima-based story called 'Finding Uncle' chosen as one of twenty included in the University of Hertfordshire's 'Visions' anthology. This was my first published story and obviously a stand alone piece, but a while later I wrote a story about two strangers meeting on Mount Aso volcano in Kyushu, Japan, a fascinating place I'd visited with my family a few years earlier. I had the idea of linking the two pieces then trying to build stories outwards from them, just to see how far I'd get. If I could manage six or seven then there was no reason why I couldn't continue until I had a novel's worth, or at least a long novella. I'd learned just a little about the way Japanese society worked and had only visited the country twice, so I decided to write the stories with my own perceptions and insights of the country and only include everyday details when it was necessary for the plot or to bring a characters' background into focus more. They are stories about Japanese people through the eyes of a 'gaigin', a foreigner, not a native. Hopefully this may give them a more unusual dimension.
Would you count yourself as a "loner" from a writing point of view, or do you see yourself as part of a particular movement?

I like to write about the moment reality tips into fantasy, or at least have my characters walk a tightrope between the two, which isn't a particularly unusual concept. I prefer my stories to be as unencumbered by needless imagery and metaphor as possible, but I think most writers would agree that's a good thing to aim for. I try to have an emotional theme running parallel with my story, so that there's some underlying point to the action rather than just a trip from A to B for the sake of it. I think that's just good story-telling though. Maybe I do have a rather personal (what isn't personal?), even odd, view of the human condition; I don't like obvious displays of emotion, better to keep it locked up so it seeps out gradually as the tale progresses. I'm a bit cold and analytical, but then when the emotion does come I'll hopefully catch the reader unprepared. I suppose we'd all like to consider our own style unique and in a way it is, but the uniqueness of a piece works much better if its unforced and springs naturally from the writing. All writers are ultimately loners.
Your covers are very striking – particularly the one for "Loners". Do you think your work as a graphic artist informs your writing, or are they two separate disciplines?

You can't beat a striking image, whether visually or in words. I think I have a visual sense of humor which helps in my writing. I write filmically; I play out the scene in my head then write down what I've just observed, like writing up a play while you're watching it. I don't know how else to do it. Perhaps everyone writes this way, I don't know. The cover for 'Loners' came straightaway, I used the first idea I had in exactly the way I saw it; it was simple and worked. We always think of loners as being people but its funny to think of inanimate objects also having the loner gene; like they've got souls too, even barcodes.
What was the rationale for publishing these collections now?

Although 'Flowerchain Stories' was written without a competition in mind I thought the unusual format would fit Salt's Scott Prize short story collection competition. Unfortunately the fit must have had a few rough edges so as there was no way a collection of short stories about Japan by a complete unknown was ever going to be taken up and published by anyone else I thought I'd employ it as my introduction into the brave new world of digital self-publishing. It was so much easier than I'd imagined that I decided to do the same thing with the 'Loners' collection as both seemed to have a strong enough overall concept to market them as something slightly different to the usual ones.
Where do you see your writing career going next?

Well, apart from down the toilet [very unlikely - JP], I'd like to think I might be able to get my first novel 'Jacey's Kingdom' taken on by a publisher, even as an e-book. Failing that I would probably do it myself again. I have a collection of science fiction stories once again connected by a theme called 'Tales from the Black Hole Bar', which I'll enter for competition then (inevitably) self-publish next year. I'm working on a second novel, a ghost story called 'Red House', which I hope to complete by the end of the summer. I will probably concentrate on novels from now on with the occasional short story for competition. I'd like to write either a ghost story series or continue with book two and three of 'Jacey's Kingdom', depending on its success or lack of it.
What is your favorite cheese?

Kirk's dazzling grin at any passing female in the original Star Trek.
Gorgonzola (made from real Gorgons).
Many thanks to Dave for some fascinating answers there. Dave blogs here, and the books are available here. I really do recommend them.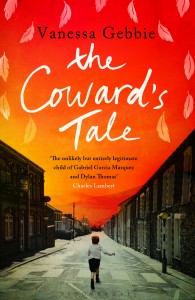 OK, I have another treat for you today, so settle down and make yourselves comfortable. This week saw the paperback launch of the debut novel by the stonkingly talented Vanessa Gebbie. I read this book when it first came out in hardback and I absolutely loved it. I think I described it a the time as a gorgeous, warm, patchwork quilt of a book – or something like that. It's full of wonderful characters, humour and pathos, and the most wonderful ending you could wish for. It's very strongly recommended, and deserves to win loads of prizes. (And isn't that the most fantastic cover?)
Anyway, Vanessa's here to answer a few questions about it, so I'll let her do the talking. Also, if you leave a comment below, I'll put you in the draw for a copy of it that I just happen to have lying around here. Can't say fairer than that.
What was the most difficult challenge you had to face when moving from writing short stories to writing a novel?
I didn't and don't see any difference at all. I just wrote. That is not meant to be a trite answer – but what 'is' the difference, apart from wordcount,  time, more grey hairs? I didnt think too much about  what I was doing, to be honest. I didn't stop writing everything else, and think, right, now I am writing a novel and life must stop until it is done. I carried on writing whatever came – and that ended up as the Tales of all the men in the town, plus whatever else went into the novel, plus a mass of other work all begun, processed and completed over the same timescale.
I didn't even have the novel all in one folder, one file, whatever. It was scattered in fragments, as it was written, all over the computer, the laptop, various memory-sticks. It wasn't until I went to Ireland in January 2010 to get the first complete draft done, that I brought it all together. I remember being astounded at the wordcount – expected it to be about 70k – great if it was pushing 75 – and it was just shy of 100.
The biggest challenge was the revision stage, really.  That was the hardest bit! To have the breadth of vision to see the entire manscript as one – to consolidate everything, especially voice. To make sure all those details married properly – it is quite a thing, creating a whole town, over two timescales. The generation tables, (Maggie Gee's idea) were a great help – not just for the reader, as it runs out, but for me, too!
I noticed an old friend make an appearance in The Coward's Tale – Tommo Price from your Bridport Prize-winning story "I Can Squash the King, Tommo". Also, Baker Bowen seems to be closely related to Edwin Tregear from your Fish Short Story Competition prize-winner "The Return of the Baker, Edwin Tregear". When you were writing the original stories, did you have any inclination that they might one day become part of a bigger narrative?
And you can go even further back, to Spring 2005 at JBWB, where this won.
Looking back, that story wouldn't leave me. It is based on a very real incident – the death of a 7 year old boy called Robert Diplock, on a railway line near Lewes in Sussex, in the 1960s. I didn't know him then – but later, I got to know his mother Rita very well – she was one of the best women who ever lived and I loved her dearly.  She was a staunch Catholic, and believed firmly that it was all for the best, even though she was an older mother, and had no more children. We used to have fascinating debates about the afterlife – and that is what the tale of Tommo is about really, isnt it?  [The book is in fact dedicated to Robert Diplock - JP]
When she was dying, she wasn't concerned in the slightest. "I'm really happy, I'm seeing Robert tomorrow," she said, the last time I saw her, that last evening a couple of years back, in hospital, me trying to brush her words aside … "Don't be silly, Rita. I'll bring you some fresh pyjams in the morning. Anything else you want?"
"No, dear," she said. I don't need anything at all."
She died that night.
They started the whole novel, really, blessem. In my study I have Robert's last painting done at school – a castle with a vast flag flying. And a few of his toy cars, and his chair.
Recycling is good. Sometimes, a piece of work or an idea, a character, a motif, belongs somewhere other than, or in addition to, the original home it had.
The motif of a baker being unable to make bread (such a fundamental thing) was something that fascinated me enough to want to work on it twice.  A few pieces in 'The Coward' were written way before the novel was even thought of, but were fragments I'd never completed but kept. I'd get to the edge of a creative cliff and think, ah! I know what's down there -
It's a bit of a writers' morality tale really. Don't throw those snippets out! [I agree! - JP]
It seems a bit perverse to focus on this but I have to say that "The Coward's Tale" has the most satisfying ending of any book I've read for a long time. Still makes me well up a bit thinking of it, actually. Without giving anything away, was that final image always there or did it emerge during the writing process?
Let's just say the final image was always there – but not at the end. And maybe with different characters in the tableau, too. And perhaps it jumped about a bit and said, 'Ahoy, I am an ending.  You cannot follow me with anything, except 'The End'.'  And perhaps, after a lot of jumping up and down, I listened and rearranged things a bit. Or a lot.
Continuing on from the previous question, I've read an awful lot of novels by well-known writers that promise so much and then fail to deliver at the end. Would it be fair to suggest that as a prolific short story writer, even though this is your debut novel, you've had a bit more experience than the average novelist in crafting endings?
Possibly. I've certainly written a lot of stories, and they all have endings (ahem). Some are obviously better than others, craftwise. The ending of a short story has to be and do so many things, doesnt it? One thing it absolutely must do is lift the story slightly – no matter how sad – you have to make the reader take a deep breath, then let it out slowly – with a sense of satisfaction, closure, the memory buttons buzzing away because if it 'is' a good ending, they won't forget it.
I know what you mean about novels – so often a really fabulous read is let down because the writer has just tied all the threads up and forgotten to do anything else.
'What do you mean, 'anything else?' I can hear people yelling.
I don't think an ending is only (if at all) about gathering up the threads. It is about making sure that the music of the merry-go-round keeps echoing even after the machine has stopped. There has to be life, somewhere, that carries on after that ending.
See? [Yes, most definitely - JP]
I've noticed elsewhere that you're already working on the next novel. 
Yes – a whole lot of words in storage! It's called 'Kit'. For the moment.
Do I take it that that's where you see your career going, or will you still be writing the short stuff? 
Oh lord yes. I'm just finishing two short stories for a BBC radio commission [Hurrah - JP] – well, they asked for one, but I did two – they can choose, then I've got a spare. Then there's Ed's Wife and Other Creatures, a themed flash collection I'm hoping to publish that this year, helped by a great illustrator.
And what about other forms? I know you've had some success as a poet – will we see a slim volume one of these days?
Had a few publications, and I love this journey of discovery. Just finished a poetry course with Pascale Petit at Tate Modern, and she is so great as a tutor – I'm really responding well to her style of encouragement. Am off to Ty Newydd with her as tutor in the summer – and Daljit Nagra as well – lucky me! I'm just fascinated… Id love to have a collection some day.
Do you have any other writing ambitions?
Yes. To keep going, doing new things!
What's your favourite brand of toffee?
Callard and Bowser! They've gorn, sadly. Gorn to the great sweet shop in the sky. [And a damn shame too - JP]
Many thanks to Vanessa for some fascinating answers. Now, over to you. Leave a comment below, and I'll put you in the draw for that free copy. Unless you've already read it, you'd be mad not to. It is an utterly wonderful book. Alternatively, if you'd rather just go ahead and buy it, here's the Amazon link. You can find Vanessa's blog here.
Is it really a week since my last post? Yes, it looks like it is. Ho hum. Well, the good news is that the mysterious Project Y is getting very close to the magic 10000 words and I'm actually beginning to feel quite excited about it. No clues yet as to what it's all about though. Sorry. Meanwhile, I had a piece  published in The View From Here this week about that utterly wonderful film The Artist and what we writers can learn from it.
The next thing that happened this week was that I was interviewed by that excellent chap Charles Christian for his new online magazine The Urban Fantasist. As interviews go, I think it's one of my better ones, so do take a look. And bookmark that site – looks well worth following.
But the most exciting thing of course was Get Writing 2012, which took place yesterday. It was particularly exciting for me because I had the opportunity to do my first-ever workshop. Strictly speaking, I did one three years ago, on entering competitions, but as only a couple of delegates went to it (until a few of my VWC chums very loyally came along to bolster the numbers) I don't think it really counts. Yesterday's was entitled "Weird and Wonderful" and was all about unlocking creativity, basically by setting the brain problems to solve. From where I was sitting (or standing, mostly) it seemed to go well, and the group was extremely responsive. I'd like to do more of this kind of thing: it's a lot of fun.