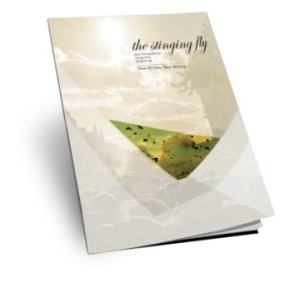 The Spring edition of the Irish literary magazine The Stinging Fly has just been published, and what a lovely thing it is. It's always nice to appear in print, and I'm especially chuffed that my odd little magical realist flash "The Meaning of the Rabbit" has been included in Nuala Ní Chonchúir's flash fiction showcase, along with loads of other cool people's work.
I do hope that last Monday's BristolCon fringe audience appreciate that magical realism reference, by the way.
The excellent Short Review have also put up an interview I did with them about DOT DASH and other stuff. I quote George Saunders in it, which just goes to show how hip I am.
If you're near Bath this Friday, do come along to Story Fridays at 7:30PM in Burdall's Yard, where I will be reading "Nature's Banquet" as part of their "Feral" evening. More – ahem – magical realism.
Finally, I had an urge the other day to start submitting some TwitFic again, and I've just had a couple of acceptances, from Confettifall and Twiction Addiction. They'll both be appearing in April, and I'll give you a nudge when they do.