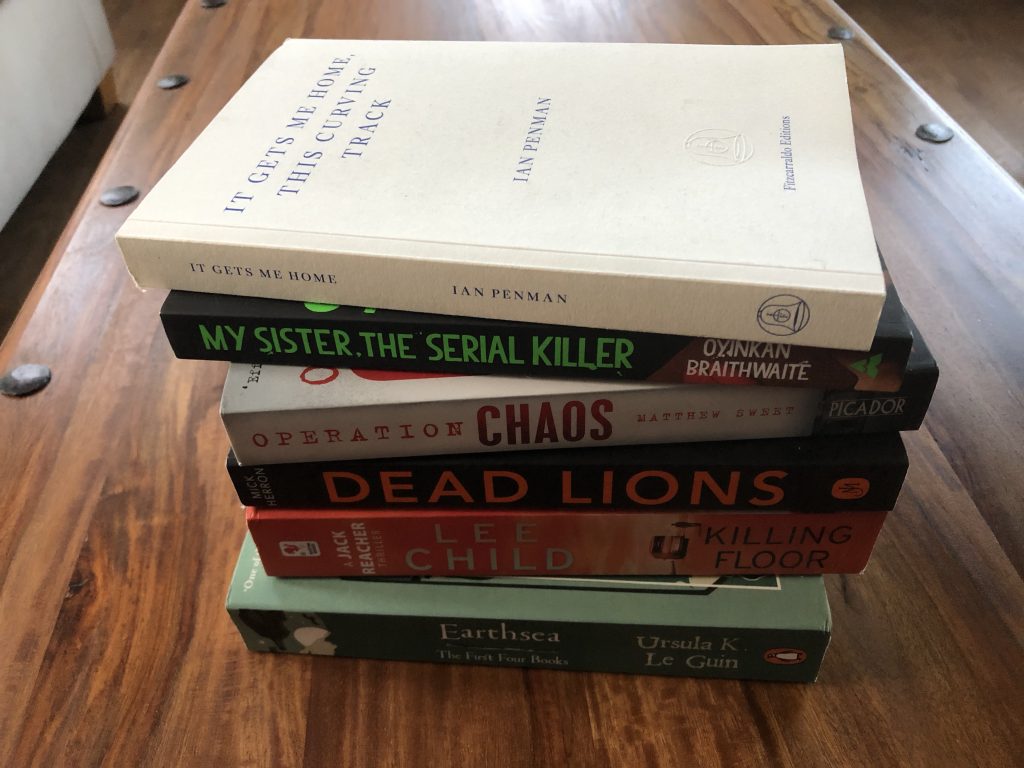 Well, the reading programme got sort of back on track in January, after a disastrous last two months of 2019. But before we dive into this lot, I'd like to bring your attention to an interview I did with Teika Bellamy of The Book Stewards, where we talk about how I got into writing, how writing stuff like poetry and flash fiction informs novel writing and how I somehow managed to get several publishing deals without having an agent.
Right. What I read in January. Here we go…
A Wizard of Earthsea by Ursula Le Guin. Ah. The more astute of you may spot that this is a bit of a cheat, since the book in the picture above is actually a compendium of the first four Earthsea books. However, I regret to inform you that I only made it to the end of the first one, and even that took me a looooong time. If I were to be brutally honest, I might also add that I got to within 30 pages of the end of it and almost didn't bother reading the rest. This is basically how I ended up reading bugger all in November and December, by the way AND I FEEL TERRIBLE ABOUT THIS, because Ursula Le Guin is a total icon of fantasy writing and everyone goes on about how wonderful her books are. But I have to say that I found it a hell of a slog to read. I didn't relate to any of the characters, the quest didn't seem to make much sense and the writing was way too portentous to be remotely enjoyable. Someone please tell me I started with the wrong book, because I hate feeling left out.
Killing Floor by Lee Child. A few years back, a friend of mine lent me one of the later Jack Reacher books. I said thank you through gritted teeth, because I had loads of other books in my TBR pile to get through first and I put it to one side. However, when I eventually got round to reading it, I absolutely loved it and promised myself that one day I'd get round to reading the lot. Well, that day finally arrived in January, and Killing Floor did not disappoint one bit. No frills, no flowery writing, no flannel. Just loads of action, some neat twists and a straight down the line enigmatic lone wolf hero. Also, as my friend pointed out to me, just after he'd read one of my books, no bad language. Spectacularly violent, though, so swings and roundabouts. I'm looking forward to the next one already.
Dead Lions by Mick Herron. Book Two in the Slough House series and this was just as much fun as the first one, albeit a tad little less plausible in the plot department. I'm really enjoying these.
Operation Chaos by Matthew Sweet. The true, bonkers story of Lyndon LaRouche and his mad bunch of followers. One for the fans of conspiracy theorists of the kind that Jon Ronson tends to dig up, although I did sometimes get the impression that Sweet was struggling to marshal the sheer volume of information here. There are so many protagonists, each with their own individual brand of weirdness, that the whole thing gets more than a little exhausting by the end. But an entertaining read nonetheless.
My Sister: The Serial Killer by Oyinkan Braithwaite. Oh, this was fun. Snappy, tasteless but so true about sibling rivalry and loyalty, I read this pretty much in a single sitting. Also, really great to see a comic novel like this written by a woman of Nigerian heritage and set in Lagos. More of this kind of thing, please.
It Gets Me Home, This Curving Track by Ian Penman. Collected essays by one of our most eminent music critics. Fascinating series of long-form pieces on the likes of Sinatra, James Brown, John Fahey and Prince, which – as all the best writing on music should do – is going to send me back to the source material to listen again with new ears.