So there I was wondering about what I could do to keep interest in Mrs Darcy ticking over in the awkward interim between the serialisation and publication and it struck me that a lot of fun could be had with using a Wiki to set up the background to the book. (And, yes, I did also fancy having a play around with the Wiki software – I can't help these things, I'm afraid.)
Thus was Wickhampedia born. It's only got one entry so far, on Jane Austen herself, but I'll be adding more over the next few weeks. Watch this space. Actually, watch that space. Well, watch both, OK?
I've been having a play with recording myself reading stuff. My initial motivation for doing this was the fact that Eclectic Flash have a "Voices" section on their site and I thought it might be fun (and a bit of a challenge) to record myself reading "The Language of Angels", which they published in their very first edition. Here it is anyway – see what you think.
Having done that, I wondered about recording other things and I remembered that Every Day Fiction have an occasional podcast, so I went through the pieces I'd done for them to see which ones might work, given my frankly rather limited range as a vocal artiste. I ended up choosing the very first piece of mine that they published, "Cock Up", which duly went live yesterday. I'm still not entirely sure whether that was an entirely appropriate choice for Easter Monday, but there you go. At least there's no French in it.
In other news, a Twitter haiku of mine has been selected for 7×20′s first anthology, and my very wonderful publishers, Proxima, have started a blog – make sure you add that one to your list.
First of all, hello to anyone who first came here after the great Charlie Higson retweeted my link to the previous post. Nice to see you – don't be shy, will you? Must say, it was nice to get my name into at least one of the national dailies on Monday, even if it was the Telegraph (shame it happened a year too late for my Dad to see me listed as a writer in his favourite paper, though). What's more, the letter seems to have had some kind of effect already. We shall see.
I'm in an odd kind of limbo right now, whilst I'm waiting for Mrs Darcy to come out in September, and I've been feeling quite unsettled for a while. I've been writing odd bits of stuff, some of which I really like, but I haven't felt like committing myself to anything longer than around 500 words. However, last night I finally got down to writing the first scene of a new project that's been bubbling under in my head for the last four or five months.
I think I've been putting off doing this in case it self-destructed on impact. But it didn't. What's more, whilst I was writing it, a couple of things that worked perfectly appeared out of the blue, completely unasked-for. Which is great, because it means that my subconscious knows where it's heading. It used to happen with Mrs Darcy sometimes, too, and I'd forgotten how good it felt. So Project X is now officially under way.
I've also finally kicked off Project Y, otherwise known as "Too Many CDs." This is where I systematically trawl through my record collection seeing what turns up. The subtitle of the blog says it all, really. Could be fun.
So now those two are up and running, I'd better start thinking about Project Z, hadn't I?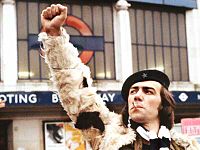 Well, then. It seems that I've temporarily become a bit of an activist, following the BBC's shameful treatment of speculative fiction on World Book Night. After reading Stephen Hunt's clarion call to action, I was very happy to add my name to his letter, and here is the full list of signatories (incidentally, that's the second time in recent weeks that I've found myself on the same page as the likes of Michael Moorcock – oh, calm down, Pinnock).
There's a weird disconnection going on here. The most anticipated event right now in UK television (actually, probably the most anticipated event in the UK, full stop – sorry Kate'n'Wills) is the start of the new series of Doctor Who. And yet science fiction is still the genre that dare not speak its name.
It's not just the BBC that are guilty here. I was searching for an article on the 1983 Best of Young British Novelists campaign just now, and I came across this stupendously idiotic subhead. Whatever happened to Christopher Priest? Well, he carried on writing a load of fascinating and innovative novels that were largely ignored by the mainstream press, that's what he did. Why were they ignored? I give you three guesses. (Incidentally, it's worth reading Priest's take on that campaign – scroll down to 1983.)
Here's another one. I wonder how many literary types out there have ever heard of Stanislaw Lem's "A Perfect Vacuum." It's possibly the most über-literary book ever written, out-Borgesing Borges himself and it should be the kind of cult classic that causes everyone to give a knowing nod whenever its name is mentioned. But I don't think I've ever heard anyone talk about it. The only reason I've ever read it is that it came in a portmanteau edition along with "Solaris" (ah, you've heard of that one, haven't you?) And as for why Lem isn't up there with all the other greats of 20th century fiction, I will give you the same three guesses as before.
As a reader, I really don't give a toss what genre a book belongs to. I like to read a mixture of stuff, for the same reason that I like to listen to a mixture of stuff and eat a mixture of stuff. Doesn't everyone? Apparently not, it seems.
As a writer, I apply the same logic. I've written stories that would definitely be described as literary. But I've also written horror, science fiction and mainstream humour. I wrote "Mrs Darcy versus the Aliens" simply because it struck me as a cool idea that might be fun to explore – which is as good a reason as any for writing something, isn't it?
There is hope, though. In the small presses, the distinctions are beginning to blur (I refer you once again to this post by Camille Gooderham-Campbell of Every Day Fiction, for example). And writers like Adam Marek are being taken seriously even when they manage to smuggle a zombie story into their first collection of short stories. Maybe one day the establishment will catch up, eh?
Whilst I was away on holiday, my Proxima label-mate Charles Christian handed over the editorship of Ink, Sweat and Tears to his deputy, Helen Ivory. IS&T published my first-ever (rather sweary) poem, "I Wish to Register a Complaint", thus setting me off on a completely unexpected career side-path. So, for this alone, Charles is a Top Bloke. But (as I mentioned above) he is also a fellow Proxima author, which makes him beyond awesome.
Anyway, when I submitted a couple of new poems to Helen last week, I was more than a little disappointed not to receive a reply within a matter of minutes as per the style of the old regime. Then this morning, I saw this post on IS&T which explained why. D'oh: I really should have spotted that myself. I duly resubmitted and received a blink-of-an-eye acceptance for my poem "Conundrums". So all is well with IS&T and long may it flourish. The piece in question will appear some time in May.
This acceptance went some way to assuaging my disappointment at ending up bottom of the class in Round Two of the Whittaker (after a decent showing in Round One, too). But in truth, it was a pretty lousy effort, and probably deserved its low score. Can't say I'm looking forward to reading the judge's comments though.
Finally, some really sad news: Jenny Hewitt of JBWB has died. I've entered their competitions a few times and they always seemed efficient and well-run. My condolences to her partner, Doug.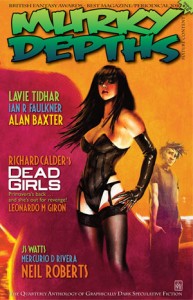 I think I can safely say that issue #16 of Murky Depths, which is out now, has the most arresting cover of any publication containing my work.
*Pauses to wipe steam off glasses*
Anyway, I am dead chuffed to be in there, because Murky Depths was, like they say on the site, judged to be the best magazine/periodical in the 2010 British Fantasy Awards, which must be a good thing.
My story, Teamwork, started life as an entry in the 2008-9 Slingink Eurofiction competition, where it was inspired by the prompt "Write a story set in three different places". It ended up as an existential science fiction thriller, and it's one of the most intricately plotted things I've ever written. Even the names of the characters are highly significant. The illustrations to go with it, by Caroline Parkinson, are first rate too.
So all in all, I can't wait to get my hands on a copy. Can you?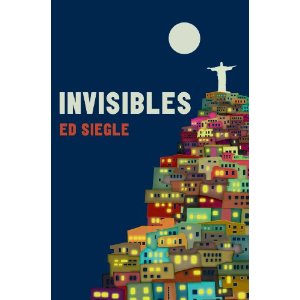 I guess I should start with a bit of a disclaimer. I met Ed Siegle when we shared a stage at Sparks 11 in Brighton last November and I subsequently went along to the launch of "Invisibles", where I drank quite a lot of Myriad Editions' wine.
However, I am not a man whose affections are easily bought, and I approached "Invisibles" with an entirely open mind. And what a fab book this is.
"Invisibles" is the story of Joel, brought up in Brighton by his glamorous mother Jackie after fleeing Rio following his father's second incarceration. We join the story twenty-five years when Joel is convinced he sees his father on a news report on television. This is tantalisingly exciting for Joel, because he has long understood that his father is dead, and utterly appalling for Jackie, for pretty much the same reason.
Joel immediately decides to head off to Rio to find his father, where he meets up with lowlife Nelson, who promises to help him in return for money and the chance to escape out of the desperate situation he has found himself in.
This is an exceptionally assured debut novel (actually, sod that patronising "debut" epithet: exceptionally assured novel, full stop). The story of Joel's search for his father is paced to perfection and cleverly interwoven with the back-story of his mother's tempestuous marriage. The plot is intricate but, unlike some books by better-known authors I've read lately, doesn't rely on outrageous coincidences to work (I'm looking at you, Kate Atkinson). The characters are well-rounded, engaging and totally believable, and the pages fairly sizzle with the heat of Rio.
I think what impressed me most about "Invisibles" was the sheer confidence of the writing. Siegle is an accomplished short-story writer and it shows. He isn't afraid to drop you right in the middle of an exchange of street banter that a lesser writer might feel obliged to explain. And whilst this is on the surface for Joel a very middle-class search for his roots and identity, Siegle makes it abundantly clear that for Nelson it is a matter of life and death –  but he also very cleverly manages to find common ground between the two men, despite their very different backgrounds.
So, then, this is highly recommended. But be warned: reading this book may prove expensive. I now have a desperate urge to hear more Brazilan music, and I'm actively investigating what I need to hear next after wearing out my one Getz/Gilberto CD. As it happens, on the day after I finished reading "Invisibles", my iTunes DJ turned up a Tom Jobim track that I wasn't aware that I possessed (it was on a compilation) – "Cronica Da Casa Assassinada", and I think this is would make a rather good soundtrack to a film of "Invisibles". What do you reckon?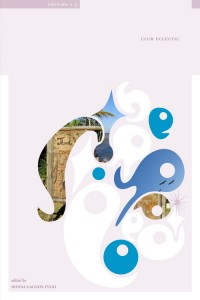 Another spiffy cover by the artist who goes by the enigmatic moniker Five Seventeen heralds the anthology from this year's STIRRED POeT competition, which is now on sale here.
I made up for my no-show in last year's anthology by sneaking two poems into this year's, "A Lover's Alphabet" and "The Longueurs of Après-Midi". I'm particularly pleased with the first of these because it's the first time I've managed to construct a technically correct sonnet.
As a taster, here are the first few lines:
"So: A is for the ARSEHOLE I once wed
and B is for the BASTARD you became.
Then C is for the CRAPPY lies," she said,
"and D is for your DOUBLE-DEALING game.
Which gives a rough idea of what it's all about. However, I'm afraid if you want to read the rest, you're just going to have to buy the book. Go on, you know you want to.
If I fall asleep in the middle of writing this, it's because my brain is still somewhere midway between here and Indochina. I have a number of reasonably heavy-duty posts lined up, including a review of Ed Siegle's "Invisibles" and a reflection on belatedly encountering the work of Raymond Carver for the first time (or to put it another way, What I Read On My Holidays), but they'll have to wait for the rest of my cerebellum to arrive before I attempt to write them.
Instead, here's a quick plug for an event coming up in London next Monday evening: Imran Ahmad giving one of his inimitable narrative performances. If you haven't read his book "Unimagined", you are missing out on a treat. I'm quoted on his website as describing it as a "quietly subversive masterpiece of militant moderation", but don't take my word for it, check out what everyone else says. Especially Scott Pack – because Scott Pack's endorsement is of course a copper-bottomed guarantee of quality. Ahem.
Anyway, I've heard Imran speak twice – once at the Verulam Writers' Circle and once at Get Writing 2010 – and he was extremely entertaining on both occasions. Definitely recommended.
In other news, my print copy of the The Right Eyed Deer 5 arrived today, including that interview with yours truly. Well worth a few quid if you ask me, but then I would say that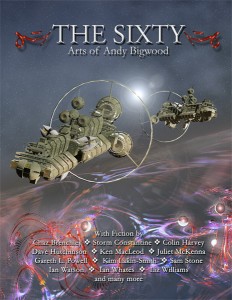 Now this is something rather exciting. "The Sixty" is a collection of sixty stunning science fiction images created by the stupendously talented Andy Bigwood, each accompanied by a specially-commissioned piece of flash fiction.
The authors involved include Geoff Nelder, Bec Zugor, Oscar Windsor-Smith and … me. My piece is called "Pioneer", and I'm really proud to be involved with this, because it's a pretty special project altogether.
It's being launched at 6pm on 22nd April at EasterCON, National Exhibition Centre, Birmingham UK and I can't wait to get my hands on a copy.
In other news, massive congratulations to everyone longlisted for the Edge Hill Short Story Prize, especially the ones whose wonderful books on the list I've read and enjoyed over the past few months: Jo Cannon, Vanessa Gebbie, Nik Perring and Tom Vowler. Fab stuff.