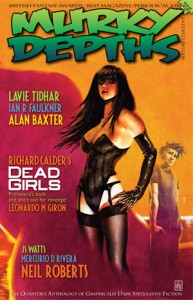 I think I can safely say that issue #16 of Murky Depths, which is out now, has the most arresting cover of any publication containing my work.
*Pauses to wipe steam off glasses*
Anyway, I am dead chuffed to be in there, because Murky Depths was, like they say on the site, judged to be the best magazine/periodical in the 2010 British Fantasy Awards, which must be a good thing.
My story, Teamwork, started life as an entry in the 2008-9 Slingink Eurofiction competition, where it was inspired by the prompt "Write a story set in three different places". It ended up as an existential science fiction thriller, and it's one of the most intricately plotted things I've ever written. Even the names of the characters are highly significant. The illustrations to go with it, by Caroline Parkinson, are first rate too.
So all in all, I can't wait to get my hands on a copy. Can you?