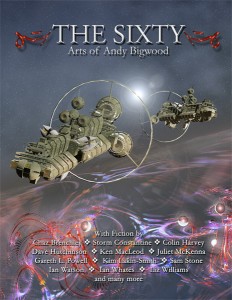 Now this is something rather exciting. "The Sixty" is a collection of sixty stunning science fiction images created by the stupendously talented Andy Bigwood, each accompanied by a specially-commissioned piece of flash fiction.
The authors involved include Geoff Nelder, Bec Zugor, Oscar Windsor-Smith and … me. My piece is called "Pioneer", and I'm really proud to be involved with this, because it's a pretty special project altogether.
It's being launched at 6pm on 22nd April at EasterCON, National Exhibition Centre, Birmingham UK and I can't wait to get my hands on a copy.
In other news, massive congratulations to everyone longlisted for the Edge Hill Short Story Prize, especially the ones whose wonderful books on the list I've read and enjoyed over the past few months: Jo Cannon, Vanessa Gebbie, Nik Perring and Tom Vowler. Fab stuff.