Last Wednesday I delivered my 40000 word (well, 41439, words to be accurate) manuscript to Bath Spa for marking. Since then I have been tidying up a few things that got slightly out of hand during that final burst of activity, and now it's time to breathe some life back into this thing.
At some point, I'm going to blog about the strange and wonderful world of Creative Writing MA courses, and I've also got a review or two lined up. But first, I thought I'd gently ease into things with a brief report on Tuesday's Liars' League event at the Sevenoaks Literary Celebration.
I've been submitting stuff to Liars' League since 2008. Sometimes they pick my stuff, sometimes they don't (which is, incidentally, what makes it especially satisfying when they do pick one). Anyway, back in May, they picked a story of mine called "Ventriloquism for Dummies". Unfortunately I didn't get there on the night, so when I heard that it was also going to be read again at a special LL night in Sevenoaks featuring stories from all eight years of the League, I was determined to go along.
I was so glad I did. Clive Greenwood gave the piece an absolutely superb reading, bringing out every nuance of the story. In fact, every single reader was excellent, and I thoroughly enjoyed the whole evening. What's more, there was a decent sized audience – well in excess of 100, I would have thought. Eat your heart out, all you who say the short story is in trouble.
Anyway, judge for yourself. Here's Clive:
And here's a picture of the assembled actors, plus an author or two. One of these days I may learn to look like a normal human being when I'm having my picture taken.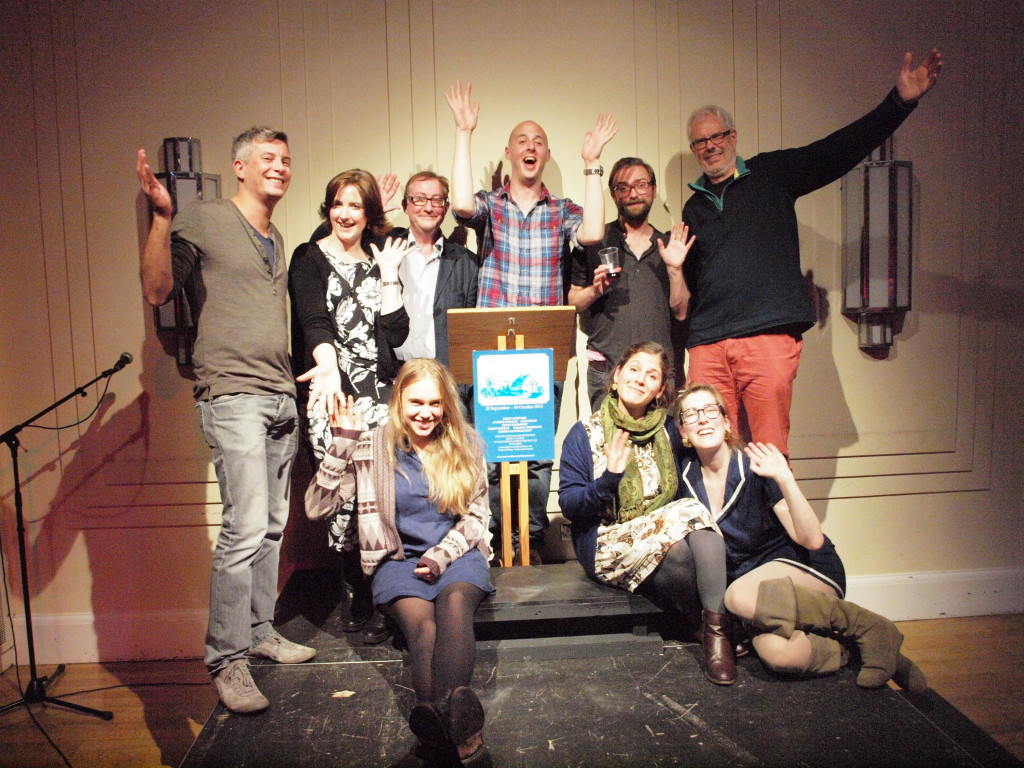 Meanwhile, in other news, I almost forgot to mention that TAKE IT COOL got a very nice review from the lovely Marija Smits:
This book is fascinating and as creative non-fiction goes, a highly-enjoyable read. The author is a fine writer and very, very funny; he has the kind of self-deprecating, weird humour that really tickles me and I laughed out loud at many parts.
One final thing: if you're interested in a signed copy of MRS DARCY VERSUS THE ALIENS, I've reduced the UK price to £4.99 including P&P. Bargain, I say. Bargain. GET IN.