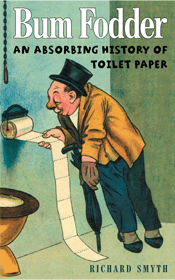 As everyone knows, there are two books that no aspiring toilet library should be without: Charles Sale's "The Specialist" and Nohain and Caradec's "Le Petomane". By a curious coincidence, both of these titles are published by Souvenir Press, although for some inexplicable reason they seem to have passed over Sale's lesser-known sequel, "The Master Builder". One hopes that this omission will be rectified at some point.
Actually, I suspect that this may be less of a coincidence than it seems, because Souvenir have also recently published Richard Smyth's "Bum Fodder: An Absorbing History of Toilet Paper". There is a pattern emerging here.
So, is this home-grown addition to the genre a worthy contender? Can we start speaking in terms of a toilet library triumvirate? Or is it merely another also-ran, such as Philip Cammarata's disappointingly one-note "Who F*rted?" (sic) or Wallace Reyburn's comprehensive but frankly rather dull "Flushed with Pride: The Story of Thomas Crapper"?
I'm very happy to say that it is. "Bum Fodder" is an at times alarmingly informative and comprehensive work, but it carries its scholarship lightly. Smyth is an accomplished short story writer (he's had work performed at Liars' League, and indeed he runs their Leeds franchise) and it shows in the wit and panache he brings to the subject.
Quite apart from the sheer entertainment provided by the book, I can say that I have actually learnt a considerable amount, starting with the title. No, I'd never previously realised what "bumf" stood for – d'oh. Not only that, but having read the full, disturbing details of Gargantua's extraordinary experiments in search of the ultimate wipe, it's struck me that I really should try to read Rabelais one day. How many other toilet books can be said to inspire an interest in 16th century French literature, I wonder? Certainly not "Who F*rted?', that's for sure.
So there it is. The thinking person's toilet library should now begin with three core acquisitions: Sale, Nohain/Caradec, and now Smyth.
(Many thanks to Souvenir Press for sending me a copy of this splendid book.)