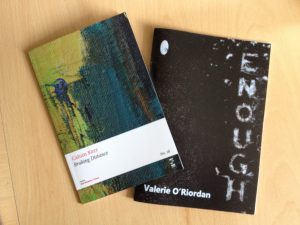 The prizegiving ceremony for the Bristol Short Story Prize is quite a dramatic affair. First of all, the names of all the shortlistees are read out, passing over any who have made it into the top three places. When your name is read out, you have to stand up and go and join the others onstage in the Huddle of Shame. Then the winners' names are read out, in reverse order, until there's one lucky person left sitting in the audience.
My abiding memory of the 2010 ceremony was of the tiny figure of Valerie O'Riordan, who was indeed that lucky person, sitting there completely on her own, clearly unable to believe that she was indeed the winner. But when I read her story, "Mum's the Word", I realised why she'd knocked us all out of the park. Luck had nothing to do with it. Even though it was a fraction of the length of all the other finalists at just over 300 words long, "Mum's the Word" packed one hell of a punch.
O'Riordan's first collection, "Enough", is the first of a new series of chapbooks produced by Gumbo Press and contains ten more flash fictions. You could, if you so desired, read it in the course of an hour or so. However, you would miss out on a lot if you did, because these stories are intense and they deserve to be savoured, one at a time.
O'Riordan has a wonderful ear for both absurdity and casual cruelty. I think my favourite stories are "Space", a bittersweet tale about a mother with a penchant for joyriding in milk floats and "Magic Mirror", a wonderfully taut updating of an old favourite. But each one of the stories in this collection is an object lesson in minimalist writing, making every single word work hard for its place. You can buy copies from the Gumbo website.
As Managing Editor for Gumbo Press, Calum Kerr is Valerie O'Riordan's publisher. He's also the Director of National Flash Fiction Day and in April completed flash365, an exhausting project to write a piece of flash fiction a day for an entire year. Several of these stories were broadcast on Radio 4 on Christmas Eve last year, read by several actors including – calm down, Pinnock – Diana Rigg. Another selection of flashes (all originally from November 2011) appears in this slim volume, published by Salt as number 18 in their Salt Modern Voices series.
There are eighteen stories here, all linked and set in an unnamed motorway service station. These are very different from O'Riordan's – much more playful, but no less entertaining. Part of the fun is in seeing how they all link together, especially as the stories are written in a wide variety of different genres, including crime, science fiction, thriller, romance and comedy. Somehow it does all work, and you're left admiring the skill with which Kerr has managed to fit the jigsaw together – especially given the self-imposed time constraints he was working under.
You can buy "Braking Distance" from Salt's website or the usual other places.
Two terrific collections, then, which between them give an excellent overview at what can be achieved with flash, for just over a tenner between them. What are you waiting for?
(Oh, and in case you were wondering, no sock puppets were harmed – or indeed used – in the making of this review.)