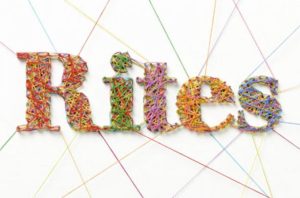 Back in June I was asked by the tiny imprint Route Publishing if I'd like a copy of this book. The premise sounded intriguing and I do like a freebie so of course I said yes. I'm so glad I did, because it's one of the best things I've read this year.
"Rites" is the debut novel by Sophie Colombeau and was the first-ever winner of the Next Great Novelist award, which "strives to unearth the most talented and promising novelist under the age of 30." It's the story of how four fourteen-year-old kids resolve one summer to lose their collective virginity and how it all goes horribly wrong.
The story is told in retrospect, mainly by the protagonists themselves, taking turns to speak to an unseen interviewer. There are also occasional contributions from their parents and other adults, hardly any of whom come out of the thing well. This device gives Coulombeau the scope to explore the way in which each of the people involved has developed their own narrative of what actually happened. I wouldn't exactly call them unreliable narrators in the classic sense of the term, but each of them clearly has their own personal agenda.
The characters are all skilfully delineated and the pacing is damn nearly perfect. It's an old cliché, but I genuinely did find it very hard to put the book down at times. In the end, what really raises the book to a level way above the norm is the way in which Coulombeau resists the temptation to moralise or draw any kind of conclusion, leaving it to the quartet themselves to show how the event has influenced their subsequent lives and relationships, for better or worse. I read it several weeks ago and I'm still thinking about it now, wondering what really happened.
Very highly recommended.