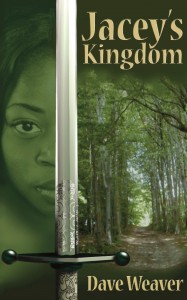 Today it's time for a return visit from the highly talented Dave Weaver. Last time he was here, he'd just self-published a couple of short story collections and was musing about the chances of getting his first novel taken on by a publisher. Given that this has now actually happened, it seems a good time to invite him in again…
Last time you were here, you said that you'd "like to think [you] might be able to get [your] first novel 'Jacey's Kingdom' taken on by a publisher." Which of course has now happened – so the first thing to say is a massive "Congratulations!" How does it feel to have crossed that threshold?
Weird, it feels weird as if everything and nothing's happened to me at the same time. I thought, like most first timers I expect, that being professionally published would be a kind of pinnacle for my writing but after the initial punching the air moment and walking around in a warm glow for a few weeks I felt like I was in the foothills again. Especially when the novel came out first on e-book and I began to feel responsible for its sales success. I was so lucky to get it picked up by Elsewhen Press and felt they'd done such a terrific job that I suddenly had an irrational fear of letting them down. [That's a feeling I know well – JP]
Can you say a bit about 'Jacey's Kingdom' for the benefit of those of us who haven't been privy to its gestation?
I began writing it three years ago. The original story was about a man trapped in another person's nightmare after a terrible car accident. We presume both both the two main characters, Jacey Jackson who is an eighteen year old half Nigerian schoolgirl who's collapsed with a brain tumor at her final History exam, and George, a grumpy thirty-nine year old salesman, are both sharing the same coma. This is obviously Jacey's dreamworld; a vision of early sixth century England full of rival Celtic Kings and dangerous Saxon warriors where our two unlikely protagonists are forced to take part in a quest for a magic cauldron that can bring the dead back to life. George decides the dream is showing them the way to cure Jacey, and thus release him back to consciousness from her dream; that stealing the cauldron is their escape route back to reality. Unfortunately it doesn't work out quite like that and when the true nature of things is revealed their is an even more dangerous task ahead that only George can fulfill to save his young friend. After the first draft I was advised that it would be better to have two alternate viewpoints, both Jacey's (as she's the dream's creator after all) and George's. This immediately improved the story and allowed me to make the twist that I feel makes the tale work and gives it a logic and drive it lacked originally.
What's it been like working with Elsewhen?
Elsewhen are excellent in every way. They apparently received my initial synopsis just as they were closing up and heading home on a Friday evening. They stayed behind to read it, liked it and asked for the first three chapters then the whole manuscript. Just a month later they offered me publication without any editorial interference or conditions of any changes. The editing process was smooth and enjoyable, at least for me, and apart from the obvious typos and a few plot snags, again nothing was changed from my original story. I have the distinct feeling this is not always the case but they obviously trusted my vision. They published a thorough press release, an excellent video and kept me in touch throughout the process. I will be joining them at Eastercon in Bradford on Sunday 31st of March to launch the paperback publication. I think Elsewhen, who are a small outfit of four dedicated individuals, have to love each of their projects first before they put their all behind them. It's this commitment that makes you want to do well for them.
As well as 'Jacey', you have also self-published a number of short story collections. Do you see yourself continuing with this dual-track approach? Can you say a bit about the advantages and/or disadvantages?
I have three self-published short story collections on Amazon Kindle; 'Flowerchain Stories' – interlinking character tales set in modern day Japan, 'Ha-Bloody-Ha' – a collection of literary parodies, and 'Short and Sour' – a round up of the best of my other short stories with a rather bitter edge to them. The obvious advantage of professional publication is the promotional clout the publisher brings to the project, the contacts, the across the board styles of publication in all technologies, the promotion of the author as well as their novel on their own site and the feeling of working in a team to achieve the result everyone wants. Self-publication means you have the freedom to try different styles and approaches both to your content and cover design with the only responsibility being to your own tastes. You may make more money that way if you're incredibly dedicated to the hard work of promotion and networking that entails, although you'll find that has to be done anyway. Having done both I'd say its more lonely on your own with out a publishers back-up, organization, and most of all, belief in you. But that's just me.
What advice would you give to a writer who had just started out on the road to publication?
I guess the obvious; look at all the options of self-publication, be pro-active in looking for the publishing company that best represents the kind of work you want to do and would be a good fit, not necessarily a big or famous one as many small specialist publishers are more attentive to their authors needs and try harder for them. But don't wait around to be discovered while you're sending your manuscript off for the nineteenth time, think about putting it out there yourself; it's free, it can be rewarding and it can lead to your gaining enough readers for the industry to 'discover' you on your own terms.
What's next for Dave Weaver?
I am going to expand my 'Flowerchain Stories' collection to novel length and try to get it accepted for publication as an actual novel of interconnected stories with the various themes of Japanese culture binding it together as one whole piece. I will also attempt to finish the fantasy ghost novel I am just over half way through, 'Evangeline', and try to get that accepted for publication. I also have a collection of science fiction stories, told to one another by their writers in a future spaceport pub called 'Tales From the Black Hole Bar', which I have nearly completed and will self-publish.
Sounds excellent! Good luck and many thanks for dropping in again.
'Jacey's Kingdom' is currently available on Kindle, and will shortly be out in paperback too. Go and order a copy now, because it's ace.