So, Gravity, then. I've been wanting to write something about this ever since I saw it on Tuesday, but for various reasons haven't got round to doing so. This isn't a bad thing, because it's given me a bit more time to think about what I wanted to say. Here goes. Oh, and there will be minor spoilerage, so if you haven't seen it yet, look away now. Also, if you're a friend of mine and you thought it was wonderful, you might also want to look away now. I'd hate this to come between us.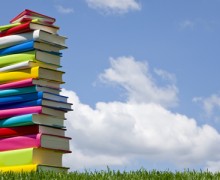 One of the things I'm coming to realise is that the most exciting thing that can happen as a writer is when someone with a different skill set collaborates with you. I am by nature a solitary creature when it comes to the actual business of putting the words together, but I love seeing what happens when you let go of the words and let someone else play with them.
So far I've been lucky enough to have a few of my stories illustrated by some very talented artists (although I'm still awaiting a full-blown graphic novelisation – my life would probably be complete if that ever happened). I've also had some excellent live readings by some wonderful actors and a couple of excellent studio productions (one by the BBC and another by Short Story Radio).
And we can now make that three excellent studio productions, because a new site has just gone up called The Story Player, and my story "The Birdman of Farringdon Road" is one of the first to appear there. It's expertly read by David Wayman and superbly produced by the man behind Short Story Radio, The Story Player and National Short Story Week, Ian Skillicorn. Do have a listen – it's only 12 minutes long. Whilst you're there, take a listen to some of the other stories from great writers like Susie Maguire and – coming soon – Tania Hershman and Jon McGregor.
I also heard today that my story "The Alternative Electrician", which I read at Story Friday in Bath nearly a year ago, has been accepted for publication by Every Day Fiction. It'll be nice to see that one getting a second audience.
And don't forget that "Take It Cool" is still running, having just hit its thirtieth episode. If you haven't been following it, don't worry, there'll be another "Previously…" post along soon. Or just start wherever you like and pick it up from there. I'm not fussy. Just as long as you read it, right?
There was a really interesting piece in The Huffington Post yesterday on "what makes a good short story", by Heidi Pitlor. Heidi is the series editor of the mighty annual Best American Short Stories anthology, so she can safely be taken to know a little of what she writes. There's plenty of excellent advice in there, particularly this paragraph:
Here are some things I'm always glad to read: loathsome, despicable characters (who says we readers all crave likable characters?); bone-scraping emotional honesty; a strange, off-kilter voice; unreliable narrators; surprise; a solid command of language; a story written with urgency and profundity; great, weird titles (titles matter); the assigning of language to something I have never thought about but should have. Humor.
It's that last word that leapt out at me – especially as it wasn't the first time she'd used it in her piece. Here's an earlier paragraph:
Here are some things I wish I saw more frequently: humor, genre-bending, humor, risk-taking, a more direct addressing of real world matters, humor.
This reminded me a little of the time when Tracy Chevalier was the judge for the Bridport Prize and reading her report, you could detect a bit of a cry for help, having been given a final list to choose from whose subject matter was almost exclusively pretty grim. I hasten to add that most of the stories were excellent (most especially Vanessa Gebbie's "I Can Squash the King, Tommo" and Toby Litt's "The Fish", an extraordinary piece of weirdness that somehow snuck in undetected), but having read the anthology, I can sympathise with her comment here:
It was fascinating, if not a little dispiriting, to find out what subjects people choose to writing about these days. Certain themes recurred with almost monotonous regularity: aging and problems with elderly parents, suicide, road kill (yes, really!), illness, religious faith.
and especially this:
If only writers could be a little, well, jollier about it! Sorely missing from the entries was humour, with the honourable exceptions of "Ghost Lights," which made me laugh aloud, and "The Fish," with its surreal subject matter and bravura style (there is only one full-stop, at the end of the story). Otherwise, reading the stories made me more and more depressed. While I'm not in a position to chastise – I myself am not known for many laughs in my books – I would like to make a plea to future writers: humour is good! Not only that, but a funny story is so much harder to write than a sad one. Let it be a challenge to us all. I will if you will.
Judging by Heidi Pitlor's remarks, there still aren't enough short story writers around who have accepted that challenge. I wonder if it's because if you write humorous stuff, you don't get taken as seriously. There haven't been many out and out funny stories in the shortlists for the BBC NSSA award, for instance, although Julian Gough's wonderful "iHole" from last year's shortlist was a rare exception (and this wasn't the first time he'd made the shortlist – he won in 2007 – so perhaps he has some kind of pass

). Is it simply because, as Chevalier says, it's more difficult to write a funny story – or is it because the primary stage readers are trained to weed out that kind of thing before they get near the judges?
Why does this matter to me? It matters personally because there I think humour is massively important as a storytelling tool, and most, if not all, of my stories have an element of humour in them. I can't see that changing, frankly, because that's the way I am. I'm incapable of staying serious for very long. So does that mean that, however much I improve as a writer, I'll always be regarded as a bit of a lightweight? And should I care?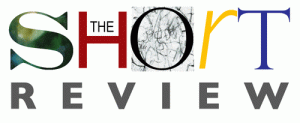 The excellent Short Review (to the best of my knowledge, the only magazine that focusses exclusively on short story collections) has just turned its spotlight on DOT DASH. Fortunately, it's a generally positive review, although I was a bit apprehensive when I read the first full paragraph:
A couple of pages in, I began to wonder what strange forces had possessed me to request Dot Dash.  I'm a habitually po-faced reader.  I gravitate toward books that are sad and harrowing.  I like to claw through a couple of hundred pages in which nothing much happens only to feel emotionally wrenched at the end.  Yet I had unwittingly invited Dot Dash onto my bookshelf.  It was shooting jokes at Steppenwolf and trying out cheesy chat-up lines on The Bell Jar.
The good news is that, despite this, DOT DASH seems to win her over and by the end, I get the feeling that she actually quite enjoyed reading it. It's a very thoughtful review, even if it does go straight to my insecurity about being a bit lightweight. (Yeah I know. I wrote a book called "Mrs Darcy versus the Aliens", didn't I? Not exactly Proust.) Maybe I shouldn't worry. Maybe that's what I am. There are worse things to be, after all.
Dot Dash is like a good pair of hiking boots: light but solid.  The stories skip and stride through precipitous versions of reality.
I'm pretty certain this is the first time my work has been compared to an item of footwear. On reflection, I'm OK with this.
Quite by chance, TAKE IT COOL gets a bit heavy today, with my attempt to calculate how many slaves Philip Pinnock owned. It's not a pretty part of the story, but I think it has to be addressed. By the way, if you've somehow managed to miss the story so far – or indeed, haven't managed to keep up – another one of those useful "Previously on TAKE IT COOL…" posts appeared the other day. So no excuses then.
[Thought I'd have a bit of rant every now and then to liven things up. I'd be interested to see what you think.]
We live in strange times. William Boyd's Bond novel, "Solo", is just about to be published, following in the footsteps of – amongst a surprising number of others – Sebastian Faulks and Jeffrey Deaver. Sophie Hannah has recently been commissioned by the Agatha Christie estate to write a new Hercule Poirot novel. This isn't by any means a new phenomenon. After all, "Virginia Andrews" has churned out considerably more novels since her death than prior to it. (BTW Did you realise there were quite that many? I didn't. Whew.) But there seems to be more of it about now than there used to be.
Here's what's bothering me.
I have no problem with the idea of taking an existing character or set of characters and reusing them. It's what literature has done ever since people started telling stories to while away the hours sitting around the campfire. But the whole point of creating stories is to add value to the material – to bring in something new. And I worry that any work generated to meet the demands of a dead author's estate is necessarily going to be limited in terms of what the new writer can bring to the party.
On the contrary, I would argue that the only truly creative way to go when writing any sort of sequel, prequel or whatever is to mark out your own territory by heading off in a completely new direction.
The initial germ of an idea for "Mrs Darcy versus the Aliens" (ah, here we go) was actually a creative writing consequences game in which I started playing with the idea that, a couple of years post marriage, the Darcys hadn't had any kids yet and that Wickham might not necessarily be quite such a bad guy. Then the alien concept came along, and that immediately opened up the possibility that Wickham was a hotshot deep cover alien hunter. In this new worldview, the elopement with Lydia was actually to protect her from alien kidnap and all the concomitant probing and stuff. The entire plot of "Pride and Prejudice" was henceforth up for reinterpretation.
I'd like to think that Jane would have approved. But I'm actually not that bothered. As I've said, my main concern was to use her characters as a starting point, not a straitjacket.
In fact, all the best Austen spinoffs are the least reverent and most outrageous ones. I normally try not mention "Pride and Prejudice and Zombies" (because of all that, you know, daring to turn up in print while I was still writing mine), but it's surely got to be more interesting proposition than "Murder at Pemberley". Best Austen film? Got to be "Clueless". And so on.
I realise there are copyright reasons for all of this and that, at least outside the dark and weird worlds of unpublished fan-fiction, you can't just grab anyone's work and do whatever you like with it. But if you can't do that, I do wonder a little what the point is, especially when there are big-name authors involved. I hope I'm wrong, and I wish the likes of Boyd and Hannah well (although I will admit to continuing to harbour ill will towards Eoin Colfer – I mean, how could he?)
All the same, I would still love to think that one day the Fleming estate will give the nod to someone like, I dunno, Jeanette Winterson and say to her, "Go on, do what you like. It's all yours."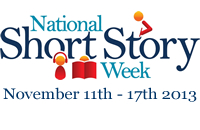 Well, this is nice. DOT DASH has been chosen as one of five recommended short story collections for this year's National Short Story Week. I've no idea what this is likely to mean in terms of sales (I suspect not a lot, as short story collections are never big sellers), but it can't be bad for the old profile.
Quite coincidentally, the first review of MRS DARCY VERSUS THE ALIENS for a while (well, it is over two years since the book came out) popped up on Goodreads the other day as well, and fortunately, it was a good one. A bit of detective work also revealed that she'd urged all her Twitter followers to read it. So obviously I'm expecting THOUSANDS of new sales. I still have dreams of some celeb type stumbling across it by accident and hailing it as an overlooked comic classic, but unfortunately they tend to be the sort of dreams in which this is followed by me being chased naked through Brent Cross by a giant mutant jellyfish. You too, eh? I hate those dreams.
And of course TAKE IT COOL is still going, and in yesterday's episode, the cliffhanger from episode fifteen is resolved…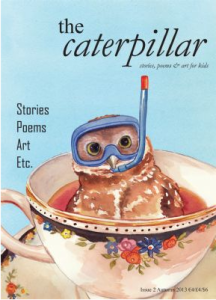 This is pretty exciting. I've got a couple of poems in the second edition of The Caterpillar, an Irish print magazine for kids. As its name might suggest, The Caterpillar is the junior arm of the highly respected literary magazine The Moth, so I was decidedly chuffed at being part of it already. However, my chuffedness knew no bounds when I looked at the list of the other contributors and saw people like Frank Cottrell Boyce, John Siddique, Smarties Prize winner Hilda Offen and Bina Shah. If you've got kids or grandkids (or indeed if you are a person between the ages of 7 and 11 yourself), I'd thoroughly recommend investing in a copy.
In other news, TAKE IT COOL continues, the latest episode describing how I came to forge an alliance with the Mormons in order to penetrate the more distant branches of my family tree. I've also updated the discography page, so you can now hear for yourself the record that may or may not have influenced Massive Attack.

This is cool. I've just had an acceptance for the forthcoming Flash Fiction Showcase in Ireland's splendid literary magazine, The Stinging Fly, to be edited by the excellent Nuala Ní Chonchúir. (Just take a look at some of their former contributors here. Impressive, huh?) My curious little piece of sort-of magical realist metafiction "The Meaning of the Rabbit" will be appearing in Spring 2014.
Meanwhile, there is a fascinating revelation in TAKE IT COOL today: did Dennis influence Massive Attack? Take a look at my lexical analysis and see if you agree with me…
I know I've said this before, but last week I think I actually had a viable idea for a new novel. Not going to say anything about it of course, but I really feel this is something I could write. So if something does emerge over the next few months/years, remember: you heard it here first.
Meanwhile, TAKE IT COOL proceeds apace, pausing only for a brief catch-up post for latecomers before hurtling on into what I like to think of as Dog-Face Phil's Origin Story.
And as a special bonus this week, the arrival of my bees has sparked HIVEMINDING back into life.
So take your pick between reggae and bees. Most of the bases covered there I think.
Bit of a complicated week, that was, so no updates to this place. However, TAKE IT COOL is still progressing, with two new episodes appearing. The first of these ("Dignity PLC") concludes my visit to the Pinnock family grave, while the second ("How I Became an Internet Stalker") brings the story back to my search for Dennis. I think we'll have one more episode and then a quick "Previously on TAKE IT COOL…" summary for late arrivals.