Is it really over a fortnight since I last blogged? I guess it must be. Someone said to be on Twitter today that I'd been a bit quiet lately. I really must get back to blogging a bit more regularly as I have a number of reviews piling up waiting to appear, along with some really cool interviews.
Anyway, the reviews of "Dot Dash" have continued to trickle in and they're still extremely positive. The enigmatic womagwriter certainly seems impressed, ending her brief review with:
they are beautifully written and I thoroughly enjoyed reading them.
Curiosity Killed the Bookworm is even more positive, giving it five stars and remarking that
It's one of the best short story collections I've read and one I think I will go back to repeatedly.
Many thanks to both bloggers for those generous comments.
I'd also like to give a quick mention for this blog post by my good friend Ian Cundell, which is mainly about the brilliant Julie Mayhew's debut novel, "Red Ink". There is a reason why all three of us (and I'm sure there are others) included Ian in the acknowledgements for our respective first novels, because a lot of our success in getting published is down to the curious combination of grumpy critique and unbridled enthusiasm that he brings to the process. I should add (as I've said before) that he really ought to get his finger out and write a bit more too, because he's no slouch himself.
I'll be saying a bit more about what I'll be doing at Get Writing soon here. Once I've got everything else out of the way, of course…
Is it a week since my last post? Well, obviously it is. There are reasons for this, none of which, sadly, have anything to do with writing. Anyway, last Sunday, the always excellent Jim Murdoch put up a startlingly thorough review of "Dot Dash" – so thorough in fact that I haven't quite dared to read it all yet. However, the good news is that he starts his summary with:
This is a fine collection of short stories and well-balanced
so perhaps I should screw up my courage and give the review the close reading that it clearly deserves. There are, as I write, seven comments under the piece as well and I'm probably being extremely ill mannered by not joining in the discussion.
This was followed up by a wonderful review by crime writer (and fellow Salt author) Christina James of "Mrs Darcy versus the Aliens", timed to coincide with the 200th anniversary of the publication of "Pride and Prejudice". It's always nice when a title that's over a year old gets a bit of renewed attention, especially from someone who so obviously gets it.
What else? Oh yes, my poem "Bloody Italians" (the one that was Highly Commended in the Fire River Poets competition) has now gone up on their website. Click the "Highly Commended" button to read it.
And finally, bookings have opened for this year's "Get Writing" conference. I'll be saying a bit more about my workshop in due course, but in the meantime, here's where you need to go to sign up.
Well, I did warn you that I'd had three poems accepted by TPG. The second one is called "Dali's Moustache", and it's one of those blink-and-you'll-miss-it things. Fairly insubstantial, but moderately amusing. It is based on a true incident, by the way – one that is well worth watching if you have ten minutes spare.
The third one, "Dissonant Love Song #2″, is a bit odder. I quite like it, though. Not sure if I could take a lot of that kind of thing, though, and it's probably quite fortunate that there never was a "Dissonant Love Song #3″. Curiously, there isn't a "Dissonant Love Song #1″, either.
Yesterday was one of those milestones in my career as a writer – the day when something of mine was reviewed by one of the broadsheets. Not only that, but The Independent on Sunday saw fit to give Dot Dash four stars out of five, describing it as
an entertaining collection of grotesque, fantastic, pungent little tales
which is as good a one-line summary of the book as I'm likely to get. Knowing how many books the papers get sent to them every week – and especially given that Mrs Darcy versus the Aliens was rigorously ignored by everyone apart from the British Fantasy Society, the Gatehouse Gazette and a handful of plucky bloggers (to whom I'll be eternally grateful) – I'm absolutely over the moon about this. I do wonder if it's evidence of Salt's increasing presence in the book world, following on from Alison Moore's Booker triumph. Or maybe I just struck lucky. I can't say I mind either way.
Whether it actually means anything in terms of sales is yet to be revealed, but it does mean that I can point to a place that everyone's heard of and say, "Look! That's me! I'm a writer!" Pathetic, really, but you have no idea how insecure and needy we writers can be, and it doesn't seem to get any better.
There's also a somewhat longer review of Dot Dash in the first issue of Synaesthesia magazine, by Bec Zugor. This is an expanded version of her original blog post and very nice it is too. Seems like  a good publication; I recognise a some of the other contributors – in fact I remember Jac Cattaneo reading "Cry Wolf", which has one of the best opening lines ever, at Sparks in Brighton a while back. Do take a look.
In other news, I was asked last week to provide a cover quote for a splendid new chapbook, "Threshold", by David Hartley for the excellent Gumbo Press. Do watch out for this and get yourselves a copy when it comes out – this is where much of the cutting edge action is right now, places like Gumbo, Nightjar and Spectral. They'll be collectors' items one day, mark my words.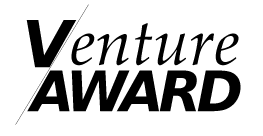 Whoops. Been a bit busy with other stuff, so the blog has been left to moulder for a couple of weeks. Anyway, the important news is that a pamphlet of mine is one of fifteen that have been longlisted for the Venture Award. This is actually quite exciting as, for one thing, there's a £1000 cash prize on offer, as well as the chance of having said pamphlet published. So it would seem that it's all about poetry at the moment. The shortlist is announced in March, so watch me bite my nails until then.
Hmmm. Need to hone my headline writing skills, I think. Whatever. I found out on New Year's Eve that my poem "Seven Day Wonder" was Highly Commended in last year's Newark Poetry Competition. Once again, it would have been nice to get into the winner's enclosure, but I'm not really complaining because it's still very encouraging. I really must spend a bit more time at this poetry lark. It would be quite cool to have a slim volume out there with my name on it.
Meanwhile, "Dot Dash" continues to gather reviews, including one or two nice ones on Amazon from complete strangers, and another brilliant one today from Scott Pack. I love the idea of getting someone like Park Chan-wook to film "Convalescence" – "Oldboy" and "Sympathy for Lady Vengeance" are two of my all-time faves. However, it is VERY unlikely to happen, so calm down, Pinnock.
Amazingly, the Kindle edition of "Dot Dash" is STILL available for only 77p (in the UK) or 99¢ (in the US). But you've probably all bought it by now, haven't you? If you haven't, see me afterwards.
An odd little poem of mine went up at The Pygmy Giant today, the first of a batch of three that was recently accepted there. "This Is Just To Be Meta" is, I guess, a parody of the idea of parodying a particular famous poem, "This Is Just To Say" by William Carlos Williams. There are, I suppose, three possible responses to this:
Huh?
Hey, a meta-parody! Neat!
Someone is trying to be too clever for their own good, aren't they?
Take your pick. I'm probably going with 3, to be honest.
The other two poems, "Dali's Moustache" and "Dissonant Love Song #2″, will appear some time in 2013, and I'll let you know when.
In other poetry news, I think I can now reveal that my poem "Bloody Italians" was Highly Commended in the inaugural Fire River Poets competition. I was particularly pleased about this because they're based not a million miles away, in Taunton, and I've already been to a couple of their open mic nights. I've been asked, along with all the other shortlistees and prizewinners, to read my poem at a special event on May 2nd, so that should be fun.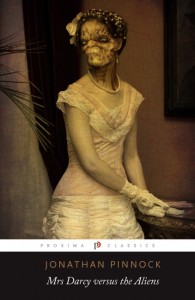 Hope you had/are having a jolly super Christmas/Winter Solstice/whatever. Mrs Darcy's been feeling left out lately, so I thought she was due for another Christmas Special. It's not particularly seasonal, but you may find it mildly amusing.
In other news, if Santa happened to bring you a Kindle or other electronic book substitute, "Dot Dash" is still only 77p, and – amazingly - still in the Amazon charts, where it's been almost continuously since the Kindle promotion began. Not that I've been checking ever hour or so. Oh no, not me.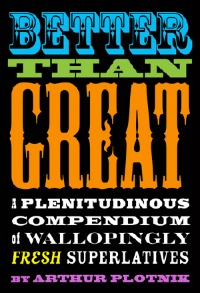 I was recently sent a copy of this book by the publishers, Souvenir Press, who subsequently turned out to be the people who publish not only "Le Petomane" but also "The Specialist", thereby making them almost certainly the best non-fiction publishers on the entire planet.
The purpose of "Better Than Great" is to tackle the problem that so frequently assails all of us: how to express the sheer wonderfulness of something without resorting to tired words such as "brilliant", "fantastic" or "awesome". To this end, the author has assembled no less than 6000 alternatives, arranged by categories such as "sublime", "delicious" and "trendy". Within each category, there is a brief introduction, followed by an alphabetical list of terms and a brief "vintage gold" section at the end (for example, the "vintage gold" section for the "cool" category includes such old favourites as "groovy" and "outta sight", as well as "torrible", which was new to me).
This is clearly a book for dipping into rather than reading from cover to cover, although the brief narrative sections are erudite and written with considerable wit and style. For example:
One way to make our acclaim forceful – attention-getting and convincing – is to associate it with powerful forces. Sinewy bridges. Incinerating wit. A fissionable fastball. Why hitch your wagon to feeble praise when you can harness the power of muscle, nature, even the atom?
The terms are illustrated with examples from a wide range of writers, from Annie Proulx to Wells Tower via Will Self. The terms themselves are, as you might expect, wide-ranging and occasionally bonkers. Opening one page at random, I came across the splendid term "Godzillian" in the "large" category, along with the useful numerical terms gazillion, jillion, goozle and grillion (I think I've got those in ascending order, but correct me if I'm wrong).
Is it a useful book, then? I think it might be. More specialised than thesaurus, but for that very reason possibly more useful. Is it entertaining? Most definitely. Is it – as Franz Kafka apparently said (on page 56) of what a book must be – an "axe for the frozen sea inside us"? Probably not. But all in all, it's splendiferociously wonderful. (I made that one up. But you probably realised that.)
Here's where you can order a copy. You might just get one for Christmas if you really hurry.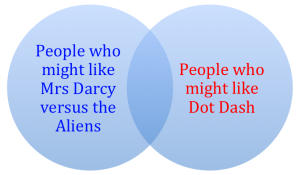 This is the most fascinating Venn diagram in my life at the moment. One of my big worries when I was blogging "Mrs Darcy versus the Aliens" was how it would affect my street cred as a writer. That sounds really arsey, I know, but a part of me does want to be taken seriously, even if it's a part that's in constant conflict with the other part of me that just wants to spend the day composing knob jokes.
So it was something of a relief to me to find that several of the literary short story writers that I looked up to seemed happy to indulge me (and even more of a relief – not to say surprise – when an imprint of Salt decided to publish it). But I'm even more intrigued now to know what Mrs Darcy's readership will make of Dot Dash. It is a very different book, after all, although I guess you could probably tell it was written by the same bloke.
So far the reviews are looking pretty positive, anyway. This is what they look like on Amazon (including a couple by complete strangers, which is always particularly gratifying). And here's another one that appeared today, courtesy of Our Book Reviews (who'd previously given Mrs Darcy a major thumbs-up).
One of the writers who gave Mrs Darcy an unexpected endorsement was Tania Hershman, and – somewhat belatedly (it's been a busy week or so) – here's a link to an interview I did with her a little while back. Whilst you're over there, I do recommend taking her up on her offer of a customised edition of her wonderful book "My Mother was An Upright Piano" – a brilliant idea for a present for that literary chum who's impossible to buy for.
Finally, don't forget that the Salt Kindle 77p deal is STILL on. Half a dozen terrific books at an absurd knock-down price. Further to my previous post on the subject, I've now finished Carys Bray's "Sweet Home", and I can confirm that it is indeed an excellent, if at times quite harrowing, collection.