Oh dear. Another blog gap. Let me try to explain…
I think I may have learnt something important over the last week or so. For various reasons, not all of which I want to reveal quite yet, I'm in a bit of an odd place with my writing. The thing is, despite having had two books published (and several more, if you include the software ones), I'm no closer to working out what kind of a writer I am. Now it's true that this matters less and less these days – you've only got to look at the CVs of the likes of Naomi Alderman and Steven Hall on the Granta Best Young Novelist list to see that – but it would still be nice to have a bit of a clue as to what I'm doing instead of stumbling around in the dark.
So lately I've been looking for Signs, and as luck would have it last week there were two opportunities for Signs to appear. Unfortunately, neither Sign bothered to show up. The first one was the announcement of the shortlist for the Venture Award for poetry pamphlets. Now, I didn't hold out much hope for this one, but a small amount of hope was nonetheless present (because otherwise, why had they put me on the longlist?). However, it wasn't so much the fact that I failed to make the cut that bothered me, it's the judge's remark that many of the collections that fell short had too many weak poems padding them out. My problem is that I haven't a bloody clue which ones are the weak ones and which are the strong ones. But then again, maybe this means that I'm not a proper poet yet. Either way, I'm no nearer finding out if I'm ever going to be one.
The other Sign that failed to make its scheduled appearance was the shortlist for the Edge Hill Short Story Prize. Now again, it was an unlikely proposition, given the unprecedented strength of the field this year, but the hope was always there, and as John Cleese's character says in Clockwise, it's not the despair – I can cope with that – it's the hope I can't stand.
The important thing I have learnt from this is that it's pointless as a writer to wait for external agencies over which one has no control whatsoever to provide a direction. To be strictly accurate, it's not actually something I've learnt this last week – it's something I've remembered again. After all, I've never had a mentor and I've always made up my career as I've gone along. Back in late 2010, against advice from some people, I started blogging Mrs Darcy versus the Aliens as a direct reaction to my frustration at not getting a short story collection accepted. Two years later, they'd both been published and it didn't matter that they were two totally different books. Maybe I just need to find another project that I can love and get stuck into it, without worrying about what kind of a thing it is.
The good news is that the week ended with a couple of nice acceptances. The first of these was from Josephine Corcoran's splendid And Other Poems blog, which specialises in re-publishing poems that haven't previously appeared online, for "Pants Outside Trousers, Big Letter H On T Shirt, Here To Save The World." The second was from the Ilanot Review for my short story "Oddly Enough, It Wasn't About Larry Walters At All." Coincidentally, out of everything I've ever written, I think those may be two of my favourite titles.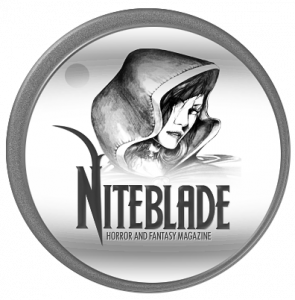 Writers are – let's make no bones about this – an odd bunch. No surprises there – we all know that. Moreover, what is particularly fascinating about writers as a group is the sheer diversity of their oddness.
However, there is one particular subgroup that I can't get my head around, and it's the writers who read out their work to a group and then put it away in a drawer for ever. The ones who, when you say to them "Hey, that was really good – why don't you try to get it published somewhere?" say, "Oh, I've no idea where I could send it to" or "There's nowhere to get anything published these days, is there?"
I have met a surprising number of these people.
The fact is that – thanks to places like Niteblade – there has never been a better time to get your work out there. Yes, I know you can self-publish, either for free on your own blog or on Kindle if you're feeling more ambitious, but unless your amazingly talented AND amazingly lucky, you're not going to build up much of a reputation that way.
Small magazines like Niteblade play an absolutely crucial role in bridging the gap between complete anonymity and getting your work in front of the general public. First of all, if you manage to get something published by them, you are getting anonymous validation by a complete stranger – someone who has absolutely no interest in you as a person and is prepared to assess your writing on its merits, and – crucially – someone who has seen an AWFUL lot of writing (and that last adjective is moveable, incidentally). Secondly, if you don't happen to make it through to being published, you'll get your first experience of dealing with rejection, and in some ways that's the most important lesson to learn if you're ever going to get anywhere.
Almost a year ago I wrote a guest post on the blog of Niteblade's editor, the lovely Rhonda Parrish, as part of my tour to launch my first book "Mrs Darcy versus the Aliens", and it amplifies a lot of what I've said above. One of the things I said then was that a lot of these small magazines fold after a short time (I was particularly sad to see the end of Dog vs Sandwich, if only because it had to be the daftest name ever for a publication), but some of them keep on going. And some of them, like Niteblade, even get to see their fifth anniversary. So go and take a look. Buy a copy. Submit to them. Keep those small presses turning over.
Happy Fifth Anniversary, Niteblade!
(You can find the previous link on this blog train at Amber Stults' blog, and the next one will be back at Niteblade's site itself.)
As you may or may not know, my current work in progress is a work of non-fiction. Now I have dabbled in this area before (the evidence is here, in case you hadn't previously strayed onto the other pages of this site), and what I've found is that, even if you're writing a computer manual, you still need to have some kind of narrative. By which I mean, you're still telling a story. If you're not telling a story, you'll very quickly lose your readers' attention.
The problem with the current WIP is that it involves historical elements, some of which go back to the 18th century and some of which go back twenty or thirty years. And as you pull all the facts together, you do get some kind of sense of what the overall story is (and in fact in this book, there are several) and so that's what you write your narrative around.
But every so often you come across something – a link to a website that you'd forgotten about, perhaps – that doesn't quite fit. And when you're dealing with areas of history that are only covered by unreliable sources, this tends to happen quite a lot, whether you're dealing with the 18th century or indeed the 1980s. When this happens, it's actually quite exciting, because you're actually forced to adopt a position. Do you stand by your narrative and dismiss the newcomer or do you absorb the new facts and readjust your narrative?
And then, suddenly, you realise you are literally making history. It's a scary thought, isn't it?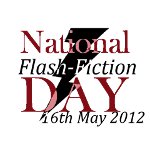 Well, at least it's less than a week since I last blogged…
I'm currently heavily stuck into Project Y, which has somehow made its way up to the remarkable total of 23500 words today. There are a few crucial things that have to fall into place (mainly because it's a non-fiction project and certain real-life things have to either happen or not happen soon), but apart from that it's all fitting together really well. Touching wood as I say it, it seems to be working, and it's the best feeling ever when a project does that. I'm so looking forward to the time when I can tell everyone what it's all about.
However, I haven't been completely neglecting fiction. Last week I was really chuffed to receive a commission to write a piece for the forthcoming anthology to be published in association with National Flash Fiction Day (which – spot that logo in the bottom right-hand corner – is now supported by the Arts Council!) Check out the other names involved – there are several of my flash fiction heroes and heroines there

The good news is that you – yes, you! – can be involved too. As you can see, submissions are now open, so get cracking and send something in by close of play on Tuesday April 10th. Hmmm. Better get going on my own effort soon, I guess.
Is it really a week since my last post? Yes, it looks like it is. Ho hum. Well, the good news is that the mysterious Project Y is getting very close to the magic 10000 words and I'm actually beginning to feel quite excited about it. No clues yet as to what it's all about though. Sorry. Meanwhile, I had a piece  published in The View From Here this week about that utterly wonderful film The Artist and what we writers can learn from it.
The next thing that happened this week was that I was interviewed by that excellent chap Charles Christian for his new online magazine The Urban Fantasist. As interviews go, I think it's one of my better ones, so do take a look. And bookmark that site – looks well worth following.
But the most exciting thing of course was Get Writing 2012, which took place yesterday. It was particularly exciting for me because I had the opportunity to do my first-ever workshop. Strictly speaking, I did one three years ago, on entering competitions, but as only a couple of delegates went to it (until a few of my VWC chums very loyally came along to bolster the numbers) I don't think it really counts. Yesterday's was entitled "Weird and Wonderful" and was all about unlocking creativity, basically by setting the brain problems to solve. From where I was sitting (or standing, mostly) it seemed to go well, and the group was extremely responsive. I'd like to do more of this kind of thing: it's a lot of fun.
I've been a bit quiet, both here and on Twitter/Facebook this last week, mainly because I've been trying to get Book #3 off the ground (Book #2 being October's short story collection, which I will be boring you senseless about in due course). As with all these things, it's a question of finding a project that seems worthwhile committing a sizeable portion of my writing time to – which is exactly the same problem that faced me before I got properly stuck into Mrs Darcy.
Anyway, last year I did have quite a neat idea for a new novel – a kind of literary sci-fi-ish sort of thing – and I duly started writing it. Unfortunately, what with all the running around (actual and virtual) promoting Mrs Darcy, I got interrupted, with the result that when I came back to it towards the end of last year, I found that I'd lost momentum.
So I did what any normal writer would do and reanimated a completely different project instead. This is a non-fiction thing (no clues yet, sorry) that I started work on several years ago and then dropped because I couldn't see how to pull it all together. What's interesting is that, having completed a novel now, I've got a much clearer idea of how to structure a narrative and the new version is (to my mind, at least) several thousand orders of magnitude better.
Ironically, having got stuck back into this project, I then found that the other one suddenly unblocked itself, so it looks like I'm going to be working on both simultaneously for the time being. I'm quite cool with this, because I can use each one as a distraction from the other – provided, that is, I don't come up with a third project to take my eye off the ball, such as a sequel to Mrs Darcy.
Incidentally, if anyone out there has read Mrs Darcy and desperately wants a sequel, this is what you need to do:
1) Make sure you've "Liked" Mrs Darcy's Facebook page.
2) Tell ALL your friends to go out and (a) buy it and (b) "Like" the Facebook page.
3) Give it an utterly brilliant a searingly honest review on Amazon.
And speaking of reviews, I've been catching up with my reading lately, and I really must get around to putting up some reviews myself. Wow, there aren't half some wonderful books out there…

Thought it was about time I posted something at The View From Here, seeing as I'm now one of the crew. I've been meaning to do something along these lines for a while, because this song is one of my all-time favourites and it actually gets even better once you understand why it works.
Some things fall apart under close analysis, but the sheer brilliance of this blows me away every time. It's actually giving me shivers thinking about it now.
The only other song I can remember her singing is actually someone else's, Bacharach and David's "I'll Never Fall In Love Again", which contains what must be one of the worst rhymes of all time:
"What do you get when you kiss a guy?
You get enough germs to catch pneumonia.
After you do, he'll never phone ya…"
 Just goes to show, even Hal David's had a few bad days.
Which will, of course, look a bit odd to those of you who aren't on Twitter (amazingly, there are still a few holding out). Basically what it means is that I am once again back writing, having spent two or possibly even three months using the necessity of promoting Mrs Darcy versus the Aliens as an excuse for not pushing the work in progress forward.
As excuses go it was a reasonable one, but one that became increasingly untenable as October stretched into November, until I was finally forced to face up to it at the weekend. What it was was this: I was quite keen on the first 3000 words, but I really was completely stuck on what to do next. Then I suddenly hit upon a neat narrative device that took the story to what I think will be a whole new level. And I'm now suddenly desperate to write like fury to get to the point where I can use that device, because I really think this will be something quite different.
Of course, having said that, I duly spent a fair bit of my writing time today coming up with a post for The View From Here. So this new momentum may yet stall. Hope not, though. I quite like this one.
In other news, there are now nine reviews for Mrs Darcy up on Amazon, every single one of them with five stars. So oi there, you national dailies and magazines, I'm over here!
Oh, and one more thing. If you're a writer and you haven't read all the stuff about the Brit Writers' Awards yet, take a look here, here and here. You need to know this.
Sorry, blog. It's just… well, I'm not sure, really. Let me try to explain.
Weird business, being a writer. Weirder still, being a writer-who's-about-to-have-two-books-published. Part of me is desperate to get the books out there so that I can point to them and say, "Look! I'm a proper writer now!" and part of me is terrified lest they are badly received or (worse) ignored altogether.
But until then, like I said back in this post, I'm in limbo, trying to work out what to do next. Project X, incidentally, staggered on to 3000 words, at which point I decided that I didn't really fancy spending a substantial part of my remaining life in its company. So at the start of this week, I axed it – and almost immediately a completely new concept appeared out of the blue and proceeded to occupy the vacated space in my head. I threw together the first 1000 words yesterday and read it out to my writers' circle last night, who seemed to like it too. I think I could have a lot of fun with this one.
Meanwhile, Project Y continues on its merry way and has now reached the end of the letter A. Project Z also emerged, in the shape of Wickhampedia. Hmmm. About time I wrote a few more entries for that, too. So as you can see, my writing life is wobbling about in several directions at the moment (and I didn't even mention Project WhatevercomesafterZ, which grabbed my attention for an afternoon at the beginning of the month before being slapped down again).
Anyway, here are a few other things to divert you if you've a moment or two to spare. On Tuesday I went to a fascinating talk from several old-school SF legends at the British Library; read Oscar Windsor-Smith's splendidly offbeat account of the event here.
Also worthy of scrutiny are my chum Sandra Norval's excellent recent posts on cyber-networking in Fantasy Faction (here and here).
And its just struck me I haven't mentioned Pike! Have I mentioned Pike yet? I don't think I have, which is unforgivable. My mate K J Bennett has bravely decided to follow Mrs Darcy's lead and is now serialising his wonderful novel Pike's Quest here. Do please take a look: it's hilariously daft.
Finally, I should also let you know that the super-snazzy new Ether app was officially launched today, so go here to download it if you haven't done so already, and then go and buy some of the fab stories on there (preferably one of my three, of course). Perfect to read on the train when you get stuck outside Basingstoke owing to points failure.
OK, blog. Happy now?
Good. I won't leave it so long next time. Promise.
First of all, hello to anyone who first came here after the great Charlie Higson retweeted my link to the previous post. Nice to see you – don't be shy, will you? Must say, it was nice to get my name into at least one of the national dailies on Monday, even if it was the Telegraph (shame it happened a year too late for my Dad to see me listed as a writer in his favourite paper, though). What's more, the letter seems to have had some kind of effect already. We shall see.
I'm in an odd kind of limbo right now, whilst I'm waiting for Mrs Darcy to come out in September, and I've been feeling quite unsettled for a while. I've been writing odd bits of stuff, some of which I really like, but I haven't felt like committing myself to anything longer than around 500 words. However, last night I finally got down to writing the first scene of a new project that's been bubbling under in my head for the last four or five months.
I think I've been putting off doing this in case it self-destructed on impact. But it didn't. What's more, whilst I was writing it, a couple of things that worked perfectly appeared out of the blue, completely unasked-for. Which is great, because it means that my subconscious knows where it's heading. It used to happen with Mrs Darcy sometimes, too, and I'd forgotten how good it felt. So Project X is now officially under way.
I've also finally kicked off Project Y, otherwise known as "Too Many CDs." This is where I systematically trawl through my record collection seeing what turns up. The subtitle of the blog says it all, really. Could be fun.
So now those two are up and running, I'd better start thinking about Project Z, hadn't I?