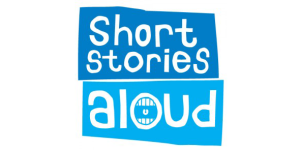 Just realised it's about time I made a bit of a noise about this upcoming thing. Short Stories Aloud is a regular event held at the Old Fire Station in Oxford (what is it about Firestations and Arts Centres, by the way? Just wondering…). It's a bit like Liars' League, in that the short stories are read by trained actors, except that there's a bit more of a focus on the writers.
This month, I'm going to be one of the featured writers, along with a couple of other blokes called Jon McGregor and Ernest Hemingway (nope, me neither). Apparently, four of the stories from DOT DASH are going to be read – one dot and three dashes, to be precise – which is more than a little exciting. Not only that, but as I'll be the only one of the three authors present, I'll be the one subjected to the audience Q&A.
Like a certain other Firestation-based event, it offers free entry to anyone bearing cake, so if I were you, I'd book the kitchen for next Tuesday. The fun starts at 19:30 and here's the official Facebook event page. Be there or be square.
In other news, the estimable David Hebblethwaite has given DOT DASH the thumbs up, describing it as "lovely stuff":
What brings them together so well is Pinnock's wry wit, his knack for sharp twists and rueful endings. The dots are marvellously concentrated bursts of language – not just punchlines, but stories reduced to their essence in a few sentences.
Finally, Mrs P and I were browsing in a bookshop over the weekend and she drew my attention to this remarkable reference in Susannah Fullerton's "Happily Ever After". I say remarkable, because it's quite clear from the description that the author – the President of the Jane Austen Society of Australia, no less – has actually read the book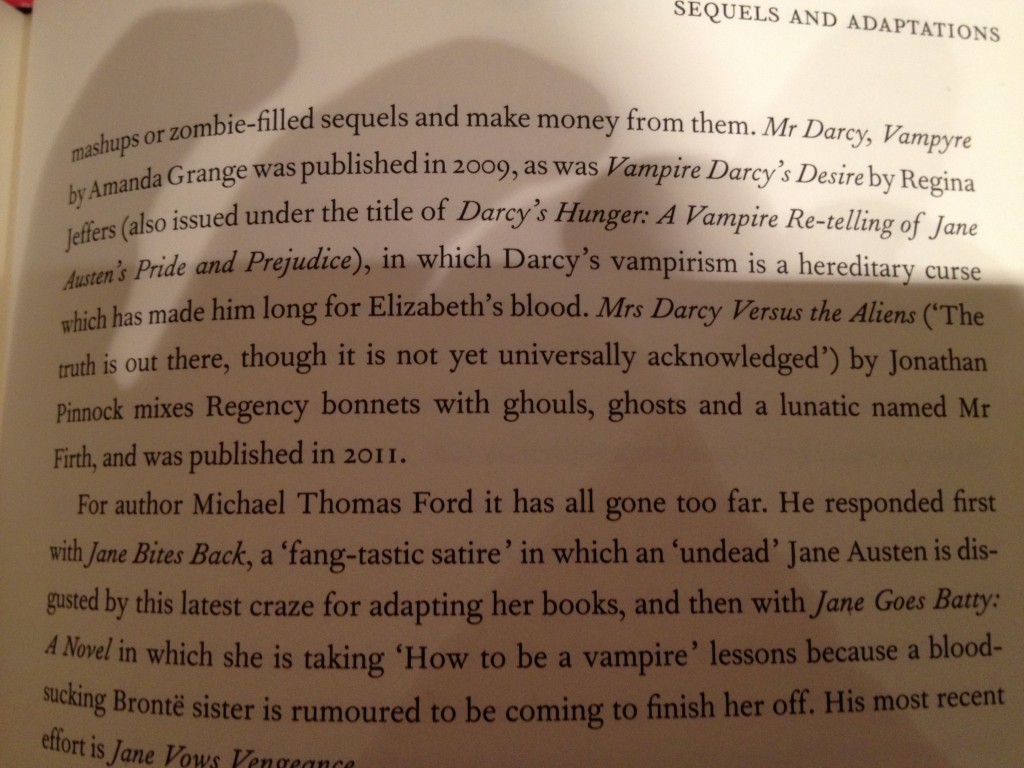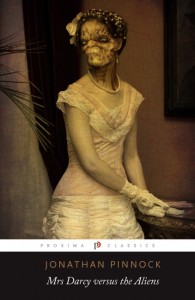 Hope you had/are having a jolly super Christmas/Winter Solstice/whatever. Mrs Darcy's been feeling left out lately, so I thought she was due for another Christmas Special. It's not particularly seasonal, but you may find it mildly amusing.
In other news, if Santa happened to bring you a Kindle or other electronic book substitute, "Dot Dash" is still only 77p, and – amazingly - still in the Amazon charts, where it's been almost continuously since the Kindle promotion began. Not that I've been checking ever hour or so. Oh no, not me.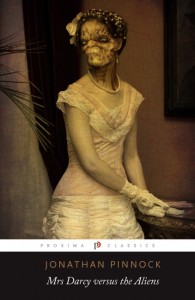 I thought it was about time we had another Mrs Darcy Special (having not had one since the Christmas two-parter) and the Queen's Diamond Jubilee seemed as good an excuse as any. Possibly the only work of literature ever to feature references to Nassim Nicholas Taleb, Duchy Originals and Talking Heads. At least I hope it is.
Every now and then I do a Twitter search for references to Mrs Darcy. Mostly the results have nothing to do with aliens – in fact quite a few of them are from pupils complaining about a teacher of theirs who happens to have that name – but very occasionally something relevant does pop up. Like this. As one of my Facebook chums remarked, it is rather charming that she has, quite literally, judged my book by its cover. On balance, though, I'm going to chalk it up as a win.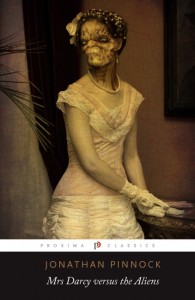 It's been a while since I last relayed any news about reviews for Mrs Darcy, so here are a few. First of all, here's what Chelsey Flood had to say about it (her debut novel, Infinte Sky" is being published by Simon and Shuster next year, so she knows of what she speaks). What I like about this review is that she's honest enough to say that the book wasn't quite what she was expecting, but she still goes on to appreciate it on its own terms. I couldn't really ask for more.
Next, here's Nyki Blatchley's opinion. I've met Nyki a couple of times (he's another denizen of Hertfordshire), but we're not sufficiently familiar with each other that I could guarantee a good review (you mean that doesn't happen?) – so I was really pleased that he liked the book, especially as he says he's not usually a big fan of sci-fi comedy.
Finally, here's the verdict from the brilliant Laura Benedict. This is another one to savour because, as she says, she's never been on the classic-novels-morphing-into-contemporary-schtick literary bandwagon, a comment that rings a very loud bell with yours truly. I often wonder what might have happened with this one if I'd got my arse in gear and finished writing it before P&P&Z came along. Well, I don't think about it that often, because, frankly, life's too short. But, you know?
A couple of other pieces of oddness popped up in the last couple of weeks. Apparently Mrs Darcy is a recommended horror read in Brighton and Hove, in the "Other Monsters" section, just about Frankenstein. And shortly before that, she was referenced in an Easter address. Whatever would Mr Collins have said?
Meanwhile, my current WIP tipped over the 40K mark yesterday. I'd better finish it then, hadn't I?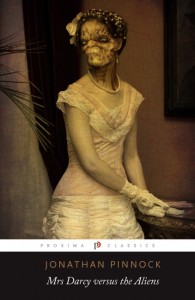 Many thanks to the lovely Martha Williams for pointing out to me that Mrs Darcy versus the Aliens would make an utterly brilliant Mother's Day present (assuming that you live in a country such as the UK where Mother's Day happens to be this Sunday). There's just time to order it from Amazon, too! So much better than a bunch of petrol station daffs.
And in case you're still in two minds, here are some reviews. So daffs or Mrs Darcy? Looks like a no-brainer to me.
I've been a bit quiet, both here and on Twitter/Facebook this last week, mainly because I've been trying to get Book #3 off the ground (Book #2 being October's short story collection, which I will be boring you senseless about in due course). As with all these things, it's a question of finding a project that seems worthwhile committing a sizeable portion of my writing time to – which is exactly the same problem that faced me before I got properly stuck into Mrs Darcy.
Anyway, last year I did have quite a neat idea for a new novel – a kind of literary sci-fi-ish sort of thing – and I duly started writing it. Unfortunately, what with all the running around (actual and virtual) promoting Mrs Darcy, I got interrupted, with the result that when I came back to it towards the end of last year, I found that I'd lost momentum.
So I did what any normal writer would do and reanimated a completely different project instead. This is a non-fiction thing (no clues yet, sorry) that I started work on several years ago and then dropped because I couldn't see how to pull it all together. What's interesting is that, having completed a novel now, I've got a much clearer idea of how to structure a narrative and the new version is (to my mind, at least) several thousand orders of magnitude better.
Ironically, having got stuck back into this project, I then found that the other one suddenly unblocked itself, so it looks like I'm going to be working on both simultaneously for the time being. I'm quite cool with this, because I can use each one as a distraction from the other – provided, that is, I don't come up with a third project to take my eye off the ball, such as a sequel to Mrs Darcy.
Incidentally, if anyone out there has read Mrs Darcy and desperately wants a sequel, this is what you need to do:
1) Make sure you've "Liked" Mrs Darcy's Facebook page.
2) Tell ALL your friends to go out and (a) buy it and (b) "Like" the Facebook page.
3) Give it an utterly brilliant a searingly honest review on Amazon.
And speaking of reviews, I've been catching up with my reading lately, and I really must get around to putting up some reviews myself. Wow, there aren't half some wonderful books out there…
A couple of new reviews for Mrs Darcy appeared this week, the first of which – courtesy of the Diary of a Domestic Goddess – was reasonably enthusiastic, but nowhere near as much as the second one, an exceptionally positive video review by the excellent Ms SableCaught. Enjoy (and make sure you hang around for the outtakes at the end):
This is a bit of a first: a joint review of Mrs Darcy and a book called "Death Comes to Pemberley" by someone called P D James (no, me neither). Anyway, Mrs Darcy takes top billing and has twice as many paragraphs, so I think we know what conclusion to draw

I have absolutely no idea who is behind the Hard Luxe Living blog, although she's obviously got some significant form as a writer. I don't think I know anyone who fits her profile, so I'm going to assume she's a complete stranger – which, as I've said before, is the best sort of person to get a good review from.

There I was, moping because I thought poor Mrs Darcy was being ignored, when up pops a lovely review on *drum roll* The British Fantasy Society's web site. It's really nice to read a review of something you've done by someone you don't know who so obviously gets it – and extra points for spotting the Natalie Imbruglia reference, by the way. Speaking of references, no-one's yet mentioned the allusion to "Lucky Jim" – or was that a bit too subtle? It's probably my favourite. No clues, though…