Last Tuesday (oh God, is it THAT long since I last posted?) was a triple-good day. First of all, I found out that the workshop I mentioned here is now fully booked. Yay! Then I found out that Dot Dash is on the longlist for this year's Edge Hill Short Story Prize. Double yay! Although I have to say that the excitement of finding that out is somewhat tempered by the daunting size of that longlist and the presence of some VERY big hitters on there. I strongly suspect that this will be about as far as things go. Still, it's nice while it lasts.
The third good thing to happen was Short Stories Aloud. I'm sure I've said it before, but there's nothing quite like the experience of hearing your words read by a professional actor and Jenny Johns was absolutely brilliant in her interpretations of Return to Cairo and Mirror, Mirror. Steve Hay also gave some excellent readings of a couple of Jon McGregor stories and one by Ernest Hemingway.
Once the formal part of the evening was over, Sarah Franklin, the founder and compere par excellence of SSA proceeded to grill me with questions from the audience. I think I managed to answer most of them, even if (perhaps because) they tended to be actually on the subject of writing, rather than – for example – what my favourite cheese was. They all seemed a very friendly bunch and an exceptionally responsive audience. All in all, it was a most enjoyable evening, and if you're in the vicinity of Oxford when the next one comes along (check their Facebook group to find out) I'd recommend going along. The cake is pretty damn fine, too.
And finally, now that Easter is over and the first three months of the year are behind us, I really promise to post a bit more. There are several reviews circling round waiting to land and if I'm not careful, they may start to run out of fuel…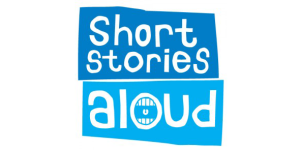 Just realised it's about time I made a bit of a noise about this upcoming thing. Short Stories Aloud is a regular event held at the Old Fire Station in Oxford (what is it about Firestations and Arts Centres, by the way? Just wondering…). It's a bit like Liars' League, in that the short stories are read by trained actors, except that there's a bit more of a focus on the writers.
This month, I'm going to be one of the featured writers, along with a couple of other blokes called Jon McGregor and Ernest Hemingway (nope, me neither). Apparently, four of the stories from DOT DASH are going to be read – one dot and three dashes, to be precise – which is more than a little exciting. Not only that, but as I'll be the only one of the three authors present, I'll be the one subjected to the audience Q&A.
Like a certain other Firestation-based event, it offers free entry to anyone bearing cake, so if I were you, I'd book the kitchen for next Tuesday. The fun starts at 19:30 and here's the official Facebook event page. Be there or be square.
In other news, the estimable David Hebblethwaite has given DOT DASH the thumbs up, describing it as "lovely stuff":
What brings them together so well is Pinnock's wry wit, his knack for sharp twists and rueful endings. The dots are marvellously concentrated bursts of language – not just punchlines, but stories reduced to their essence in a few sentences.
Finally, Mrs P and I were browsing in a bookshop over the weekend and she drew my attention to this remarkable reference in Susannah Fullerton's "Happily Ever After". I say remarkable, because it's quite clear from the description that the author – the President of the Jane Austen Society of Australia, no less – has actually read the book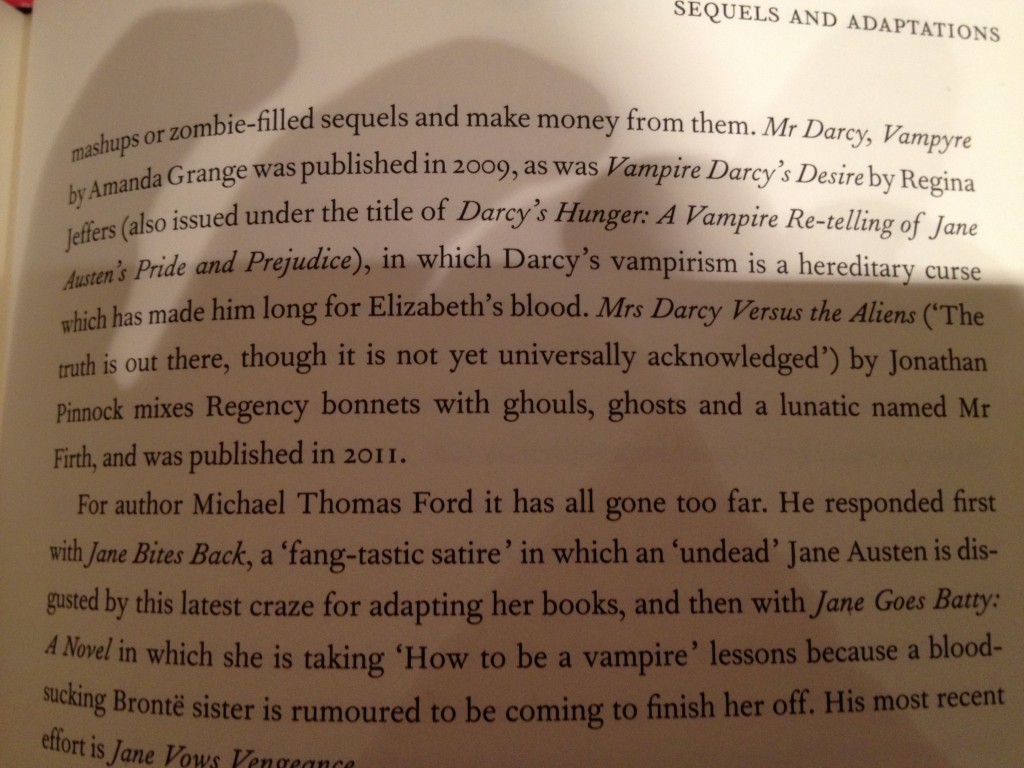 Just realised, what with catching up on reviews and stuff, I haven't mentioned my forthcoming workshop in Luton on "unleashing your inner storyteller". Now I guess there are those who might think that such a thing as an "inner storyteller" should not only remain well and truly on the leash, but should be muzzled at the very least and possibly even destroyed under the provisions of the Dangerous Imaginations Act.
However, I am not one of these people.
So if you happen to be free on the afternoon of Thursday October 18th between the hours of 14:00 and 16:00 in the vicinity of Luton Central Library, come along and hear me talk about where my stories come from and how you can incubate some of your own. Should be fun.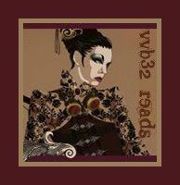 The first ever blog to spot the serialisation of Mrs Darcy versus the Aliens was a place called vvb32 reads (I'm sure the vvb used to stand for "Velvet Verbosity", but that doesn't seem to be evident now, so I may be wrong here). When I say it was the first blog, she mentioned it on December 17th, 2009, the day after it went live. Impressive, eh?
I've been hankering for a chance to drop in on vvb again, so when I received an invitation to her annual Pemberley Ball, I leapt at the chance. Although I had no idea what an extraordinarily mad event it would be – take a look at the schedule if you want to get an idea of the scale of it all. Look on this, ye fellow bloggers and despair!
Anyway, here's my contribution. Another special to add to the Mrs Darcy canon, I think. Hope you like it – and do pitch in for the free giveaway if you fancy.
In other news, I've just spent a delightful evening (well, it was delightful for me – I've no idea what anyone else thought about it) talking to my friend Nick Cook's creative writing class tonight about how to market yourself as a writer. It struck me that there were a few things that might be worth sharing here, so expect a post or two about that sort of thing sometime soon.

The first thing to say is that unless you've been to one of these events, this post won't make a lot of sense without reference to this one. So go and take a look at that and come back when you've finished. There may be a short test…
…although on this occasion I'm going to let you off, because I imagine you're desperate to hear how it went. No?
To be honest, it all went by in a bit of a blur. So rather than a blow-by-blow account of the night, here are a few random impressions:
Remember the sofa from Black Books that ate one of the customers? The one at the Firestation Arts Centre is one of its ancestors.
Those questions from the audience are SERIOUSLY random. My favourite Icelandic cheese? Caravan or curry?
Have to say that whoever thought up the paper dart manufacturing contest between John Harding and myself was a genius. Even if, as Scott said, both our efforts were shit.
I REALLY need to work on filling the silences when I can't think of an answer to a question. And why oh why couldn't I think of a name of a SINGLE horror film that I'd liked apart from Alien, after that one was unreasonably disqualified for being sci-fi horror? (Yes, I was that bloke muttering "Psycho" to himself over and over again walking back from the station at midnight.)
Scott Pack is a top bloke and his family are all lovely. Last night was in fact the first time that both Martha (10) and Ethan (13) had been allowed to come along to a grown-up swap and they behaved impeccably (including – if my assumptions are correct – coming up with a couple of extremely erudite, if slightly weird, audience questions themselves).
Marie Phillips is lovely and complete unaffected by the fact that she has a Hollywood film coming out based on her book and is therefore a TOTAL SUPERSTAR.
John Harding is a lovely bloke and not just because he wrote the awesomely brilliant "Florence and Giles" and also (to my stunned amazement) wrote this about "Mrs Darcy versus the Aliens".
It was a decent-sized audience – 40 to 50 at a rough estimate. I signed several copies of Mrs Darcy, some of which were bought on the night. And I also signed a few more for Waterstone's stock. I met several tweeps for the first time and one or two whom I'm now in twitter contact with.
All in all, a good do.

I'm slowly coming to the conclusion that I'm nothing more than a shallow attention-seeker. On the negative side, this is not necessarily a truth that a bloke of my moderately advanced years likes to come to (I was hoping for a bit more gravitas by now, frankly), but on the plus side, it does at least align itself very well with my nascent writing career. Because every now and then one is called upon to read something one has written in public, and this tends to work better when one is enjoying it.
Which is one of the reasons why I jumped at the opportunity to nip down to Bristol yesterday to attend the launch event for the 2012 short story competition. One of the other reasons was of course that the BSSP is rapidly becoming one of the top short story prizes in the country so I was very honoured indeed to be asked. Also, Joe Melia, who pretty much is the BSSP, is a top bloke and it was great to see him again. Oh, and did I mention that none other than Tania Hershman was also on the bill?
The event seemed to go very well – there was certainly a good-sized audience and some excellent readings. Emily Bullock (nice to see her again too!) started the evening by reading an extract from this year's prizewinning story, "My Girl", a wonderfully visceral piece of writing. She was followed by Alan Toyne, who read an extract from his shortlisted story from the first year of the BSSP, "Tuesday Night", a very wittily-observed description of a male bonding ritual. Then I did my bit – I'd decided to read a couple of whole stories rather than extracts, so I went for "Canine Mathematics" and "Advice re Elephants", which seemed to go down OK. Then Tania wrapped up proceedings with four utterly wonderful flashes – I knew (and loved) a couple of them already and the other two were equally beguiling.
Then we all mingled for a while and drank a glass or two. It was lovely to see Sarah Hilary and Nastasya Parker again, who were both in the audience, and it was also great to meet Twitter chum Chris Wakling, whose latest book "What I Did" I've just ordered. Oh, and Foyles had also ordered in a dozen or so copies of Mrs Darcy, half of which went on the night, which I don't think is too bad considering it wasn't her event at all. I also signed the other half, so if there's anyone in Bristol who's after a copy with the tentacle signature, get down to Cabot Place now.
And the fun continues tomorrow night, where I'm going to be sitting alongside the awesomely-talented John Harding (whose "Florence and Giles" may well be the best book I've read this year) on the Firestation Book Swap sofa. Do come along – it should be a good evening. To whet your appetite, here's my pre-swap interview with the lovely Emma Buckley of Beat Magazine.
Mrs D's official launch took place alongside the rest of the Proxima imprint at the Brighton FantasyCon a couple of weeks ago, but I wanted to have a local one too. So I arranged an unofficial one for last night at Waterstone's in St Albans and what a fun time we all had. Lots of old friends turned up (including one or two unexpected ones) and a lot of wine was consumed, along with some tasty canapés from the wonderful Madeleines and Marmalade (she's taking orders for Christmas, you know).
It's customary to read a bit from the offending book on these occasions, and last night was no exception. I may have had a glass or two by the time I did this:
(Thanks to Ian Cundell for the camerawork, by the way.)
I did have a slightly sore head this morning, so it's more than a little surprising that the phone interview I conducted with a lady from the St Albans Review turned out to be pretty accurate. I think I was a bit more forthcoming with the lady from the Herts Advertiser who called me later on in the day, so that one may turn out to be a little more detailed when it appears.
In other news, Scott Pack has blogged about next week's Firestation Book Swap. You are all coming along, aren't you?
And now I'm preparing for my Skype session tonight with the Chichester Readers. I have absolutely no idea what  this is going to be like.

After the Scott Prize results were announced, I thought it might be nice to get in touch with a few people who encouraged me along the way. Pretty much the first stop on the journey was the University of Hertfordshire, because winning third prize in their creative writing award in 2007 was THE critical event that set me off on my present path.
What I hadn't expected was that they would invite me to come along to this year's award ceremony. Now I'm never one to turn down an invitation for free food and drink (and it's just down the road anyway), so I quickly accepted. The award has changed a bit since the first one in 2007, in that instead of an open international competition, it's now aimed at writers aged between 14 and 19 from the East of England. But I have to say that the writing in evidence tonight was no less impressive for that and if even a fraction of these kids stick with it, the future of British literature is in safe hands. It must have been very difficult indeed for the two judges, Emily Mackie and Marcus Sedgwick, to decide who should go home with the prizes.
The ceremony itself was a very slick affair with actors reading out extracts of the shortlisted entries, which I thought was an excellent idea. I've said before here that for an author there's nothing quite like hearing someone who knows what they're doing reading your work, and the actors involved tonight did them proud – kudos to Matt Broad, Syreeta Kumar and Jacqueline Roberts. There were some highly impressive entries in both the shortest short story category (4 – 100 words) and the short story category (up to 2000 words). It wouldn't be fair to single out any individual writers but I was interested to note that there was more than one entrant who turned up in both categories, which I thought was particularly impressive.
So many thanks to Janet Matthews and Stephanie Grainger for inviting me along – I had a terrific time and it was lovely meeting everyone.
And if any of the entrants happen to stumble on this post, I'll give you one simple piece of advice: don't give up on writing, because it sure as hell won't give up on you. Whatever you do, don't take as long as I have to get around to doing anything about it.
Finally, if any of the parents happen to stumble on this, you should be very proud indeed – and if I ever hear that you haven't encouraged your kids every single step of the way on their creative writing journey, I shall be very, VERY cross. OK?
For no particular reason, the day job has gone a bit bonkers at the moment, which means that most of the carefully crafted posts that I had planned have been elbowed out in favour of this general ramble about stuff.
First of all, I really had planned to say something about the splendid "Get Writing" conference a couple of weekends ago, but everyone else who went seems to have overtaken me and written about it already, so it hardly seems worth it now. One thing that I will say was that possible the most interesting talk of the day came from Matt Bates, who is the fiction buyer for WHSmith Travel. I hadn't heard anyone from the buying end of things talk before, and it was quite an eye-opener.
Basically he said that the single most important criterion for deciding whether or not a book makes it into one of his stores is the cover (the second most important criterion is how informative and interesting the blurb on the back is, by the way). The moment I heard this, I made it my mission for the rest of the day to get one of my postcards printed with Mrs Darcy's cover into his hands – something that I actually achieved within ten minutes of his talk ending. The good news is that he really liked it. But then, who wouldn't?
I happened to be in Bath last weekend, so I took a few of the postcards there with me, giving a couple to the young lad on the till in the Jane Austen Centre ("Awesome!"), one to Waterstones and one to another bookshop who reacted by saying they'd heard that the "first one" was being made into a film. Hmmm. Although does it really matter if I get confused with P&P&Z? I need to practice how I react to this

Today I had a fabbo day pretending to be a real author for a while by attending a lunchtime reception for new joiners at the Society of Authors and an evening launch party for Ed Siegle's "Invisibles", which looks as if it's going to be a superb read. At the latter it was also nice to meet Alison MacLeod, who was one of the other authors involved in the National Short Story Week "Consequences" stunt. My combined intake of wine across the two events was quite high. I could get used to this.
Finally, when I got back this evening, I found that a particularly daft piece of mine (I know I've said that before, but, trust me, this one is dafter than average) is going to be published by The Pygmy Giant at the weekend. I've also been invited to contribute to another publication, but I'll keep that one a little mysterious for the time being.
And I nearly forgot. My piece "Perfect Moment" was apparently one of OneFortyFiction's most popular stories in February. Here it is again, in case you missed it.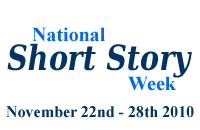 This is quite unbelievably cool. Nearly a month ago I had an e-mail from Ian Skillicorn, aka Mr Short Story Radio, aka Mr National Short Story Week, asking me if I'd like to participate in a consequences-style short story challenge. The idea was that each one of us would contribute 100-150 words in turn, building on what had been written before.
I must have hesitated for all of 3 nanoseconds.
The result went up today and it works rather well, don't you think? But just take a look at the list of writers involved:
To say I feel honoured to be in there doesn't begin to express how I feel. I'm quite gobsmacked.
Oh, and one more quick reminder: VWC Open Mic at the Goat, tonight. Be there or be square etc.