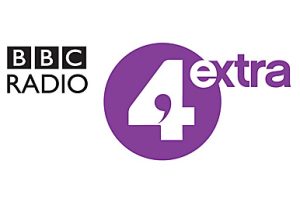 I dunno. You pay your licence fee and all you get is bloody repeats. Still, this is worth 15 minutes of your time: BBC Radio 4 Extra (that's the digital channel that used to be called BBC Radio 7) are repeating my Opening Lines story "The Amazing Arnolfini and His Wife" tomorrow, Thursday November 29th, at 11AM and again at 9PM. Alternatively, if you happen to be an insomniac or living somewhere more exotic than the rain-sodden UK, it's on again at 4AM on Friday morning. (Does that make three repeat fees? I do hope so.) If you still manage to miss it, it will also be available for a week afterwards on iPlayer.
I should also point out that if you happen to have a copy of Dot Dash handy, you can even read along as you listen! (And if you haven't got one yet, you can order a signed copy via the PayPal button on the left hand sidebar <– and get it delivered before it disappears from iPlayer. How about that?)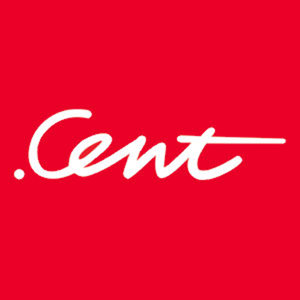 Also, the new issue of the utterly gorgeous .Cent magazine has just come out, featuring – on page 8 – my flash "The Sculptor's Wife". I think this may well be the classiest publication yet to feature a piece of mine.
Yesterday I dropped in on Winston Roberts (aka Kenny Norris)'s blog for a chat about story titles. I met Kenny at a workshop I did a while back and the titling of stories was something I briefly covered, and as he says it's a subject that doesn't always get much attention. Odd thing, titles, sometimes they can be so important and sometimes almost a throwaway thing. I've been reading Raymond Carver lately and I've noticed that a lot of his stories tend to have titles that pick up on apparently insignificant details and amplify them. Although it's interesting that even he (or perhaps Gordon Lish?) didn't always have the confidence in the reader to go hunting – "The Bridle", for example, ends with a rather blatant bit of additional signposting.
In fact, yesterday was quite busy because I also had a live chat with Danny Smith on Radio Verulam (even if, strictly speaking, I'm not entirely local any more – but keep that between you and me, OK?). We chatted about "Dot Dash", how it came about and the vexed question of how to go about getting those ideas bouncing around in your head down onto paper.
Last but not least, the estimable Scott Pack has put up a truly magnificent review of the first two stories in "Dot Dash" on his Me and My Short Stories blog. As you may imagine, this last paragraph is going straight into my publicity materials:
It would be easy to devour this book, this collection of dots and dashes, in one or two sittings but I am trying to eke it out for as long as I can. It has all the makings of a bit of a modern classic.
Wow.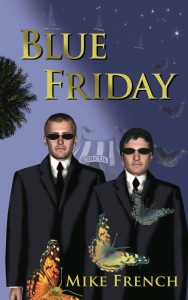 Today we take a well-earned breather from the "Dot Dash" blog tour and turn our attention to another writer, the excellent Mike French. I first encountered Mike in his role as editor of the splendid literary magazine, The View From Here, where he accepted a short story of mine and then proceeded to invite me onto his team as an occasional contributor. TVFH is always worth a read, by the way – there are some excellent pieces published there.
Last year, Mike brought out his remarkably ambitious debut novel, "The Ascent of Isaac Steward". Not surprisingly, such an unclassifiable book took some time to find a publisher prepared to take it on, but all credit to Cauliay Publishing for having the necessary vision. Since then, Mike has wasted no time at all in getting his next book, "Blue Friday", to market, this time with the exciting new imprint Elsewhen Press (who, incidentally are also bringing out my good friend Dave Weaver's debut novel, "Jacey's Kingdom", very soon).
Mike very kindly agreed to drop in here recently and answer a few questions. Actually, the process took some time because my mind was somewhat elsewhere, what with my own book coming out. Which may also go some way to explaining why I completely managed to cock up the name of his book in my first question. He was, however, very nice about it, as well as being surprisingly informative…
Can you tell me a bit about "Blue Monday"?
Blue Monday is a single released by New Order in 1983 and is the best selling 12 inch of all time – I think The Beach was on the b-side but I could be wrong.   The song begins with a distinctive semiquaver drum intro. Hope that helps.  Don't know why you asked me that – but heh it was a great record.  [*smacks head*] Anyway as for Blue Friday it's about a society that has gone to extreme measures to try and protect the family unit. No overtime is allowed for married couples, there is enforced viewing of family friendly TV, family meal times have to be had at set times and there is a coming of age where twenty-five year-olds are automatically assigned a spouse by the state computer if they have failed to marry.  It's not on vinyl. It lasts longer than seven and a half minutes and it doesn't open with a semiquaver drum beat. It does however have a family protection agency that will kick the shit out of you if you deviate from the rules. Apparently it's dystopian – with a touch of Douglas Adams about it – which was a surprise to me, I thought I was writing a how to manual on caring for potted plants.
That sounds intriguing! Would I be right in thinking that it's a slightly more straightforward proposition than your first book, "The Ascent of Isaac Steward" (which I'll be honest I found quite a challenging – although ultimately rewarding – read)?
Yes, Blue Friday has a linear storyline and simpler structuring than Isaac Steward.  Isaac was written in that way to reflect the disintegration of his mind and there was no need to employ that technique with Blue Friday.  I missed the seminar on how to write your first novel with Isaac Steward and jumped straight to a James Joyce style end of career novel that split the reviewers – half loved it, half just seemed to be scratching their heads wondering what on earth it was supposed to be.  So my plan is to work backwards and flip my career progression and regress into pulp fiction – so by around my tenth book I will hit a low and reach the Dan Brown stage of writing style and plotting structures.  I think looking back Isaac was an intensely emotional book to write whilst I had a lot more fun with Blue Friday – and there is more humour in it.  I was also really interested in writing using minimalism to shape my style so Blue Friday is cut back hard and is faster paced as a result. In the same amount of words I used in Isaac to describe a sunset, Blue Friday would have jumped out of the page, ripped your throat out and asked you to muse over the state of society.
That makes perfect sense to me, although I know there are a lot of publishing industry folk who would say that it's a mistake to dabble in both literary and genre. Has anyone ever suggested to you that you should be using different pen names? If not, what would be your reaction if they did?
No-one has suggested I use a penname and Isaac was part literary and part slipstream so I think as Blue Friday is speculative it's not a huge jump into a different genre.  However in general I would not be keen to use a penname – I can see in some cases it makes sense, like when there's another author with a similar name or you wish to remain anonymous, but generally I can't see the point.  So is Jonathan Pinnock your real name?  I heard your real name was Jonathan Peacock but Salt Publishing thought that your career as a writer and that of an paralympian athlete would confuse the public. ( By the way I saw you win gold you were amazing!)
Sadly my real name is indeed Pinnock, although I have the penname suggestion put to me in the past which is why I asked you. But I'm not keen on them either. Did you find that the fact of having successfully finished and sold a book made the process easier the second time around?
Getting the publishing deal for Isaac Steward really set me on a massive high – and I wrote Blue Friday whilst riding that wave.  It was a good feeling knowing that I was writing something that would definitely exist as a book this time.  And I also came at the whole process differently – Isaac was written in snatches of time when I was looking after the kids as a homedad – Blue Friday was written in a block that lasted 3 months – well the first draft anyway.  In the past I would have thought that that was not enough time but I was struck by how long Iain Banks takes to get a book written when I interviewed him a few years ago, so I was open to the possibility.  I think a lot of the work is done beforehand as it swills around in your mind and Blue Friday had been sitting in my head for years so when I started it just came pouring out like releasing a flood.
Which leads me very naturally to ask you what you're working on now?
I'm working on a third novel called Convergence with the tag line "The story is everything. And everything will become the story."  It's apocalyptic and in its very early stages – there's a synopsis and prologue but that is it so far. I'm struggling to get the time at the moment with Blue Friday just coming out and I've been editing a short story collection from the Luton Writers' Group called Underground Rivers which was launched last Friday at Luton Central Library – there was quite a crowd with over 80 people packing the place out.
Excellent stuff. Can't wait to hear more! In the meantime, "Blue Monday Friday" is available from all good publishers bookshops – details available on Mike's website. Do take a look.
… is at the wonderful Vanessa Gebbie's blog, where she says some unexpectedly nice things about my writing, including one quote which will almost certainly make it into my publicity materials. I should qualify what I mean by "unexpectedly nice", because there is never anything unexpected about Vanessa's niceness – it's pretty much guaranteed. But for someone of her stature to say nice things about my work, unprompted, was unexpected, and it means a hell of a lot to me. It really is wonderful when someone whose writing you've always admired gets what you're trying to do.
In other news, last night I had the most extraordinary evening at Story Friday in the Museum of Bath at Work. What made it extraordinary was that the entire museum space was used, and the audience moved about from one venue to the next with a different space being used for each story. I found myself declaiming my story (a new one called "The Alternative Electrician") from a room full of old machines to an audience on galleries on the two floors above me. Probably the most bizarre performance I've ever given by some distance, but I think it went off OK. The other stories were great, too, and massive kudos to Clare Reddaway and her team for coming up with the concept. The next one, incidentally, is going to be held in some underground cellars – with "Underground" being the theme for submissions. I'm seriously tempted to try again.
…is at the delightful Ali Bacon's Between the Lines. Quite interesting to compare today's post with the previous interview I had with Ali, back in the wilderness days when I was trying to find a publisher for Mrs Darcy. Occasionally things do work out, you know. Not just for me, either – Ali herself has recently found a publisher for her novel "A Kettle of Fish", and she'll be dropping in here to talk about it some time in the not-too-distant future.
Meanwhile, an instagram of the special morse code signature on one copy I sent out has generated a significant amount of interest in – and indeed sales of the specially signed version of "Dot Dash" (see <–). Grab them while you can! And probably best not to spend too much time deciphering the other bit of morse I've scrawled on the cover. It's a bit rude.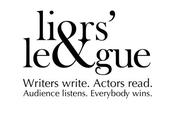 Last night I went along to Liars' League to hear my story "The Last Words of Emanuel Prettyjohn" read. I was particularly excited about this because I'd re-written the piece especially for the League so that two actors, one female and one male, could alternate roles and I was desperate to see how this would work out.
Well, I have to say I was seriously impressed with the way that both Lin Sagovsky and Tony Bell threw themselves into it and caught the spirit of the story perfectly. Here they are:
The Last Words of Emanuel Prettyjohn
The other stories were wonderful, by the way, with some absolutely superb performances. I've been submitting to the League on and off for the last four years and it seems to go from strength to strength. Not only that, but the audiences are getting bigger. I'm sure last night's must have run into three figures, which is amazing for this kind of thing.
Meanwhile, the "Dot Dash" blog tour continues, and yesterday Dan Purdue invited me to return to Lies, Ink to talk about my experience of entering competitions. I notice that the URL for the post is "guest-post-jonathan-pinnock-talks". Feel free to mentally add "sense" or "bollocks" as you deem fit.
Today is a blog tour rest day, which gives me time to catch up on where I was over the weekend. First of all, on Saturday I was at Myfanwy Fox's Fox Tales blog, where we discussed the importance (or otherwise) of prompts as an aid to writing. I first encountered Myfanwy on the now-defunct Slingink site, where we locked horns during one of their gruelling Eurofiction competitions back in 2007-8, at the end of which (according to my spreadsheet – don't ask) she ended up 3 places above me in the final table.
The day after that I dropped in on Jessica Berkery (née Patient)'s Writer's Little Helper blog, where I came up with some exceptionally impractical suggestions for running a bookshop. Jessica is a fellow contributor to the excellent The View From Here magazine, whose editor, Mike French, is going to be dropping in here for an interview some day soon as it happens.
The tour continues tomorrow. Or at least it will do once I get around to writing my guest post for Dan Purdue…
… is at the lovely Jo Derrick's blog, where I blather on about the Scott Prize. Jo is editor of The Yellow Room, and a highly prolific and successful short story writer herself.
Tomorrow, I'm signing books in Waterstones in Wells, Somerset, from 11:30 to 2. If you're anywhere near there, drop in and say hello!
… is at the amazingly talented Kirsty Logan's blog, where I talk about the inspiration behind one of the stories in "Dot Dash", "The Birdman of Farringdon Road".
Funnily enough, the Birdman is one of the stories that Bec Zugor mentions in this wonderfully generous first-ever review of the book. Can't help feeling it's all downhill from that.
… is a return visit to my old mate Oscar Windsor-Smith's Is That The Time? Lord blog, where he sticks his neck out and suggests that "Dot Dash" might be a sure-fire Christmas present. He's right, of course. Especially one of those nice signed ones that you can get at the click of a button <—.
Oscar is a great bloke and a highly talented writer to boot. One of these days, I really hope to be able to have him here talking about a book that he's about to have published. I'm sure it's only a matter of time.