The Sixth Annual Café Doom Writing Competition came to a close today. It's quite a feat of endurance for the participants because all the entrants have to read everyone else's entries and then pick their top three. This year there were 50 in all, with a maximum length of 5000 words, making a potential 250K of words to be read in a fortnight.
In fact, it turned out to be a breeze to do the actual reading part because in most cases you could decide pretty early on if a story was going anywhere and the ones that did go somewhere were a joy to read. Actually writing something new for the competition turned to be a bit more challenging, what with Mrs Darcy and the Slingink Scribbling Slam both going strong at the time, so I ended up re-visiting a story from 2007. This was "Symbiosis", the everyday story of the relationship between a young woman and her intestinal worm, which I'd originally written for a Writing Magazine competition on the subject of "Putting on the Inches". No, I have no idea what I was thinking either. Anyway, I'd always intended to go back to it and make the ending a bit more gross, so it seemed the ideal opportunity.
As things turned out, I was quite pleased that the piece made 5th place in the popular vote and was thus shortlisted. However, that was as far as it went. I suspect that the fact that there was another worm-related piece last year (which I'd completely forgotten about) may have gone against it, along with the fact that it was very English in tone (there can't be that many horror stories around that reference Greggs, can there?) The presence of several better stories in the shortlist may also have had something to do with it, of course. Either way, I now have another piece that is ready to send out into the world when I get round to it – along with last year's flop and 2008′s shortlistee.
Meanwhile, "M is for Monster" has picked up a couple of nice Amazon reviews. Obviously, this is my favourite bit of the first review:
As short as it is grotesquely satisfying, Pinnock's darkly comical tale is delivered in a staggered fashion, setting down the back-story and plot whilst Tom's final minutes are played out. The finale hits the reader with the full force of a good dollop of splatterpunk, concluding this downbeat little tale with complete and utter horror-enthusiastic perfection.
Splatterpunk. I like that.
Next – something that I completely forgot to mention a while back. My online chum Geoff Nelder got in touch with me asking if I fancied joining him and Bec Zugor (amongst others) in contributing some ultra-short pieces to go with a book of Sci-Fi art called "The Sixty" being produced by Andy Bigwood, two-time winner of the BSFA award for best artwork. When I saw the pictures, I leapt at the chance, picking this one to write a piece for (called "Pioneer"). I in turn invited my VWC mates Oscar Windsor-Smith and Dave Weaver to join the team and I'm really looking forward to seeing what everyone comes up with. Should be quite some book.
Finally, stop whatever you're doing and take a look at this extraordinary piece of video art by Richard O'Callaghan based on Tania Hershman's wonderful story, "The White Road". Wow. Just wow.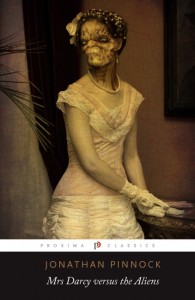 There I was yesterday, idly speculating on what form the cover might take, and then all of a sudden it appears! I have already had a few of my more desperate male acquaintances asking me how they can get to meet her, but I have sadly had to disappoint them.
Although … I could see a life-size model of her going down rather well at conventions, don't you think? She could become a bit of a mascot along the lines of Iron Maiden's Eddie.
Anyway, I think she's rather wonderful and an extremely arresting image. And it's also one step nearer to making the whole thing seem real. (Look! It's a book cover! With my name on it!)
Meanwhile, back in the serialisation, we have some unfinished business to tidy up.
In other news, my story in the Bristol Short Story Prize anthology has been given a very generous review by that nice robaroundbooks bloke.
Just a quick mention (somewhat belatedly) for episode 96, in which alien Darcy drops a bit of a bombshell.
And tell you what – from what I've seen of Salt's Cover Factory's first forays into the world of romance, I can't wait to see what Mrs Darcy – and, more to the point, the aliens – will look like …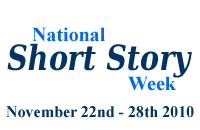 This is quite unbelievably cool. Nearly a month ago I had an e-mail from Ian Skillicorn, aka Mr Short Story Radio, aka Mr National Short Story Week, asking me if I'd like to participate in a consequences-style short story challenge. The idea was that each one of us would contribute 100-150 words in turn, building on what had been written before.
I must have hesitated for all of 3 nanoseconds.
The result went up today and it works rather well, don't you think? But just take a look at the list of writers involved:
To say I feel honoured to be in there doesn't begin to express how I feel. I'm quite gobsmacked.
Oh, and one more quick reminder: VWC Open Mic at the Goat, tonight. Be there or be square etc.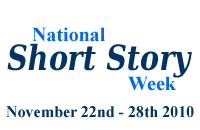 Yes, in case you weren't aware already, it's National Short Story Week! To be honest, I think that every week should be a national short story week, but that's by the by. This week is the special one, and lots of events will be happening all around the country to celebrate the delights of the short form.
As part of the celebrations, my own writers' group, the ever-wonderful Verulam Writers' Circle, are holding an Open Mic evening this Thursday at the excellent Goat Inn. However, just to confuse things a bit, I'll probably be reading an episode from "Mrs Darcy vs The Aliens" instead of a story – although at the time of writing, I have absolutely no idea which one. The cast for the evening is absolutely star-studded, featuring loads of ace local writers and compered by the lovely and extremely funny Mandy Knight. Be there or be missing out on an utterly fab night.
Meanwhile, following my interview with Radio Verulam, I was asked if I wanted to do "Tracks of My Life", their version of "Desert Island Discs". For some reason (oh, all right, a massive ego) I said yes. So I'm now trying to whittle down my library of 1000+ CDs to 16 tracks …
Meanwhile, in the West East Wing of Rosings, Wickham makes an unexpected discovery or two. Only five more episodes to go now, plus the epilogue! Excited? I can barely contain myself …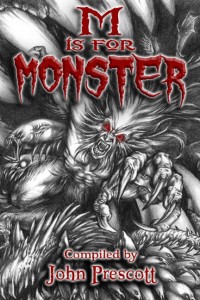 In other news, Adrian Chamberlin, one of my fellow "M is for Monster" authors, dropped in this afternoon to deliver my copies of the anthology. It's always nice to meet other writers and the anthology looks absolutely cracking. Can't wait to read it.
Finally, here's a really interesting interview on Simon Kewin's blog with Maureen Scott, the co-founder of Ether Books. Fascinating stuff. As regular readers will know, I've got a couple of stories on Ether already and I believe that Simon is going to be joining the Ether community soon himself. Definitely worth keeping an eye on.
There are more misunderstandings in this episode. This is essentially a second outing for the mistranslation gag, except with a slight twist on it. Dunno if it works, but I quite like it.
In other news, things have calmed down slightly after the flurry of announcements on Monday, but there's still plenty of other stuff going on. I'm in the shortlist for this year's Café Doom writing competition with a rather revolting old story that I found lying festering in the archives. Doubt if it will go any further (the shortlist is being judged by the good people at Shock Totem even as I write), but it was nice to see it get a few votes after last year's failure.
I am also beginning to drown in a sea of anthologies. Over the last week or so, I've had my copies of 50 Stories from Pakistan and Shambelurkling and Other Stories arrive and I believe that my M is for Monsters are arriving on Sunday. These will soon be followed by the forthcoming ones from Every Day Poets, The Whittaker Prize, Fifty-Two Stitches, The Slingink Prize and Eclectic Fiction. This is to say nothing of the VWC one that I'm in the process of editing right now …
I also received my contract this week for my Murky Depths story, "Teamwork", which will be coming out in May – really looking forward to seeing that one in print.
And finally, keep an eye out for something special that I did for National Short Story Week next week *taps nose*.

People who follow me on Twitter may have spotted this rather enigmatic tweet that appeared late last Wednesday afternoon. Time to explain, I guess.
The reason for my tweet was that I'd just put the phone down after a rather significant conversation with Steve Haynes of Proxima Books. Steve is the editor responsible for this new science fiction and fantasy imprint within Salt Publishing and he'd just called me to tell me that Proxima were very keen to publish "Mrs Darcy vs The Aliens" in print in the summer of 2011. Not only that, but Salt themselves are very excited and intend to throw their whole weight behind the project!
This has all happened remarkably quickly. My initial submission to Proxima of the prologue plus first three chapters (equivalent to 15 episodes of the online serialisation) went in precisely a month ago, on October 15th. I did this hours after spotting a tweet from Jane Holland, the lady in charge of Embrace Books, the sister imprint to Proxima, calling for submissions. Steve Haynes got back to me a few days later with a whole slew of comments, saying that if I could address these, he would be very keen to see the whole manuscript.
At this point, the main problem was that I was still around 10000 words short of the end, but it was too good an opportunity to miss, so I knuckled down and bashed out the remaining words at near-nano rate, made the edits and re-submitted just over a week later. After an agonising wait, I got an e-mail to say that they loved the manuscript, which was followed by an even more agonising wait whilst I waited to hear if it was going to be a digital-only or a print publication. Then last Wednesday I got a voicemail asking me to call Steve because he had some good news for me – and the news was that it was indeed going to have a proper print run.
It's hard to describe just how excited I am about this. Ever since I bought my first Salt book, I've wanted to be a Salt author, because their books are just so damned good in every respect. It is, however, more than a little weird to imagine that something as daft as Mrs Darcy is going to be published by them. Unbelievably cool, though.
The other thing that I'm excited about is that my editor at Proxima seems to like the book for all the right reasons and he really does seem to be someone I can work with. And in many ways, Proxima is just the right place for Mrs Darcy – a science fiction and fantasy series with the Embrace Regency romance imprint as its next-door neighbour.
But the thing that I'm really pinching myself about is that for once in my life I seem to have set out towards a goal, devised my own pretty unconventional tactics for getting there and somehow made it. What a strange year it's been, eh?
Oh, and I nearly forgot. Meanwhile back at Rosings, there are some misunderstandings …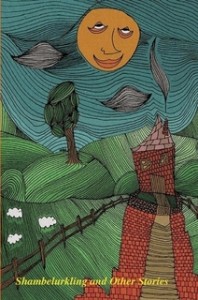 Before I say anything else, feast your eyes on that cover. Isn't it gorgeous? Right, this is another anthology that I'm in, except there's a bit of  difference in that this one's for kids – specifically kids aged 8 to 12. It's been produced in aid of the National Autistic Society's Early Bird Plus Programme, and of the unbelievably reasonable £3.99 cover price, £1.06 will go to the charity.
So props to Marit Meredith of The Pages Magazine for organising it, and to my fellow writers too numerous to name, but including Trevor Belshaw, Sharon Birch, Rachel Carter, Rebecca Emin, Ruchira Mandal and Maureen Vincent-Northam.
I reckon it's an ideal Christmas present if you've got any 8 to 12-year old kids lying around the place. Here's where you can go to buy it.
My contribution is a bunch of poems about imaginary animals. Here's one to whet your appetite:
The Scuzzcat's a bit like a tabby,
except scrofulous*, scorious* and scabby.
When you stroke one, the memory lingers,
because bits come away in your fingers.
---
*
Look these up in a dictionary. Then again, on second thoughts, best not to.
The excitement is mounting palpably as Elizabeth and Sir Humphry find their way into the aliens' control room at Rosings. WIll they be discovered? Will they find the communications device before it is too late? What will happen to the others? Who was it who was screaming? So many questions, so little time …
By the way, on the subject of Mrs Darcy, keep watching this space over the next few days. Just saying *taps nose*.