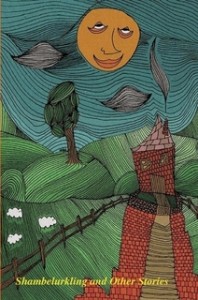 Before I say anything else, feast your eyes on that cover. Isn't it gorgeous? Right, this is another anthology that I'm in, except there's a bit of  difference in that this one's for kids – specifically kids aged 8 to 12. It's been produced in aid of the National Autistic Society's Early Bird Plus Programme, and of the unbelievably reasonable £3.99 cover price, £1.06 will go to the charity.
So props to Marit Meredith of The Pages Magazine for organising it, and to my fellow writers too numerous to name, but including Trevor Belshaw, Sharon Birch, Rachel Carter, Rebecca Emin, Ruchira Mandal and Maureen Vincent-Northam.
I reckon it's an ideal Christmas present if you've got any 8 to 12-year old kids lying around the place. Here's where you can go to buy it.
My contribution is a bunch of poems about imaginary animals. Here's one to whet your appetite:
The Scuzzcat's a bit like a tabby,
except scrofulous*, scorious* and scabby.
When you stroke one, the memory lingers,
because bits come away in your fingers.
---
*
Look these up in a dictionary. Then again, on second thoughts, best not to.