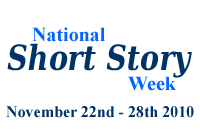 This is quite unbelievably cool. Nearly a month ago I had an e-mail from Ian Skillicorn, aka Mr Short Story Radio, aka Mr National Short Story Week, asking me if I'd like to participate in a consequences-style short story challenge. The idea was that each one of us would contribute 100-150 words in turn, building on what had been written before.
I must have hesitated for all of 3 nanoseconds.
The result went up today and it works rather well, don't you think? But just take a look at the list of writers involved:
To say I feel honoured to be in there doesn't begin to express how I feel. I'm quite gobsmacked.
Oh, and one more quick reminder: VWC Open Mic at the Goat, tonight. Be there or be square etc.