Apologies for going slightly spEak You're bRanes in my last post. As this increasingly bizarre story has unfolded over the past few days, it's become quite clear that there are some darker forces at work here, and almost involved seems to have their own agenda, apart (of course) from the saintly Andrew Sachs. That's the problem with Real Life – it's always far too implausible, and usually comes to an unsatisfactory conclusion.
So normal service resumes. The schedule for the first-ever month of Every Day Poets has now been released, and I'm on Day 3. I also feel just a little overawed to be on the same bill as Vanessa Gebbie, who has just been shortlisted for the Bridport Poetry Prize. I don't know much about her poetry (actually, let's be honest, I know bugger all about poetry, full stop), but I'm guessing that you may find that our styles are ever-so-slightly different.
Couldn't give a toss about Russell Brand, but I used to like Jonathan Ross. He always struck me as someone who had a little more behind him than the average celeb. But after this stunt, I'm not so sure.
I haven't had many encounters with celebs (apart from – God help me – Margaret Thatcher, and I'm not entirely sure that she counts), but I did once receive a phone call from Andrew Sachs. Bizarrely, this means that probably the one thing I have in common with Brand and Ross is that I also have Andrew Sachs' mobile phone number. This is how it came to pass.
Once upon a time, I wrote a radio play. It was a very strange radio play, and to this day it remains unbroadcast, although I would dearly love to hear it produced. I sent it off to the BBC – which in those pre-Writers' Room days was a lot more straightforward to get into – and I received an invitation to meet Jeremy Howe, who was then in charge of drama at Radio 3. He basically told me that he really liked it, but it was too short, and did I have anything else? And I admitted that, er, no, I didn't, apart from one half-baked idea that we kicked around for a few minutes, and that was that. In those days, I didn't have the tenacity and single-mindedness to follow it up (to say nothing of having a young family to support), so nothing more came of it.
A couple of years back, I dug the script out of the drawer, and sent it off to Dirk Maggs, who also liked it, but said that it was too short, etc. etc.. Then I had an inspiration. Why not send it to Andrew Sachs? One of the lesser-known facts about Andrew Sachs (in fact one that is currently missing from his Wikipedia page) is that he was the writer of the radio drama "The Revenge". This is an unusual piece, in that it has no words, only sound effects (but it works – especially when you're wearing headphones, because it's recorded binaurally). And it was, to a large extent, the inspiration for my play. So I wrote to him, via his agent, enclosing my script, explaining that "The Revenge" was the inspiration for it – and would he be interested in taking one of the parts should it ever come to production?
So it was that one Sunday morning in February last year, I received a phone call from Andrew Sachs. Once I had picked the phone up from where I had dropped it on the floor, we had a very pleasant five-minute chat, in which he seemed extremely down to earth and genuinely interested in what I was doing. He also mentioned that I could certainly say that he would be interested in playing the part that I had suggested. On the basis of this call, I would like to suggest that Andrew Sachs is possibly the nicest celeb on the planet.
And Jonathan Ross, you're a git.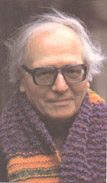 Ostensibly, this post doesn't have an awful lot to do with writing, but it's my blog, so I can write whatever I want, can't I? And you never know, it might just turn out to have some relevance.
Anyway, this morning I opened up my copy of BBC Music Magazine and instead of casting it onto the ever-increasing pile of Mojos, Wires, Songlines and T3′s (yeah, I know) I had a quick look through it first, and I realised that this year is the centenary of the birth of Olivier Messiaen, one of my heroes. Why is he a hero? I think it's because he's such a complete one-off. There's no other composer whose work sounds remotely like him – and it's not just because of his occasional use of electronic instrumentation in the midst of a conventional orchestra.
Part of it is the fact that he uses so many disparate influences in his work, from birdsong to gamelan, but the most extraordinary thing to me is his sheer ambition. If you've never been to a live performance of his Turangalîla Symphony, I strongly urge you to do so some time in the next twelve months or so (there should be a few). I've heard it live twice – once at the proms years ago, and once quite recently when my son (the jammy bugger) managed to get co-opted into the county youth orchestra for a performance at the Snape Maltings. It is an incredible piece – in places as loud as a My Bloody Valentine gig (well, OK, maybe not quite that loud) and in others barely audible. There's every range of human emotion in there, too, and the hairs on the back of your neck will be knackered from overwork well before the end. Ostensibly a religious piece, it's also the most sensual thing you'll ever hear in your life. Oh, and of course, for the geeks, there's the ondes Martenot in there as well, whooping and wailing over the orchestra like a demented banshee. Basically, Turangalîla is the Everything Symphony.
Messiaen's ambition staggers me. When you listen to something like Turangalîla, you realise how timid we can be when it comes to the creative arts. Sometimes we need to let go a little more and trust our own judgement. And maybe think a little bigger.
There. Told you it would have some relevance, didn't I?
Can't argue with that, really.
Ooh, this is exciting. Up and coming actor Miles Barden will be doing a one-man part of a two-man show at the New End Theatre in Hampstead between Christmas and New Year, performing four chilling stories under the heading of (appropriately enough) "A Winter's Chill". I don't know details of all the stories involved, but I do know that two are classics and two are new, and that one of the new ones is … (roll drums) "After Michelangelo". Or at least, a suitably adapted version of it. I'm really looking forward to this, because there's nothing more a writer loves than to hear someone who knows what they're doing reading their work.
So get your diaries out. The performances are on Sunday December 28th at 6PM and Monday December 29th at 8PM. More details to follow.
What was I saying about txtlit the other day? Well, I just had a text from them saying that I was a runner-up in the September comp, and that they'd like to publish my piece on their website. Just shows you never can tell. I thought my entry for the August one was absolutely ace, but they ignored that one completely, whereas I thought this one was a bit weak, relying as it does on a truly atrocious pun. But maybe that's what they liked. Either way, at 154 characters on the nail (including spaces and punctuation), it's definitely my shortest hit yet. Woo hoo!
Bugger. Why does this always happen? I tend to think of myself as someone who knows his way around the English language. You will find no greengrocer's apostrophes on this site, mate. Oh no. So why is it that whenever I show my father (aged 92, and in full possession of his marbles) anything I've written, he manages to spot at least one elementary mistake? I'm now wondering who else noticed that "The Amazing Arnolfini and his Wife" has practice used as a verb, and not practise?
Once upon a time, it would have upset me that he chose to comment on it, but now I am really quite impressed. I fervently hope that if I ever reach that age myself I will be as on the ball as he is. And he did say he liked the story as well, and you have no idea how pleased I am about that.
I sometimes worry that my writing is a bit shallow, and that I get distracted from the task of writing great literature by the occasional desire either to go for laughs or to construct a story that makes some kind of logical sense. But this rather lovely story from Sara Crowley's blog (via Vanessa Gebbie) has put it all in perspective. I now know what I have to do.

After a flurry of rejections and competition failures over the last few days, it was something of a relief to get an acceptance today for my flash "The Truth About Uncle Joe" from The OddVille Press. This was actually one of the pieces that I pulled from the Fish One Page Story competition when it was transferred there after the Criminally-Short Short History competition folded. I have to say that this is one of the daftest pieces I've ever written, and I thought I might have trouble finding a market for it. Fortunately, Oddville seem to share my sense of humour, so good for them.
And that brings this year's hit count up to 29, with 38 submissions currently outstanding. It's also the sixth piece of mine that has been published this year or is scheduled for publication that has originated in the Café Doom Weekly Flash Challenge.

"Visiting Time" has now just gone live at Every Day Fiction – my second appearance there. This piece was shortlisted for this year's Fish One Page Story competition, and it's nice to see it finally get published.
As ever with EDF, the comments are interesting, especially with regard to the accent of the main protagonist. A couple of people seem to have assumed that the character is black, which would (quite correctly) be an offensive stereotype in the context of the piece. The trouble is, their assumption probably says more about them than it says about my writing. As it happens, I was thinking more of white trash, and in fact I probably borrowed the voice from the Nicolas Cage character in Raising Arizona (hence the reference to l'il Nathan that crept in). Ho hum. I've always wanted to be a misunderstood writer.
Less controversially, "The Amazing Arnolfini and his Wife" has now been published on the City of Derby competition web site. Hope you like it.