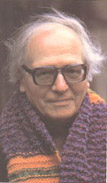 Ostensibly, this post doesn't have an awful lot to do with writing, but it's my blog, so I can write whatever I want, can't I? And you never know, it might just turn out to have some relevance.
Anyway, this morning I opened up my copy of BBC Music Magazine and instead of casting it onto the ever-increasing pile of Mojos, Wires, Songlines and T3's (yeah, I know) I had a quick look through it first, and I realised that this year is the centenary of the birth of Olivier Messiaen, one of my heroes. Why is he a hero? I think it's because he's such a complete one-off. There's no other composer whose work sounds remotely like him – and it's not just because of his occasional use of electronic instrumentation in the midst of a conventional orchestra.
Part of it is the fact that he uses so many disparate influences in his work, from birdsong to gamelan, but the most extraordinary thing to me is his sheer ambition. If you've never been to a live performance of his Turangalîla Symphony, I strongly urge you to do so some time in the next twelve months or so (there should be a few). I've heard it live twice – once at the proms years ago, and once quite recently when my son (the jammy bugger) managed to get co-opted into the county youth orchestra for a performance at the Snape Maltings. It is an incredible piece – in places as loud as a My Bloody Valentine gig (well, OK, maybe not quite that loud) and in others barely audible. There's every range of human emotion in there, too, and the hairs on the back of your neck will be knackered from overwork well before the end. Ostensibly a religious piece, it's also the most sensual thing you'll ever hear in your life. Oh, and of course, for the geeks, there's the ondes Martenot in there as well, whooping and wailing over the orchestra like a demented banshee. Basically, Turangalîla is the Everything Symphony.
Messiaen's ambition staggers me. When you listen to something like Turangalîla, you realise how timid we can be when it comes to the creative arts. Sometimes we need to let go a little more and trust our own judgement. And maybe think a little bigger.
There. Told you it would have some relevance, didn't I?