Yesterday afternoon, the French company EDF agreed to buy what's left of the British nuclear industry for around £12.5bn. Overnight, the American Canadian website EDF (or Every Day Fiction) agreed to buy my flash "Visiting Time" for a slightly lower price.
"Visiting Time" is another graduate of the Café Doom Flash Challenge, and one which went on to be shortlisted in this year's Fish One Page Story competition. It's a little more like my usual style than my previous foray into EDF, "Cock Up", which I still have my doubts about.
I really like EDF. They seem to have managed to create a lively showcase for fiction that transcends the usual artificial boundaries between literary and genre, and judging by the number of comments they get for each piece, they are also gathering an audience. Their sister site, Every Day Poets, is starting up in November, and it will be interesting to see how that one develops. In the light of my recent unexpected new career as a poet, I have sent them something myself, although I fully expect it to be given the thumbs down.

 … is now up on the Liars' League site, and (presumably) on their podcast. So download the MP3 to enjoy Sabina Cameron's performance! The LL people seem to have had some issues representing Euler's equation in the text, but never mind, you all know what it is, don't you? And kudos to anyone who spots the reference to Fermat's last theorem in there as well.
Last night I had a rejection from The Harrow, which is a damn shame because I really love the faux academic journal ambience of that particular zine, and I'd love to get in there one of these days. Still, as with the first one that they bounced back a few weeks ago, they've given me a nice, detailed critique (which rather worryingly describes my piece as an "experiment", but never mind), so I'm not massively unhappy. But it did spur me on to (a) resubmit something else to them, (b) submit the piece in question somewhere else and (c) dredge up a few more odd pieces that were currently "resting". This temporarily brought my oustanding subs count to 43, the highest it's ever been.
I say temporarily, because just 38 minutes after submission, I had a reply from Bewildering Stories saying that they were accepting my piece "Desert Culture". I'd despaired of finding a home for this one (despite early versions of it being winners first in the Cafe Doom Flash Challenge and then in the SlingInk Frantic Fiction Challenge), because as my mate Ian from the VWC says, it's "droll", and droll's a hard sell.
42 to go …

 This weekend I will be accompanying the lovely Mrs P to the Jane Austen festival in Bath. To be more specific, I will be accompanying her to the Regency Ball at the Jane Austen festival. I'm not entirely sure how I came to agree to this, because it involves two things at which I am pathologically unskilled: dressing-up and dancing. However, on the basis that you should try anything once apart from incest and Morris dancing, I'm more than happy to give it a go, and I will report back in due course, assuming that I don't break anything in the process.
However, as of the end of last week, Mrs P had a problem with her outfit. To be more specific, she was unable to get hold of any cream-coloured stockings. I tried telling her that some stripy leggings would do just fine, but she wasn't having any of it.
Hehe. My fake author bio made it to the shortlist in the Poetic Asides contest! Not entirely sure whether this is one to add to the CV or not

It's always fascinating looking at website stats, especially when your site is into its third month of existence and is beginning to get a few visits from unexpected places. I noticed that my first visitor from Venezuela popped in the other day, to be followed by one from Panama. Assuming that these are real people, I'd just like to say "Hi!" to you, whoever you are. Or rather "¡Hola!" See what I did there?
I was also wondering why I'd had a few unexpected extra hits this month from my piece in Dog vs Sandwich – until I came across this very nice recommendation for the story. So thank you, southernweirdo. OK, I own up: I found this out by vanity searching. I need to get out more.
Meanwhile, I have some quite exciting news to impart, but not for a few weeks.
… and here's that poem in all its glory. I think it struck a chord with the editor. (Parental advisory: explicit language.)
(When I told my family about this, my daughter said "Oh no, you're not going to become a poet!")
18:16 A stray neuron fires, and I decide to send a poem to the literary e-zine Ink, Sweat and Tears.
19:08 I receive an acceptance from the editor, saying that he likes it so much that he's going to put it up this weekend.
If only life was always like that.
Right, the sum total of hits (competition prizes, listings and publications) for the year to date is currently sitting at 22. So let's set a really stupid target for the end of the year: say, 50, eh? With that in mind, I've been dusting off all those odd little flashes that are lying around, with the result that my outstanding count has now gone up to 35. In case you're wondering, I find my markets by a combination of stalking other writers that I come across (BTW today's thanks go to Cate, for alerting me to the existence of Arkham Tales) and of course the mighty Duotrope.
So next on the list are all those pieces on my spreadsheet that have the tell-tale asterisk next to them that means "This Needs Work." Then again, you could say that about pretty much everything. Nothing is ever truly finished.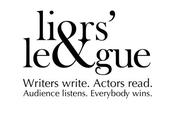 Another excellent night out at the League. My piece, Mathematical Puzzles and Diversions had the honour of kicking off the proceedings, and the lovely Sabina Cameron coped splendidly with the challenges posed by its somewhat convoluted language. Here she is (with apologies for the fuzzy nature of the picture – my wonderful new Samsung phone claims to have a 5 Megapixel camera, but it clearly wasn't quite behaving itself tonight):
She told me afterwards that she's planning to use my story for practice. I'm not sure whether I feel flattered by this or perturbed.
The other stories were excellent. In particular, Simon Hodgson's piece, Thieves We Were contained one fantastic line about a gangster's car being the colour of day-old blood. Perfect.
I met lots of nice people, including James Burt, who was the only other author present (the others being unavailable owing to living in places like Glasgow, New York and San Francisco – you think they might have made the effort). His piece, Eat at Lovecraft's, was great fun – listen out for that one when it appears on the podcast.
Amusingly, one of the authors who wasn't present was Jim Murdoch, whose blog I added a comment to only the other day. The comment was in relation to an interview that he did with Adrian Graham, who I met at the League last time I went, a couple of months back. It's a distressingly small world …