Today I'm very pleased to bring you a guest post from Jean Burnett, in the guise of her alter ego Fran Kempton. I first encountered Jean a few years back when we were both guilty of writing sequels to PRIDE AND PREJUDICE. To be fair, Jean's WHO NEEDS MR DARCY? is probably closer to the spirit of Austen than my effort, even if mine has considerably more tentacle action. Anyway, I am very much in Jean's debt, as she has been an unexpectedly strong evangelist over the years for the delights of MRS DARCY VERSUS THE ALIENS, so I definitely owe her a favour. Also, it turns out that her new book is about my absolutely favourite historical character, Prince Gesualdo.
Over to you, Jean…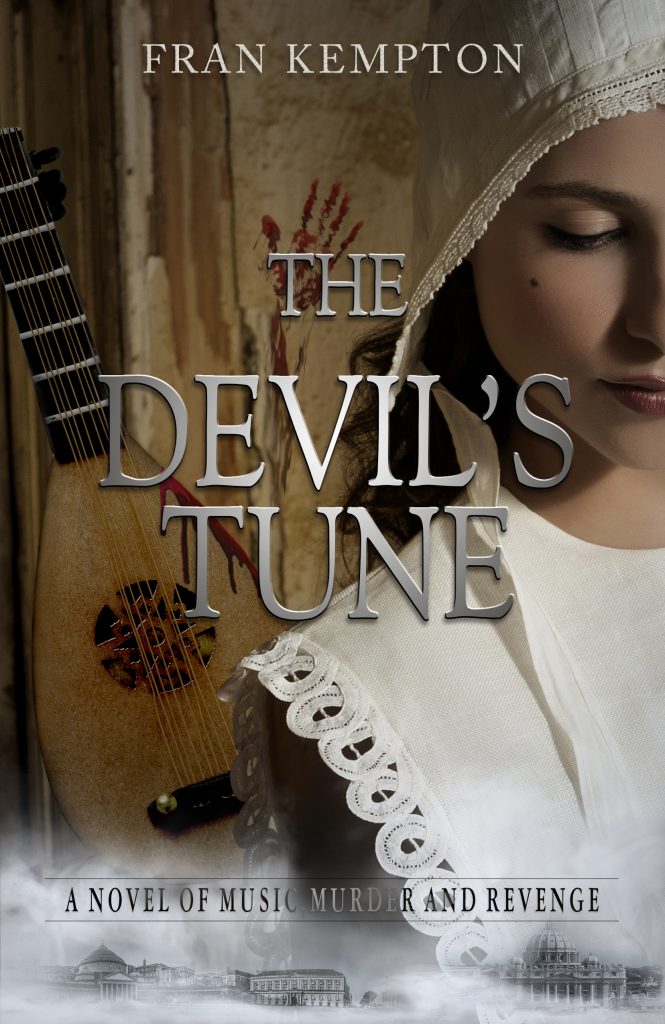 All writers of fiction become intimately involved with their characters and, perhaps, writers of historical fiction more than most. We spend so much time researching the lives of our protagonists that an obsessive relationship can develop on occasion; such is the power of the imagination.
I realized this when writing my novel THE DEVIL'S TUNE, known to my writing colleagues as the Gesualdo project. I had long been fascinated by the character of Carlo Gesualdo, (15..-1613), composer of strange music, prince and murderer. The project dragged over several years and included a trip to Naples to investigate the scene of the crimes. When I wrote I often played Gesualdo's weird music in the background. His appearance and personality became so familiar to me that I was startled but not entirely surprised when I thought I saw him standing at the top of the stairs in my house.
I should stress that my house is not haunted as far as I am aware. It was at that point that I decided I needed to get out more. As a writer immersed in the past I had see-sawed from close encounters with the Bennet sisters in PRIDE AND PREJUDICE to an on-going relationship with a sado-masochistic Renaissance prince.
I tried to counter this by writing what I considered to be a modern novel, set in 1987 – although this period is now considered 'historical!' That work is still looking for a home.
Gesualdo was unique in musical history. His music was far ahead of its time – more 20th century than 16th century. Contemporary listeners were bored and puzzled by it. The composer Stravinsky rediscovered it in the early 20th century and its strange charms finally fell on modern ears.
In addition, Gesualdo's position as a Prince of the Spanish Kingdom of the Two Sicilys meant that any occupation, especially that of composer, was considered demeaning and disgraceful. The final blow to the prince's popularity among his peers was the grisly murder of his wife, Donna Maria d'Avalos and her lover the Duke of Andria. Wife murder was not considered such a terrible crime in 16th century Italy, but the method used and the disposal of the bodies caused outrage. The nobility could not be treated that way.
Gesualdo was scarcely punished for his crimes and went on to a second unhappy marriage and a life of guilt, despair and cruelty. Through all of this the music poured out.
My novel is narrated by the maidservant who witnessed the murders. She actually existed and I have given her a life story. Other historical characters appear in the book, including the artist Caravaggio.
I have tried to stick to the historical facts as far as possible, but opinions are divided on this. Some say, what does it matter if you are writing fiction? Time is a major concern when writing about the past. Should you write in the past tense or the present…and does it matter? Do you use flashbacks, a linear narrative – or do you use the device I chose in which the narrator appears to be telling the story to someone – a scribe as it turns out. In addition, the voice of Gesualdo is heard through extracts from his diaries.
As this book is very different from my previous work I decided to use a pen name. I have become Fran Kempton. A new name is quite liberating. I must concoct a new life story for myself.
The tone of the book is somewhat fraught, I think, and this is intentional. The people of that period lived short lives of passionate intensity and I have tried to convey that. I hope readers will enjoy this tale of the man who stood at the top of my stairs. He hasn't appeared for some time so perhaps I have exorcised him.
Jean Burnett is the author of WHO NEEDS MR DARCY? (Little, Brown), THE BAD MISS BENNET (Canelo) and the travel books VAGABOND SHOES (Chetwynd Books) and A VICTORIAN LADY IN THE HIMALAYAS (Brown Dog Books).
Here's some of Gesualdo's music to whet your appetite: