(Actually, I have rather a lot of Ta-Das to go through today, so please do bear with me.)
Ta-Da One! DIP FLASH is published!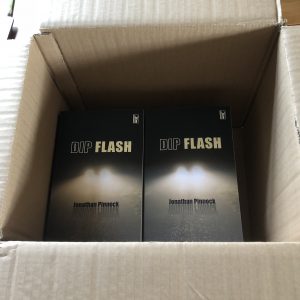 Yes, it's here! The short story collection you've been waiting for. The one that Joanne Harris described as a 'remarkable collection – compact, witty, incisive and surreal,' and David Gaffney described as 'endlessly inventive and astonishingly original.'
Joanne Harris and David Gaffney, eh? Oh, add if you want to throw one more name into the mix, Maggie Gee recently described me on Twitter as 'a true original.' Not that I'm bragging or anything.
Quite apart from the stories (which include some of my all-time favourites), I think Cultured Llama have done me proud with the cover. It's an awesome package.
Signed copies (straight out of that box over there in the picture) are available to order here.
Go on go on go on…
Ta-Da Two! Free Stuff!
DID YOU SAY FREE STUFF? I certainly did. I'm shortly going to (finally) launch the newsletter I've been threatening for the last few years, and in order to encourage all you beautiful people to sign up, I am offering the aforesaid FREE STUFF. If you sign up to the newsletter, you will receive a brand spanking new ebook containing a complete set of MRS DARCY VERSUS THE ALIENS special episodes. There are ten, yes TEN, of these, including MRS DARCY IN THE VILLAGE, which has been specially written for this free offer and WHICH IS NOT CURRENTLY AVAILABLE ANYWHERE ELSE.
How can you resist? All you need to do is enter your details below (just so the GDPR police don't call on me in the middle of the night) and I'll send you a zip containing the MRS DARCY SPECIALS ebook in a variety of popular formats.
Go on go on go on…
Ta-Da Three! Short Story Event at Redland Library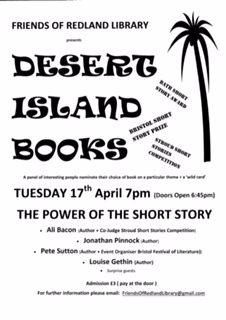 On Tuesday April 17th, I'll be taking part in an event at Redland Library, discussing my favourite short story collections with Ali Bacon, Louise Gethin and Pete Sutton and maybe one or two others.
I'm afraid I can't offer any clues about which collections I'm taking along, mainly because I haven't decided yet. But it's probably going to include THAT one. Or maybe THAT one. Ah, it's tricky. So many to choose from.
Anyway, if you're in the Bristol area at around 7PM, it's only £3 for a totally awesome evening. And I'll even have some copies of my books with me, if you fancy avoiding postal charges.
Go on go on go on…
Ta-Da Four! New Blog Post at Novel Nights
Finally, here's my guest blog post on how Novel Nights helped to maintain my confidence in THE TRUTH ABOUT ARCHIE AND PYE, ultimately leading to me striking a deal with Farrago Books.
Right, that's it for now. Back to editing Archie and Pye.