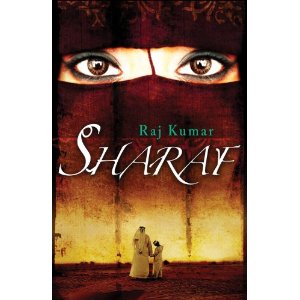 You've got to admire Myrmidon's sense of timing. With the Middle East kicking off left, right and centre, there could hardly be a better time to bring out a novel set in Saudi Arabia, currently sitting nervously at the far end of a long line of wobbling dominos.
I've long had a soft spot for Myrmidon, and not just because they are the publishers of my mate Toby Frost's wonderful "Space Captain Smith" trilogy. One of my all-time favourite contemporary novels is "The Gift of Rain" by Tan Twan Eng – one of the most heartbreaking stories ever committed to paper. So I have to say that I was well-disposed to Raj Kumar's "Sharaf" from the start.
This is the story of Maryam, the daughter of a Saudi Major General, who has been promised to the son of an old comrade of her father's in return for saving his life many years ago during a border skirmish. Unfortunately, this turns out to be a spectacularly infelicitous match for a number of reasons which are gradually revealed during the course of the book.
This premise is briskly set up during the first chapter, in the course of which we are also introduced to most of the key secondary characters. During this initial part of the story, Kumar has a mildly annoying way of over-explaining Saudi customs to the reader rather than letting them speak for themselves, but he soon leaves this behind and from then on the story moves on at cracking pace. "Sharaf", by the way, means "honour", and one thing you can be sure of is that when words like honour get bandied around, people tend to behave badly.
The main plot concerns Maryam's illicit affair with Joe, her nephew's American dentist. To make matters more dangerous still, he's actually her nephew's Jewish American dentist. As this risky liaison develops, we see other parts of the story through other characters' eyes, gaining some startling glimpses into aspects of Saudi society that one might not have previously suspected. I'm assuming that this is all based on fact as Kumar was based in Saudi for some time, although I'm guessing that he may not be looking to go back there for a while.
This isn't a book with great literary ambitions, but it's a well-told romantic tale with thriller accoutrements and it builds towards a satisfying if ever so slightly preposterous climax. I would certainly recommend it as something to take to the beach this summer, especially if you fancy learning a bit about the mysterious desert kingdom that we rely on for the fuel in our cars. And speaking of cars, I'd like to end with one of my favourite YouTube clips, revealing another unexpected side of Saudi.