About this time a year ago (or perhaps a little while before that) it struck me that I wasn't reading enough. My to-be-read pile was getting higher and higher and there were still loads of things out there that I felt I really ought to read in whatever time was left to me. So I started reading more, and according to my stats I managed to read 89 90 91 books last year. I didn't keep very good records, so it's entirely possible that one or two of those may have been read in 2012, but I think it's close enough.
Here's the full, completely un-star-rated, list:
| | |
| --- | --- |
| Aldiss, Brian (ed) | A Science Fiction Omnibus |
| Auslander, Shalom | Hope: A Tragedy |
| Boyce, NP | Veronica Britten |
| Bray, Carys | Sweet Home |
| Brown, Dan | Digital Fortress |
| Burroughs, Augusten | Running with Scissors |
| Cain, Susan | Quiet |
| Cameron, Ash | Confessions of an Undercover Cop |
| Carter, Angela | The Bloody Chamber |
| Casselle, Paul | Blue Skies Over Dark Days |
| Chabon, Michael | The Amazing Adventures of Kavalier and Clay |
| Child, Lee | The Visitor |
| Conan Doyle, Arthur | A Study in Scarlet |
| Conan Doyle, Arthur | The Sign of Four |
| Conan Doyle, Arthur | The Adventures of Sherlock Holmes |
| Conan Doyle, Arthur | The Memoirs of Sherlock Holmes |
| Conan Doyle, Arthur | The Return of Sherlock Holmes |
| Defoe, Gideon | The Pirates! In an Adventure with Scientists |
| Defoe, Gideon | The Pirates! In an Adventure with Moby Dick |
| Defoe, Gideon | The Pirates! In an Adventure with Communists |
| Defoe, Gideon | The Pirates! In an Adventure with Napoleon |
| de Witt, Patrick | The Sisters Brothers |
| d'Lacey, Joseph | Blood Fugue |
| d'Lacey, Joseph | Splinters |
| Fisher, Carrie | Wishful Drinking |
| Fleming, Ian | Casino Royale |
| Fleming, Ian | Live and Let Die |
| Fleming, Ian | Moonraker |
| Flynn, Gillian | Gone Girl |
| Fox, Kate | Watching the English |
| French, Mike | Blue Friday |
| Frost, Toby | A Game of Battleships |
| Garfield, Simon | The Error World |
| Glashan, John | John Glashan's World |
| Govinden, Niven | Graffiti My Soul |
| Grimwood, Terry | Soul Masque |
| Hamid, Mohsin | The Reluctant Fundamentalist |
| Harrod, Andy | Living Room Stories |
| Harrod, Andy | Tearing at Thoughts |
| Hartley, David | Thresholds |
| Higgs, JMR | The Brandy of the Damned |
| Hogart, Simon and Monk, Emily | Don't Tell Mum |
| Honoré, Carl | In Praise of Slow |
| Horsley, Ross | My First Dictionary |
| Hunt, Stephen | The Court of the Air |
| Ishiguro, Kazuo | When We Were Orphans |
| James, Christina | In The Family |
| James, Clive | The Dreaming Swimmer |
| Joyce, Laura Ellen | The Museum of Atheism |
| Kane, Paul | Creakers |
| Kerr, Calum | Lost Property |
| King, Claire | The Night Rainbow |
| Lanchester, John | Capital |
| Larsen, Reif | The Selected Works of T S Spivet |
| Lee, Harper | To Kill a Mockingbird |
| Mahmutovic, Adnan | How to Fare Well and Stay Fair |
| Marek, Adam | The Stone Thrower |
| Mason, Amy | The Islanders |
| McGregor, John | This Isn't the Sort of Thing that Happens to Someone Like You |
| McMillan, Ian | Dad, the Donkey's on Fire! |
| Okotie, Simon | Whatever Happened to Harold Absalom? |
| Page, Ra (ed) | Lemistry |
| Parikian, Lev | Waving, Not Drowning |
| Parker, Matt | The Exploding Boy |
| Pendragon, Arthur and Stone, CJ | The Trials of Arthur |
| Ridgway, Keith | Hawthorn & Child |
| Ronson, Jon | Out of the Ordinary |
| Ronson, Jon | Lost at Sea |
| Rowling, JK | The Casual Vacancy |
| Royle, Nicholas (ed) | Murmurations |
| Satrapi, Marianne | Persepolis |
| Saunders, George | Tenth of December |
| Schlosser, Eric | Reefer Madness |
| Singh, Simon | Fermat's Last Theorem |
| Smyth, Richard | Bum Fodder |
| Spiegelman, Art | Maus |
| Stack, Steve | 21st Century Dodos |
| Stack, Steve | Christmas Dodos |
| Tarrant, Padrika | The Knife Drawer |
| Taylor, Jonathan (ed) | Overheard |
| Townsend, Sue | Adrian Mole: The Capuccino Years |
| Townsend, Sue | Adrian Mole and the Weapons of Mass Destruction |
| Weaver, Dave | Jacey's Kingdom |
| Wener, Louise | Goodnight, Steve McQueen |
| Wheen, Francis | How Mumbo-Jumbo Conquered the World |
| Williams, Tony | All the Bananas I've Never Eaten |
| Wodehouse, PG | Carry On, Jeeves |
| Wodehouse, PG | Very Good, Jeeves |
| Wodehouse, PG | Thank You, Jeeves |
| Wodehouse, PG | Right Ho, Jeeves |
| Wodehouse, PG | The Code of the Woosters |
I don't propose to make many recommendations (some of the people here are my friends, for heaven's sake) but there are one or two things that are worth saying.
Series
Why, oh why, have I never read any of the Jeeves and Wooster books before? Utterly sublime. I think "The Code of the Woosters" may well be the funniest book I've ever read. I have most of the rest queued up, and I'm looking forward to continuing with them in 2014.
Gideon Defoe's "Scientists! …" are wonderfully daft, and I've read all but one of them this year.
The Bond books are bloody weird, aren't they? "Casino Royale" reads more like a cry for help than a spy novel. Still, they seem to be getting better, and I'm going to carry on for a while.
I've read most of the Holmes books before, in a fragmented way several decades ago, but it's nice to read through them in sequence. They still hold up pretty well, although hasn't "A Study in Scarlet" got an odd structure? Didn't expect that at all. Suspect Conan Doyle hadn't quite worked out his formula yet.
I hadn't read an Adrian Mole book for years, although I'd picked up a copy of "The Prostrate Years" cheap a while back. I was just about to pick this one up when I realised I needed to catch up with the previous two. "The Capuccino Years" was a bit of a disappointment but "The Weapons of Mass Destruction" is a wonderful return to form, as is "The Prostrate Years", which was my first book of 2014. They're brilliantly balanced between humour and pathos, and it's extraordinary how Townsend makes you care about a character who frankly needs a slap most of the time. I really do hope he's OK.
Things I should have read aeons ago that turned out to be every bit as good as I expected
"To Kill a Mockingbird", obviously. See also Jeeves and Wooster above.
Disappointments
Yes, there were a few. "Capital" was full of clichéd characters with implausible motivations. I really wanted to love "T S Spivet", but it fell apart completely at the end. "Hope: A Tragedy" started so well and had such a brilliantly tasteless premise, but I got highly irritated by the main character by the time I'd finished. Maybe I was supposed to. And I really didn't engage with "The Bloody Chamber", I'm afraid. I really found it a struggle to wade through all those dialogue-free pages. I'll try more Carter in 2014, though. I really want to like her work.
Nice surprises
"The Casual Vacancy" had me riveted. Yes, it takes a while to get going, and yes, some of the adult characters are a bit clichéd, but it's the kids that carry the story and if there's anyone who knows about how to write adolescent characters, it's JKR. Lanchester, take note please. This is how to write a fat, state-of-the-nation novel.
The best thriller I read this year was "The Visitor". Child has a very spare, uncluttered writing style. I like him a lot and will read more of him.
I loved "Hawthorn & Child", despite seriously divided opinions among Twitter folk I follow. It's kind of an anti-detective story. Go into it with no pre-conceptions about what a story should do and you'll learn something. Then again, you may hate it.
"The Sisters Brothers" was pretty magnificent, too, so two scores to Granta Books there.
Oh, and George Saunders is a genius. I didn't know this before, but I do now.
There are probably things I've failed to mention, but feel free to comment, put me right or laugh at my bizarre tastes.
[UPDATE: Just realised that with stupendous irony, I managed to leave out Susan Cain's "Quiet" in my initial list. One of the most important books I read all year, which genuinely gave me a new perspective on life.]
[UPDATE #2: Also realised I forgot John Glashan. One of the greats of cartooning.]
So, Gravity, then. I've been wanting to write something about this ever since I saw it on Tuesday, but for various reasons haven't got round to doing so. This isn't a bad thing, because it's given me a bit more time to think about what I wanted to say. Here goes. Oh, and there will be minor spoilerage, so if you haven't seen it yet, look away now. Also, if you're a friend of mine and you thought it was wonderful, you might also want to look away now. I'd hate this to come between us.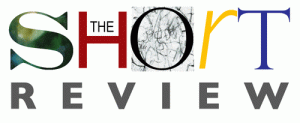 The excellent Short Review (to the best of my knowledge, the only magazine that focusses exclusively on short story collections) has just turned its spotlight on DOT DASH. Fortunately, it's a generally positive review, although I was a bit apprehensive when I read the first full paragraph:
A couple of pages in, I began to wonder what strange forces had possessed me to request Dot Dash.  I'm a habitually po-faced reader.  I gravitate toward books that are sad and harrowing.  I like to claw through a couple of hundred pages in which nothing much happens only to feel emotionally wrenched at the end.  Yet I had unwittingly invited Dot Dash onto my bookshelf.  It was shooting jokes at Steppenwolf and trying out cheesy chat-up lines on The Bell Jar.
The good news is that, despite this, DOT DASH seems to win her over and by the end, I get the feeling that she actually quite enjoyed reading it. It's a very thoughtful review, even if it does go straight to my insecurity about being a bit lightweight. (Yeah I know. I wrote a book called "Mrs Darcy versus the Aliens", didn't I? Not exactly Proust.) Maybe I shouldn't worry. Maybe that's what I am. There are worse things to be, after all.
Dot Dash is like a good pair of hiking boots: light but solid.  The stories skip and stride through precipitous versions of reality.
I'm pretty certain this is the first time my work has been compared to an item of footwear. On reflection, I'm OK with this.
Quite by chance, TAKE IT COOL gets a bit heavy today, with my attempt to calculate how many slaves Philip Pinnock owned. It's not a pretty part of the story, but I think it has to be addressed. By the way, if you've somehow managed to miss the story so far – or indeed, haven't managed to keep up – another one of those useful "Previously on TAKE IT COOL…" posts appeared the other day. So no excuses then.
Every now and then, I Google my own name. Sometimes I can go as long as an hour before I feel the need to do it again. This is of course, absolutely essential practice for a writer; it is, after all, of vital importance to know what one's readership is thinking about one. Sometimes, for a change, I even use other search engines (DuckDuckGo's pretty good, if you want to stay clear of the Google data-harvesting machine) and different spellings. And every now and then, odd things pop up.
Like this, for example, written by a teacher who went to the launch of the 2011 Bristol Short Story Prize. Here's my favourite extract:
Mr. Pinnock read the funniest story I have ever heard about a drunk, some vomit and a dog.
Of course, as was pointed out to me on Twitter, there is a crucial missing comma there, potentially reducing the population from which the sample is taken to somewhere in the region of one. Still, it's a great quote. And also, oddly, a great name for a band if I ever decide to form one. I can just imagine Stuart Maconie announcing the latest release from " A Drunk, Some Vomit and a Dog", can't you?
The other mention I found was a little more outré. Did you know there was a regular event in New York called "Naked Girls Reading"? Nope, me neither. But there is, and it is exactly what it says on the tin. Here's the slightly NSFW link to it.
Now if you can somehow manage to skip past the tab labelled "Photos" and select "Past events" instead, you will notice that in January, one of the works read was "The Amazing Arnolfini and His Wife" from "Dot Dash". This resulted in several conflicting reactions:
(Flattered author self) "Wow! Someone in America has actually read my book and actually likes it!"
(Legalistic self) "Hmmm. But they didn't ask for permission, did they?"
(Inner 12-year-old self) "Naked women! On stage! In New York! Reading my stuff! Phwooarr!"
Well, I've tweeted them regarding 2. Whether or not it was deliberate, they need to know it was a bit naughty. And yes, I did think (or at least my inner 12-year-old did) of asking them for a video as payment. But then it struck me that it might come across as a bit creepy. Look at me, being all mature and responsible.
This is what I love about being a writer. The unexpected, random stuff. You really never can tell what's going to happen once you put your work out there.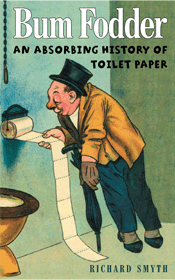 As everyone knows, there are two books that no aspiring toilet library should be without: Charles Sale's "The Specialist" and Nohain and Caradec's "Le Petomane". By a curious coincidence, both of these titles are published by Souvenir Press, although for some inexplicable reason they seem to have passed over Sale's lesser-known sequel, "The Master Builder". One hopes that this omission will be rectified at some point.
Actually, I suspect that this may be less of a coincidence than it seems, because Souvenir have also recently published Richard Smyth's "Bum Fodder: An Absorbing History of Toilet Paper". There is a pattern emerging here.
So, is this home-grown addition to the genre a worthy contender? Can we start speaking in terms of a toilet library triumvirate? Or is it merely another also-ran, such as Philip Cammarata's disappointingly one-note "Who F*rted?" (sic) or Wallace Reyburn's comprehensive but frankly rather dull "Flushed with Pride: The Story of Thomas Crapper"?
I'm very happy to say that it is. "Bum Fodder" is an at times alarmingly informative and comprehensive work, but it carries its scholarship lightly. Smyth is an accomplished short story writer (he's had work performed at Liars' League, and indeed he runs their Leeds franchise) and it shows in the wit and panache he brings to the subject.
Quite apart from the sheer entertainment provided by the book, I can say that I have actually learnt a considerable amount, starting with the title. No, I'd never previously realised what "bumf" stood for – d'oh. Not only that, but having read the full, disturbing details of Gargantua's extraordinary experiments in search of the ultimate wipe, it's struck me that I really should try to read Rabelais one day. How many other toilet books can be said to inspire an interest in 16th century French literature, I wonder? Certainly not "Who F*rted?', that's for sure.
So there it is. The thinking person's toilet library should now begin with three core acquisitions: Sale, Nohain/Caradec, and now Smyth.
(Many thanks to Souvenir Press for sending me a copy of this splendid book.)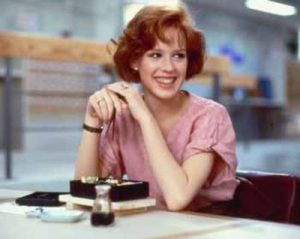 Today the longlist for this year's Frank O'Connor International Short Story Award was announced, and Dot Dash is on it, which makes a nice double with last week's Edge Hill longlist. The list itself is even longer than the Edge Hill one, which I guess is reasonable enough given that is a truly international prize rather than one restricted to those born or working in the British Isles.
There are consequently even more big hitters on the list than Edge Hill (if that's possible) so I have no expectations whatsoever of getting any further. It is, however, quite nice and more than a little weird to be on the same longlist as Molly Ringwald. Yes, that Molly Ringwald.
In other celeb-oriented news, I had a weird Twitter conversation yesterday with Jim Bob out of Carter USM about loft ladders. I thought you might enjoy it, so I storified it.
Finally, I had a very nice review the other day from Dan Purdue, which you can read here. I also found out that the January edition of Faces of Oman (a monthly supplement given with the Times of Oman) had chosen Dot Dash as one of their two books to review. I say review, although the words are taken mostly from the blurb, plus one phrase from the Independent On Sunday piece. I'm there on page 65, next to Virginia Ironside. All very odd.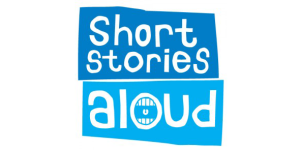 Just realised it's about time I made a bit of a noise about this upcoming thing. Short Stories Aloud is a regular event held at the Old Fire Station in Oxford (what is it about Firestations and Arts Centres, by the way? Just wondering…). It's a bit like Liars' League, in that the short stories are read by trained actors, except that there's a bit more of a focus on the writers.
This month, I'm going to be one of the featured writers, along with a couple of other blokes called Jon McGregor and Ernest Hemingway (nope, me neither). Apparently, four of the stories from DOT DASH are going to be read – one dot and three dashes, to be precise – which is more than a little exciting. Not only that, but as I'll be the only one of the three authors present, I'll be the one subjected to the audience Q&A.
Like a certain other Firestation-based event, it offers free entry to anyone bearing cake, so if I were you, I'd book the kitchen for next Tuesday. The fun starts at 19:30 and here's the official Facebook event page. Be there or be square.
In other news, the estimable David Hebblethwaite has given DOT DASH the thumbs up, describing it as "lovely stuff":
What brings them together so well is Pinnock's wry wit, his knack for sharp twists and rueful endings. The dots are marvellously concentrated bursts of language – not just punchlines, but stories reduced to their essence in a few sentences.
Finally, Mrs P and I were browsing in a bookshop over the weekend and she drew my attention to this remarkable reference in Susannah Fullerton's "Happily Ever After". I say remarkable, because it's quite clear from the description that the author – the President of the Jane Austen Society of Australia, no less – has actually read the book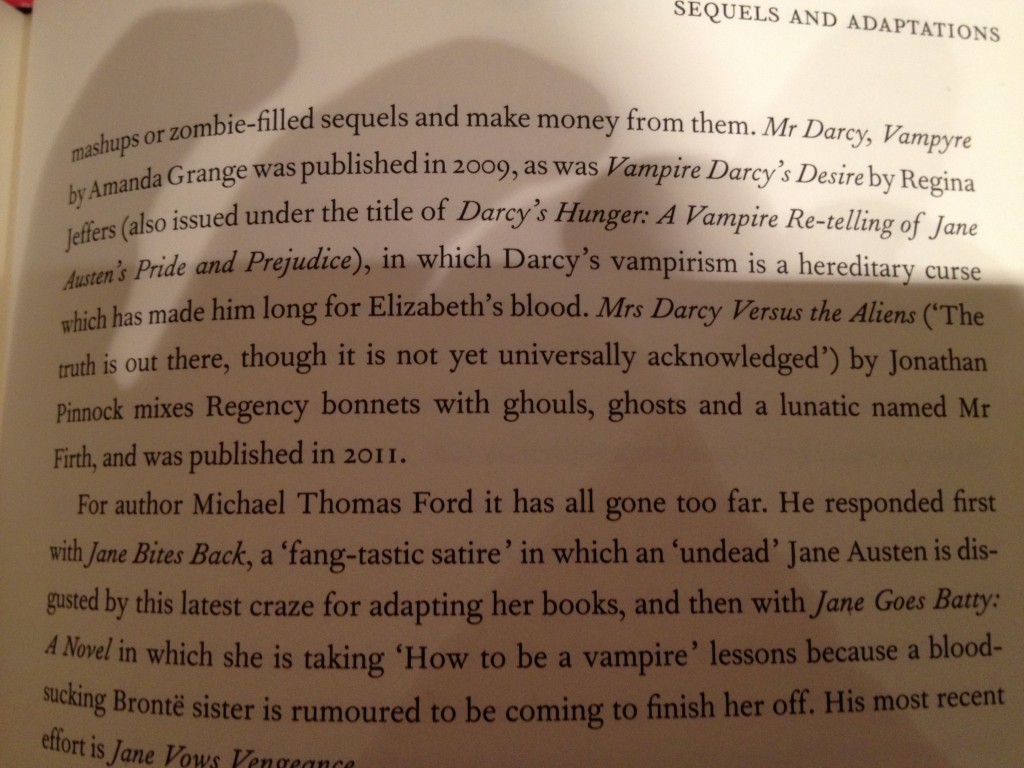 Is it really over a fortnight since I last blogged? I guess it must be. Someone said to be on Twitter today that I'd been a bit quiet lately. I really must get back to blogging a bit more regularly as I have a number of reviews piling up waiting to appear, along with some really cool interviews.
Anyway, the reviews of "Dot Dash" have continued to trickle in and they're still extremely positive. The enigmatic womagwriter certainly seems impressed, ending her brief review with:
they are beautifully written and I thoroughly enjoyed reading them.
Curiosity Killed the Bookworm is even more positive, giving it five stars and remarking that
It's one of the best short story collections I've read and one I think I will go back to repeatedly.
Many thanks to both bloggers for those generous comments.
I'd also like to give a quick mention for this blog post by my good friend Ian Cundell, which is mainly about the brilliant Julie Mayhew's debut novel, "Red Ink". There is a reason why all three of us (and I'm sure there are others) included Ian in the acknowledgements for our respective first novels, because a lot of our success in getting published is down to the curious combination of grumpy critique and unbridled enthusiasm that he brings to the process. I should add (as I've said before) that he really ought to get his finger out and write a bit more too, because he's no slouch himself.
I'll be saying a bit more about what I'll be doing at Get Writing soon here. Once I've got everything else out of the way, of course…
Is it a week since my last post? Well, obviously it is. There are reasons for this, none of which, sadly, have anything to do with writing. Anyway, last Sunday, the always excellent Jim Murdoch put up a startlingly thorough review of "Dot Dash" – so thorough in fact that I haven't quite dared to read it all yet. However, the good news is that he starts his summary with:
This is a fine collection of short stories and well-balanced
so perhaps I should screw up my courage and give the review the close reading that it clearly deserves. There are, as I write, seven comments under the piece as well and I'm probably being extremely ill mannered by not joining in the discussion.
This was followed up by a wonderful review by crime writer (and fellow Salt author) Christina James of "Mrs Darcy versus the Aliens", timed to coincide with the 200th anniversary of the publication of "Pride and Prejudice". It's always nice when a title that's over a year old gets a bit of renewed attention, especially from someone who so obviously gets it.
What else? Oh yes, my poem "Bloody Italians" (the one that was Highly Commended in the Fire River Poets competition) has now gone up on their website. Click the "Highly Commended" button to read it.
And finally, bookings have opened for this year's "Get Writing" conference. I'll be saying a bit more about my workshop in due course, but in the meantime, here's where you need to go to sign up.
Yesterday was one of those milestones in my career as a writer – the day when something of mine was reviewed by one of the broadsheets. Not only that, but The Independent on Sunday saw fit to give Dot Dash four stars out of five, describing it as
an entertaining collection of grotesque, fantastic, pungent little tales
which is as good a one-line summary of the book as I'm likely to get. Knowing how many books the papers get sent to them every week – and especially given that Mrs Darcy versus the Aliens was rigorously ignored by everyone apart from the British Fantasy Society, the Gatehouse Gazette and a handful of plucky bloggers (to whom I'll be eternally grateful) – I'm absolutely over the moon about this. I do wonder if it's evidence of Salt's increasing presence in the book world, following on from Alison Moore's Booker triumph. Or maybe I just struck lucky. I can't say I mind either way.
Whether it actually means anything in terms of sales is yet to be revealed, but it does mean that I can point to a place that everyone's heard of and say, "Look! That's me! I'm a writer!" Pathetic, really, but you have no idea how insecure and needy we writers can be, and it doesn't seem to get any better.
There's also a somewhat longer review of Dot Dash in the first issue of Synaesthesia magazine, by Bec Zugor. This is an expanded version of her original blog post and very nice it is too. Seems like  a good publication; I recognise a some of the other contributors – in fact I remember Jac Cattaneo reading "Cry Wolf", which has one of the best opening lines ever, at Sparks in Brighton a while back. Do take a look.
In other news, I was asked last week to provide a cover quote for a splendid new chapbook, "Threshold", by David Hartley for the excellent Gumbo Press. Do watch out for this and get yourselves a copy when it comes out – this is where much of the cutting edge action is right now, places like Gumbo, Nightjar and Spectral. They'll be collectors' items one day, mark my words.