Oh God. The last one of these was back in March, when I was doing the books I read in February, so I guess that's five months unaccounted for. But I wouldn't get too excited, because the sad truth is that I read very few books during those five months from March to July.
There are plenty of reasons for this. I've been busy. Day job stuff, writing a book, having the entire family home during lockdown, doing all those exciting lockdown projects that we've been encouraged to do (actually, maybe not that one). So prepare to be disappointed.
However, given the number of books to deal with, I'm still going to split it into two posts, although I've only taken one picture and I'm too hot and sticky to be bothered going back and taking two more.
So here's part one and first of all, here's the picture, featuring the books roughly in the order I read them (apart from the Nightjars, which were scattered through the rest, but which would have got lost if I hadn't stuck them on top).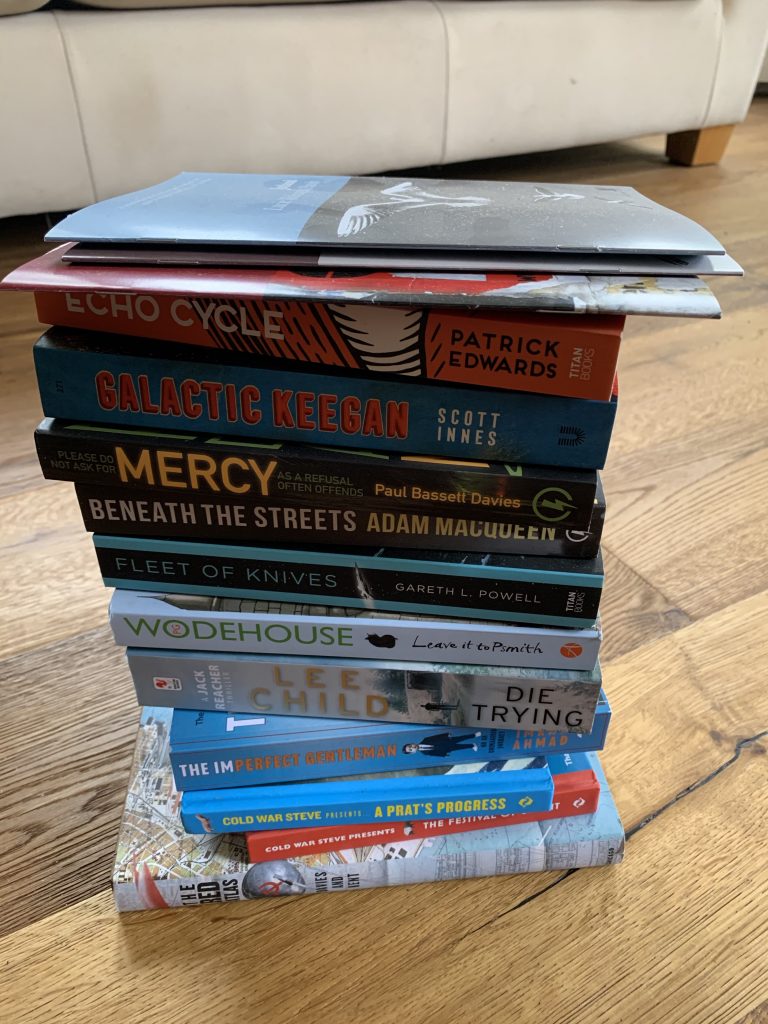 Ready? Good. Let's go…
The Red Atlas: How the Soviet Union Secretly Mapped the World by John Davies and Alexander Kent. This is the story of the absurdly comprehensive cold war era mapmaking of the West carried out by the Soviet Union. The text itself is a bit on the dry side, focussing on what kind of things they got wrong and why and what improvements were made from one series of maps to the next, but the maps themselves are weirdly beautiful. It's so odd seeing parts of your neighbourhood rendered into Cyrillic.
Cold War Steve presents The Festival of Brexit and A Prat's Progress. Two works of genius by the Hogarth de nos jours. Sheer brilliance.
The Imperfect Gentleman by Imran Ahmad. Now I have a number of rules when selecting books to read. One, I tend to avoid self-published books. Two, I tend to avoid reading memoirs about spiritual journeys. So anyway, this is the long-awaited sequel to Ahmad's excellent, conventionally published Unimagined, aka The Perfect Gentleman. The new book is, as you've probably guessed by now, a self-published memoir about the author's spiritual journey. It's an alarmingly honest warts-and-all account of a fascinating roller-coaster of a life, shot through with Ahmad's self-deprecatory humour, and I'd strongly recommend reading it (although make sure you read The Perfect Gentleman, which he now has the rights to himself, first).
Die Trying by Lee Child. You buy a Jack Reacher book, you get a Jack Reacher book. Only number two in the series, so I need to pick up the pace. Full of the usual sex, violence and hilariously unnecessary technical detail, I loved it.
Leave it to Psmith by PG Wodehouse. Having polished off the Jeeves and Woosters somewhat late in life a few years back, I'm slowly working through Blandings (although this particular book is also the last one in the Psmith sequence too, so it's all terribly confusing). Anyway, having been a bit disappointed by Something Fresh (the first Blandings novel), I absolutely loved this one. Right up there with The Code of the Woosters, which, if you know me, is the ultimate accolade.
More to follow in a few days' time…