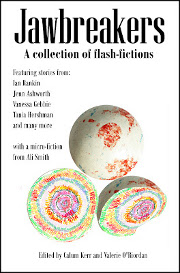 Jawbreakers, the brilliant new collection produced especially for National Flash Fiction Day is now available for pre-order! This wonderful book features short fictions from LOADS of amazing people as well as a couple of REALLY FAMOUS ones (Ian Rankin and Ali Smith!). Oh, and I'm in there too, with a story called "Camembert".
Well, what are you waiting for?
(And whilst you're at it, make sure you like Jawbreakers on Facebook!)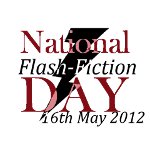 Well, at least it's less than a week since I last blogged…
I'm currently heavily stuck into Project Y, which has somehow made its way up to the remarkable total of 23500 words today. There are a few crucial things that have to fall into place (mainly because it's a non-fiction project and certain real-life things have to either happen or not happen soon), but apart from that it's all fitting together really well. Touching wood as I say it, it seems to be working, and it's the best feeling ever when a project does that. I'm so looking forward to the time when I can tell everyone what it's all about.
However, I haven't been completely neglecting fiction. Last week I was really chuffed to receive a commission to write a piece for the forthcoming anthology to be published in association with National Flash Fiction Day (which – spot that logo in the bottom right-hand corner – is now supported by the Arts Council!) Check out the other names involved – there are several of my flash fiction heroes and heroines there

The good news is that you – yes, you! – can be involved too. As you can see, submissions are now open, so get cracking and send something in by close of play on Tuesday April 10th. Hmmm. Better get going on my own effort soon, I guess.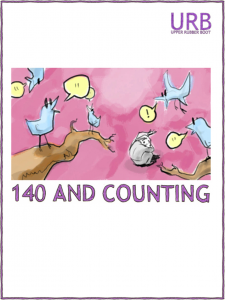 Right then. Got your Kindle handy? Good. Here's a twitter anthology for you, from the splendid 7×20 magazine. I'm in there, with a twitter haiku, and there's loads of other good stuff too from a wide variety of tweeters. If you're in the UK, you can download it here, otherwise you'll need to go here.
In other news, my good friend Oscar Windsor-Smith has come up with a Christmas present guide which for some reason includes Mrs Darcy versus the Aliens, alongside such other gems as The Archangel and the White Hart. Do you need any more recommendation than that? (He's also spot on about Vanessa Gebbie's The Coward's Tale, which I've only just finished and is absolutely wonderful. Make sure you buy that one as well.)
Finally, this year's Christmas Special for Mrs Darcy has turned into a bit of an epic. The first of two parts may be found here. To make things even more complicated, it's actually a sequel to last year's special. Thinking about it, it's only a matter of time before the word count in the specials outnumbers the original.

I've been subbing a few odd things here and there in between whatever it is I'm doing right now and yesterday I heard that one of them, a poem called "Perspective", had been accepted by Every Day Poets. Unlike pretty much everything else I've had published by EDP, this one is quite serious – sad even. More about it nearer the time.
In other news, we've had a rash of mentions for the VWC anthology, "The Archangel and the White Hart". Scott Pack picked out a couple of stories in it for his Me and My Short Stories blog (making a total of four so far!) : Katie Carr's prizewinning entry from the 2010 Get Writing competition, "Beating the Blues" and Oscar Windsor-Smith's splendidly peculiar and somewhat filthy "Camera Segreta". We also got a nice review for the anthology as a whole on Amazon, from someone who isn't in it as far as we know.
Finally, I was more than a little stunned to read (via the wonderful medium of Twitter) that John Harding (of "Florence and Giles" fame – you have read it, haven't you? If not why on earth not – it's utterly brilliant) had lunch with none other than PD James today and gave her a copy of "Mrs Darcy versus the Aliens". The bit that I'm struggling to get my head around is that apparently she was thrilled to bits. Sadly, I'm guessing this means that the challenge to a duel didn't get any further than her agents, but this may actually be better still.
In the immortal words of Jimmy Jones, you need good timin'.
When I sent my entry in for the Scott Prize to Salt Publishing at the beginning of last October, I had no idea whatsoever that Salt were about to launch Proxima Books and even less idea that barely a month later I would be signing a contract for Proxima to publish Mrs Darcy versus the Aliens. By the time the Scott Prize announcement came around, the release date for Mrs Darcy was already set for September 1st which made things look a bit complicated, given that all three Scott Prize winners were due to be launched during National Short Story Week – November 7th to 13th.
Something had to give. So yesterday the decision was taken for publication of Dot Dash (my short story collection) to be put back to 2012. I'm obviously slightly disappointed about this, because my first love is short stories and I'm desperate to find out what the world thinks about this collection. But I can also see that from a marketing point of view, bringing two very different books from the same author out at almost the same time would be insane.
So 2011 is now going to be solely the year of Mrs Darcy, whilst 2012 is going to be the year of Dot Dash. Unless of course everyone suddenly starts clamouring for that sequel to Mrs Darcy, in which case life gets very complicated indeed. But in a good way.
Meanwhile, Scott Pack is reviewing stories from the 2010 Bristol Short Story Prize anthology, and today he's given a four-star review to one of mine, "rZr and Napoleon". Like the other story of mine that bagged a four-star review from him (he has such good taste), it will of course appear in Dot Dash in 2012. But if you want to read it in the meantime, I strongly recommend getting hold of a copy of that anthology – it really is very good indeed.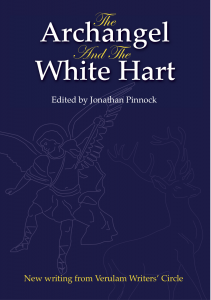 We  thought it was about time we officially launched our very wonderful VWC anthology, The Archangel and the White Hart (remember, that's the one that I edited and has been featured twice on Scott Pack's spiffy Me and My Short Stories blog).
So this Thursday, July 7th, at 7PM, if you're in the vicinity of Waterstone's in St Albans, drop in and say hello. If you speak nicely, you may even get a glass of wine thrust into your hand. You may be asked to buy a copy of the book in return of course, but it is very good, so it's a pretty good deal if you ask me. There may also be readings and stuff.
Not only that, but I have a feeling that I haven't actually mentioned anything here about the forthcoming launch of Mrs Darcy versus the Aliens yet, so I'd better rectify that. The book itself comes out at the beginning of September, but the launch takes place at this year's FantasyCon in Brighton. In fact, it's not just Mrs Darcy that's being launched, but Proxima itself, so it should be quite a party.
Speaking of which, have you been following the development of the Proxima covers? Every single one of them is absolutely stunning. And SF covers have been known to be a bit naff, haven't they?
In other news, I've reactivated the blog over at Mrs Darcy's dedicated site (although I've moved it so you'll need to change your RSS feed) to make it easier to keep people informed about what's going on there. Wickhampedia continues along its merry way. I really have no idea where it's going, to be honest, but I'm sure it knows what to do.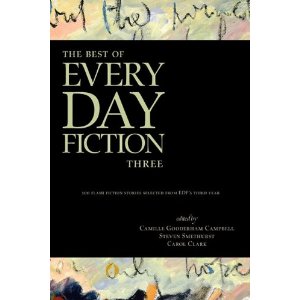 Just remembered that I haven't mentioned this one yet. "The Best of Every Day Fiction Three" is now out – another bumper anthology from the good people at EDF. This one's got  a couple of my pieces in it: "Hidden Shallows" and "The Colour of Criticism". There are details about how to buy it here. So … um … buy it, please?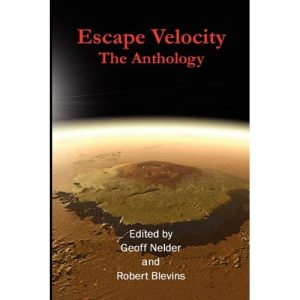 The Escape Velocity anthology has just been launched, containing works by loads of good people such as Cathy Edmunds, Paul Freeman, Rob Harkess, Geoff Nelder and Bec Zugor. And me, with "Symbiosis", a jolly little tale of the love between a girl and her parasitic worm.
It's available in paper and on Kindle over here if you're in the UK and over here if you're in the USA. Go buy it – it's rather good. Also, "Symbiosis" came along too late to be included in my forthcoming collection (ha ha, always wanted to say that), so it's worth buying for that alone

"Symbiosis" was originally a much more straightforward tale, but acquired an extra level of weirdness on the suggestion of my VWC chum Toby Frost – which is as good an opportunity as any to point you in the direction of the new audio version of "Space Captain Smith". Anyone who's read the trilogy will need no further prompting – and if you haven't already read the books, why on earth not?
So, two plugs for the price of one today.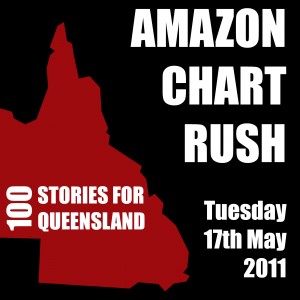 Remember the "100 Stories for Queensland" charity anthology? Well, it's now out, and there's a "chart rush" campaign on today. What it means is that we're trying to get as many people as possible to buy it at once so that it gets into the top 10, thus garnering more exposure.
At the time of writing, the paperback is currently sitting at #2 in short stories and #3 in anthologies. Woo hoo! But that's not enough! We want it to be #1! There's some upstart called G K Chesterton who's currently there in the short stories and some nonentity called Conan Doyle in the anthologies, but they're bound to be rubbish and we're far more deserving.
In case you were wondering, I'm in there with "The Wrong Bots", a classy little piece about space pirates encountering a consignment of sexbots. Now you really want to read that one, don't you? Bet Father Brown and Sherlock Holmes never had any adventures with sexbots.
You have clicked, haven't you?
Normal service will be resumed one of these days. In the meantime, but only after you've clicked and bought the anthology, you can read a feature on me in the latest edition of Slingink All Shorts, available here. And in case Oscar's wondering why I haven't yet replied to his generous Versatile Blogger Award, I can offer no excuses, apart from the fact that I'm doing one of my occasional attempts to imitate a blue-arsed fly. Not a pretty sight, frankly.
I've been having a play with recording myself reading stuff. My initial motivation for doing this was the fact that Eclectic Flash have a "Voices" section on their site and I thought it might be fun (and a bit of a challenge) to record myself reading "The Language of Angels", which they published in their very first edition. Here it is anyway – see what you think.
Having done that, I wondered about recording other things and I remembered that Every Day Fiction have an occasional podcast, so I went through the pieces I'd done for them to see which ones might work, given my frankly rather limited range as a vocal artiste. I ended up choosing the very first piece of mine that they published, "Cock Up", which duly went live yesterday. I'm still not entirely sure whether that was an entirely appropriate choice for Easter Monday, but there you go. At least there's no French in it.
In other news, a Twitter haiku of mine has been selected for 7×20′s first anthology, and my very wonderful publishers, Proxima, have started a blog – make sure you add that one to your list.