Dec
31
An odd little poem of mine went up at The Pygmy Giant today, the first of a batch of three that was recently accepted there. "This Is Just To Be Meta" is, I guess, a parody of the idea of parodying a particular famous poem, "This Is Just To Say" by William Carlos Williams. There are, I suppose, three possible responses to this:
Huh?
Hey, a meta-parody! Neat!
Someone is trying to be too clever for their own good, aren't they?
Take your pick. I'm probably going with 3, to be honest.
The other two poems, "Dali's Moustache" and "Dissonant Love Song #2″, will appear some time in 2013, and I'll let you know when.
In other poetry news, I think I can now reveal that my poem "Bloody Italians" was Highly Commended in the inaugural Fire River Poets competition. I was particularly pleased about this because they're based not a million miles away, in Taunton, and I've already been to a couple of their open mic nights. I've been asked, along with all the other shortlistees and prizewinners, to read my poem at a special event on May 2nd, so that should be fun.
Dec
27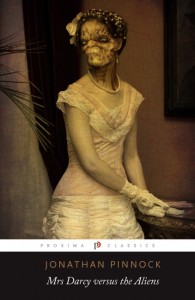 Hope you had/are having a jolly super Christmas/Winter Solstice/whatever. Mrs Darcy's been feeling left out lately, so I thought she was due for another Christmas Special. It's not particularly seasonal, but you may find it mildly amusing.
In other news, if Santa happened to bring you a Kindle or other electronic book substitute, "Dot Dash" is still only 77p, and – amazingly - still in the Amazon charts, where it's been almost continuously since the Kindle promotion began. Not that I've been checking ever hour or so. Oh no, not me.
Dec
21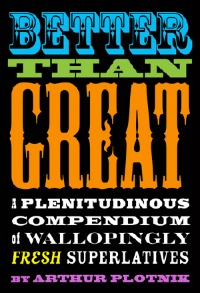 I was recently sent a copy of this book by the publishers, Souvenir Press, who subsequently turned out to be the people who publish not only "Le Petomane" but also "The Specialist", thereby making them almost certainly the best non-fiction publishers on the entire planet.
The purpose of "Better Than Great" is to tackle the problem that so frequently assails all of us: how to express the sheer wonderfulness of something without resorting to tired words such as "brilliant", "fantastic" or "awesome". To this end, the author has assembled no less than 6000 alternatives, arranged by categories such as "sublime", "delicious" and "trendy". Within each category, there is a brief introduction, followed by an alphabetical list of terms and a brief "vintage gold" section at the end (for example, the "vintage gold" section for the "cool" category includes such old favourites as "groovy" and "outta sight", as well as "torrible", which was new to me).
This is clearly a book for dipping into rather than reading from cover to cover, although the brief narrative sections are erudite and written with considerable wit and style. For example:
One way to make our acclaim forceful – attention-getting and convincing – is to associate it with powerful forces. Sinewy bridges. Incinerating wit. A fissionable fastball. Why hitch your wagon to feeble praise when you can harness the power of muscle, nature, even the atom?
The terms are illustrated with examples from a wide range of writers, from Annie Proulx to Wells Tower via Will Self. The terms themselves are, as you might expect, wide-ranging and occasionally bonkers. Opening one page at random, I came across the splendid term "Godzillian" in the "large" category, along with the useful numerical terms gazillion, jillion, goozle and grillion (I think I've got those in ascending order, but correct me if I'm wrong).
Is it a useful book, then? I think it might be. More specialised than thesaurus, but for that very reason possibly more useful. Is it entertaining? Most definitely. Is it – as Franz Kafka apparently said (on page 56) of what a book must be – an "axe for the frozen sea inside us"? Probably not. But all in all, it's splendiferociously wonderful. (I made that one up. But you probably realised that.)
Here's where you can order a copy. You might just get one for Christmas if you really hurry.
Dec
18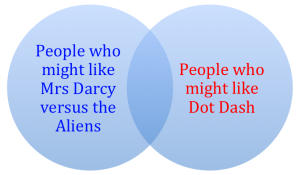 This is the most fascinating Venn diagram in my life at the moment. One of my big worries when I was blogging "Mrs Darcy versus the Aliens" was how it would affect my street cred as a writer. That sounds really arsey, I know, but a part of me does want to be taken seriously, even if it's a part that's in constant conflict with the other part of me that just wants to spend the day composing knob jokes.
So it was something of a relief to me to find that several of the literary short story writers that I looked up to seemed happy to indulge me (and even more of a relief – not to say surprise – when an imprint of Salt decided to publish it). But I'm even more intrigued now to know what Mrs Darcy's readership will make of Dot Dash. It is a very different book, after all, although I guess you could probably tell it was written by the same bloke.
So far the reviews are looking pretty positive, anyway. This is what they look like on Amazon (including a couple by complete strangers, which is always particularly gratifying). And here's another one that appeared today, courtesy of Our Book Reviews (who'd previously given Mrs Darcy a major thumbs-up).
One of the writers who gave Mrs Darcy an unexpected endorsement was Tania Hershman, and – somewhat belatedly (it's been a busy week or so) – here's a link to an interview I did with her a little while back. Whilst you're over there, I do recommend taking her up on her offer of a customised edition of her wonderful book "My Mother was An Upright Piano" – a brilliant idea for a present for that literary chum who's impossible to buy for.
Finally, don't forget that the Salt Kindle 77p deal is STILL on. Half a dozen terrific books at an absurd knock-down price. Further to my previous post on the subject, I've now finished Carys Bray's "Sweet Home", and I can confirm that it is indeed an excellent, if at times quite harrowing, collection.
Dec
6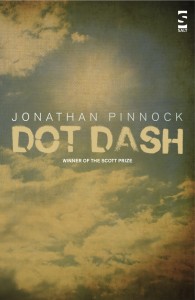 It's madness, it is. Dot Dash arrived on the Kindle today and for a limited time only (at least I assume so) it will cost you no more than 77p! That's SEVENTY-SEVEN PENCE, people. It also seems to be available in the US Kindle store, although there's no price currently attached.
If, like me, you still prefer the feel of real paper books, it's also finally made it to the ordinary Amazon store.
Other bookstores are, of course, available. For the time being, at any rate. Some of them pay a bit more tax than Amazon, too.
The ideal option, from my point of view, would be for you to spend 77p to see if you like the look of it, and then order a signed physical copy from me (see sidebar <–). Or pop into your nearest local independent bookshop.
Five other Scott prizewinners from Salt are also included in this offer, and the ones I've read (from Cassandra Parkin and A J Ashworth) and the one I'm currently reading (from Carys Bray) are bloody brilliant. Get in there, I say.
Dec
1
…is at the lovely Jen Campbell's This Is Not The Six Word Novel blog. Jen is a disturbingly talented short story writer and poet, although she is currently far more famous for her utterly brilliant book "Weird Things People Say in Bookshops". "Weird Things" is exactly what it sounds like: a collection of ignorant, rude and downright bizarre things that people have said in bookshops, and it's one of the funniest things I've ever read. It's one of those rare books that you think "Right, I'm just going to dip into this every now and then" and then somehow end up reading in a single sitting. I'd most definitely recommend it for your favourite bibliophile's Christmas stocking. Along with "Dot Dash", obviously.