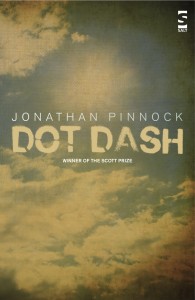 It's madness, it is. Dot Dash arrived on the Kindle today and for a limited time only (at least I assume so) it will cost you no more than 77p! That's SEVENTY-SEVEN PENCE, people. It also seems to be available in the US Kindle store, although there's no price currently attached.
If, like me, you still prefer the feel of real paper books, it's also finally made it to the ordinary Amazon store.
Other bookstores are, of course, available. For the time being, at any rate. Some of them pay a bit more tax than Amazon, too.
The ideal option, from my point of view, would be for you to spend 77p to see if you like the look of it, and then order a signed physical copy from me (see sidebar <–). Or pop into your nearest local independent bookshop.
Five other Scott prizewinners from Salt are also included in this offer, and the ones I've read (from Cassandra Parkin and A J Ashworth) and the one I'm currently reading (from Carys Bray) are bloody brilliant. Get in there, I say.