About this Site

My name's Jonathan Pinnock. I lead a dual life. In one half of this, I run a software development company called Jonathan Pinnock and Associates. If you've come here looking for that, here's where you need to go.

However, if you've come here to find out about the other half of my life, as a writer of fiction and non-fiction, you've come to the right place.

If, on the other hand, you've arrived here by accident whilst searching for Japanese Tentacle Porn, I suggest you try using a different search engine.

If you'd like to contact me, my e-mail address is jon AT jonathanpinnock DOT com.

Books

The Scott Prize-winning short story collection Dot Dash was published by Salt in November 2012.

Mrs Darcy versus the Aliens was published by Proxima Books in September 2011.

Pages
Apr
27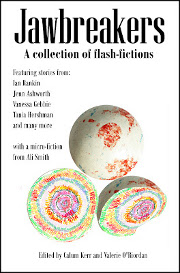 Jawbreakers, the brilliant new collection produced especially for National Flash Fiction Day is now available for pre-order! This wonderful book features short fictions from LOADS of amazing people as well as a couple of REALLY FAMOUS ones (Ian Rankin and Ali Smith!). Oh, and I'm in there too, with a story called "Camembert".
Well, what are you waiting for?
(And whilst you're at it, make sure you like Jawbreakers on Facebook!)
No related posts.
Comments
Book Websites

Interesting Things

Interviews

Markets

Places I hang out

Writers I know

Meta

Recent Posts

Recent Comments

Categories

Archives