Back in 2008, I had a painful but extremely valuable encounter at the Winchester Writers' Conference. As part of the Winchester package, you are given the opportunity to have fifteen minutes with three different writing industry luminaries. These may be agents (pitch!), editors (pitch again!) or experts (listen!)
My three sessions were booked with an agent (to pitch a non-fiction project that's still awaiting lift-off), a radio producer (to get feedback on a radio play that's still awaiting interest) and a writer (to get feedback on a children's book that I'd first touted around in 1992 during my first attempt at a writing career). Unfortunately the writer, Daniel Clay (who incidentally is doing very well indeed right now), was unable to attend through illness (although he did send me a very thorough critique later) and the first substitute offered failed to turn up.
The second substitute was a well-known author, creative writing teacher and journalist. I gave her my manuscript, which she scarily speed-read in front of me, metaphorically tearing it to shreds as she went. In particular, there were a number of unconventional aspects to the book, which she did not like at all. Basically, she wanted to kill my darlings.
I reacted badly.
I think I'm generally OK with dealing with criticism of my writing (except – curiously – from my nearest and dearest), but for some reason I lost my rag this time and we had a very argumentative and heated fifteen minutes, following which I came away feeling as if I'd completely wasted my time. I also felt more than a little embarrassed at having behaved so unprofessionally. However, I felt a bit better after we'd bumped into each other in the breakfast queue the next morning and I'd apologised to her for not taking her criticism well. She was very nice and actually suggested that I send it out to a few agents, asking me to let her know how I got on.
The odd thing was that after I'd thought about it for a while afterwards, I came to the conclusion that what this showed was that I was actually too close to the book to send it out as a first novel. There was no way that I could ever submit to the inevitable compromises that I would have to go through in order to get it published; I loved the concept too much. So I decided to put it to one side and focus on other things (including – eventually – Mrs Darcy versus the Aliens).
But the other really important thing that I picked up on was a tiny grain of encouragement she'd given me right at the start of our fifteen minutes. I'd thrust my writing CV at her, with a comment that what I really wanted was to have a short story collection published, "but of course, there's no chance of that ever happening." Her response was to look at the CV and say, "Oh, I wouldn't be so sure of that." This was the first time anyone had ever said anything like that to me about my short stories.
So, in the light of recent events, I rather think it's about time I thanked Sophie King for that painful fifteen minutes.
Thank you, Sophie.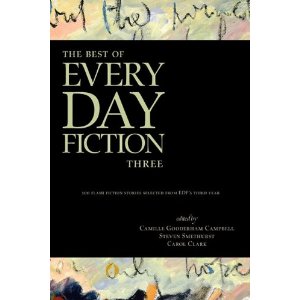 Just remembered that I haven't mentioned this one yet. "The Best of Every Day Fiction Three" is now out – another bumper anthology from the good people at EDF. This one's got  a couple of my pieces in it: "Hidden Shallows" and "The Colour of Criticism". There are details about how to buy it here. So … um … buy it, please?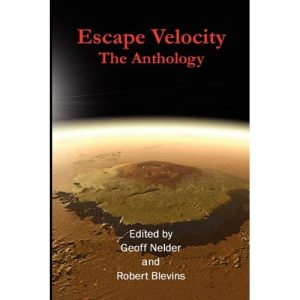 The Escape Velocity anthology has just been launched, containing works by loads of good people such as Cathy Edmunds, Paul Freeman, Rob Harkess, Geoff Nelder and Bec Zugor. And me, with "Symbiosis", a jolly little tale of the love between a girl and her parasitic worm.
It's available in paper and on Kindle over here if you're in the UK and over here if you're in the USA. Go buy it – it's rather good. Also, "Symbiosis" came along too late to be included in my forthcoming collection (ha ha, always wanted to say that), so it's worth buying for that alone

"Symbiosis" was originally a much more straightforward tale, but acquired an extra level of weirdness on the suggestion of my VWC chum Toby Frost – which is as good an opportunity as any to point you in the direction of the new audio version of "Space Captain Smith". Anyone who's read the trilogy will need no further prompting – and if you haven't already read the books, why on earth not?
So, two plugs for the price of one today.
… appeared on Ink, Sweat and Tears yesterday. I think they are fairly self-explanatory. At least I hope they are. I don't go in for terribly deep stuff when it comes to poetry, and these are definitely floating around in the shallow end of the pool.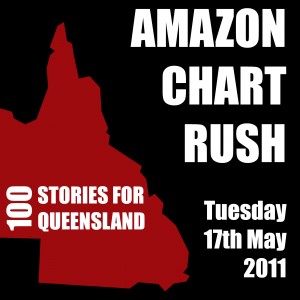 Remember the "100 Stories for Queensland" charity anthology? Well, it's now out, and there's a "chart rush" campaign on today. What it means is that we're trying to get as many people as possible to buy it at once so that it gets into the top 10, thus garnering more exposure.
At the time of writing, the paperback is currently sitting at #2 in short stories and #3 in anthologies. Woo hoo! But that's not enough! We want it to be #1! There's some upstart called G K Chesterton who's currently there in the short stories and some nonentity called Conan Doyle in the anthologies, but they're bound to be rubbish and we're far more deserving.
In case you were wondering, I'm in there with "The Wrong Bots", a classy little piece about space pirates encountering a consignment of sexbots. Now you really want to read that one, don't you? Bet Father Brown and Sherlock Holmes never had any adventures with sexbots.
You have clicked, haven't you?
Normal service will be resumed one of these days. In the meantime, but only after you've clicked and bought the anthology, you can read a feature on me in the latest edition of Slingink All Shorts, available here. And in case Oscar's wondering why I haven't yet replied to his generous Versatile Blogger Award, I can offer no excuses, apart from the fact that I'm doing one of my occasional attempts to imitate a blue-arsed fly. Not a pretty sight, frankly.
That nice chap and all-round good egg Scott Pack has reviewed one of my stories for his Me and My Short Stories blog. Fortunately, he seems to like it. If you want to read the story, "Advice re Elephants", it's available online, at Metazen. Scott's short story project is turning up some really interesting stuff, by the way, and it's definitely worth following.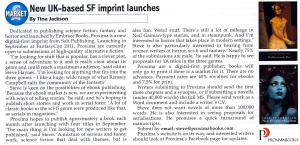 On Friday, Twitter chum Rebecca Brown alerted me to the fact that Mrs Darcy (remember her?!) had been spotted in the pages of Writers' News, which sent me on a frantic hunt for my copy. Which actually arrived on Saturday.
Anyway, there she is on page 28, along with fellow author Charles Christian's enigmatic blue lady, accompanying a rather spiffy feature on Proxima Books, my wonderful publishers. All rather cool.
I've added a few more pages to Wickhampedia since I last mentioned it, including a new improved main page and articles on Emma, Bride of the Zombie and Perversion. There's more to come, once I've got over Monday's news. Which I haven't yet, by any means. I'm still buzzing.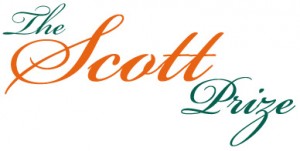 On Friday I noticed a tweet from Salt Publishing saying that the Crashaw and Scott prize winners would be announced on Monday, at which point I suddenly realised how desperately I wanted to be one of them. Up until then I was thinking "Well, I've got one book coming out this year anyway, so this one doesn't really matter, does it?"
Turns out it did. I was on edge most of the weekend, I hardly slept last night and I was a complete wreck this morning. I kept checking the RSS feed to see if there were any new entries on the Salt blog and every time there was (and there were two false alarms: the Crashaw announcement and a piece about David Rose, who's just got a new novel out) I hardly dared look.
And then this appeared. With my name in the right place, alongside Facebook/Twitter chum Andrea Ashworth and new Facebook chum Cassandra Parkin. I still can't really believe it. I actually have TWO books coming out this year. A comic sci-fi romp and a book of pukka literary short stories. What an extraordinary year it's turning out to be.

Last summer I had an e-mail from a new venture called the Journal of Microliterature inviting me to submit to them, anonymously. My immediate reaction was twofold. First of all I was flattered to be asked, but then I panicked, thinking how embarrassing it would be if I didn't get my submission accepted. So I dithered and never actually got round to sending them anything. I did look at their site, though, and came across some fascinating work there, including the utterly bizarre but rather wonderful Death Honk by John P. McCann.
Anyway, a few weeks back I wrote a piece that I rather liked and sent it off to them and I was very pleased to receive an acceptance this morning. I was especially pleased because of what they said about it:
Interesting piece. We aren't even sure if we understood all of it, and yet it was intriguing enough for us that we want to see how it's received by visitors.
Which is exactly how I feel about it. I've written a few things lately that I don't fully understand, but I'm learning to trust that the pieces themselves know what they mean, even if I don't. I think this is a kind of progress.
"Dagenham Rules, Henderson's Variation" will be published on June 26th, but I'll obviously give you a nudge when that happens.
In other news, details of a very early work by Miss Austen have been uploaded to Wickhampedia. Who knew?
This could get out of control. No sooner had I put up the initial entry on Jane Austen (now looking a bit more Wikipedia-ish since I sorted out the CSS), including descriptions of several hitherto unknown novels of hers, than I was sent some utterly brilliant covers of four of those novels by my extraordinarily talented friend Dave Weaver. So obviously I had to fill in the gaps with some more entries, and here's the first one, on Sensei and the Insensibles.
I also felt that we could do with a bit more background on Mr Wickham, although understandably much of it has been redacted by the authorities.
More on the way, I'm afraid.